Tired of keeping track of your kid's allowance and chore system in your mind? Check out these free allowance and chore tracking apps.
Ready to upgrade from printable chore charts with money, excel sheets, and "mind-tracking" to a chore and allowance app (but not quite ready to pay for one)?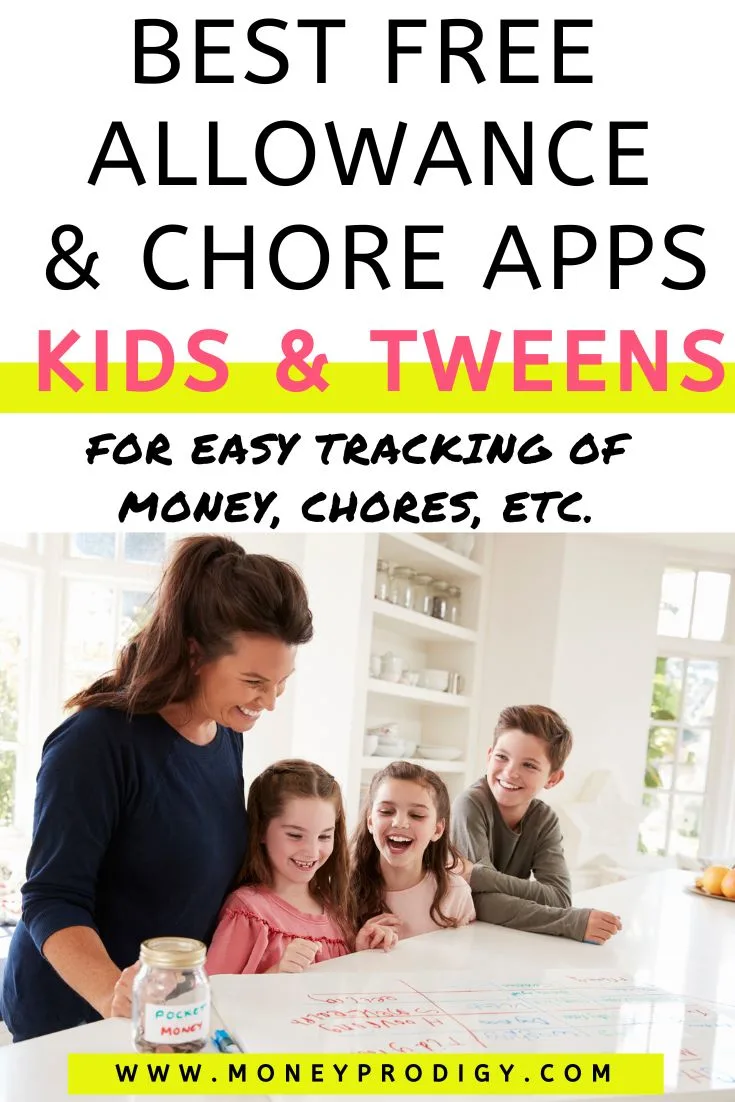 There are plenty of paid chore and allowance tracking apps with robust features (check out my article on the best chore and allowance tracking apps), but maybe you're not ready for that.
That's why I'm listing out my favorite free allowance and chore tracking apps. These are apps are limited because you can't connect a bank account to automatically pay family members, and there's no prepaid debit card attached.
However, they are a great way to test out how things work before settling on your own system.
Psst: don't have your chore or allowance system down yet? Start with this.
Best Free Allowance Tracking App
Are you tired of having to remember the day of the week to pay your child, or how much you need to pay them?
While these free allowance tracking apps lack the functionality where you can physically pay your child through the app to their account or prepaid debit card (you'll need a paid allowance/chore app for that, which can be a great addition to your teen chore chart), they will help you keep track of everything.
Not only that, but they have built-in functionality where you can easily assign chores (unpaid or paid – your choice), chore completion proof, and more. Which can be a big upgrade from a printable chore chart system.
Psst: here's my article on should you pay allowance to kids, in case you're still deciding whether to give an allowance or not.
You download the app, and set up your Parent Passcode (this is your ticket to doing admin tasks within the app).
Allowances can be set up to be daily, weekly, or monthly, and can accrue automatically or only upon parental approval.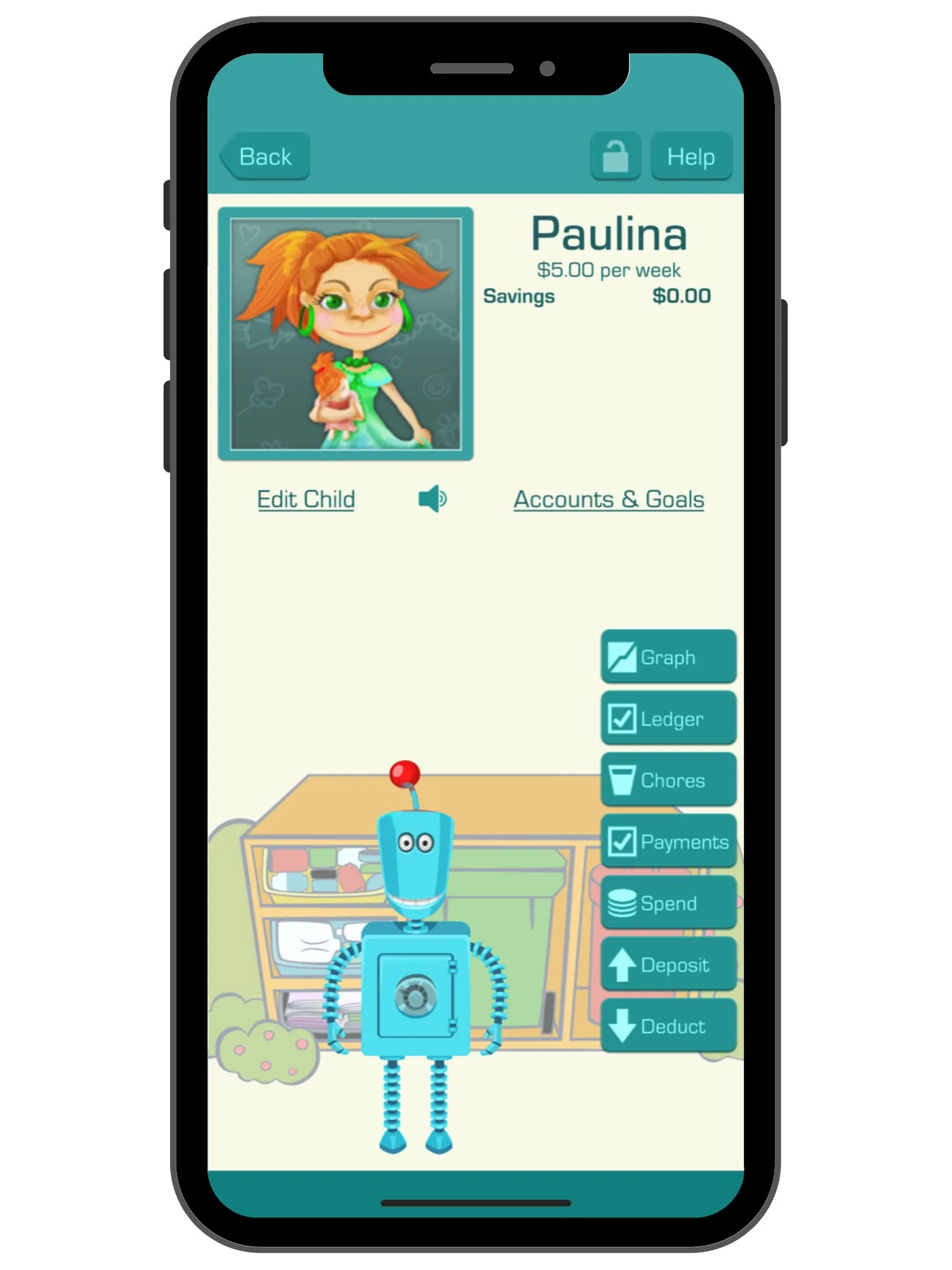 You can also set up chores for each child, with photos of the chore if you'd like, and kids can pick a photo or one of the 16 avatar options to represent them in the app.
The app sends reminders for forgotten allowance payouts, and forgotten chores (set up to 4 chore reminders/day) – for both parents AND kids.
You get a one-week free trial of their pro version (you have to sign up for their free trial, and you can then cancel it under Settings > Tap Your Name > Subscriptions > Chores and Allowance Bot before the one-week is up to avoid a fee and still be able to use the free version).
The free version allows you to:
Setup chores and allowances
Rotate chores between kids automatically
Track kid's savings and spending
Auto-sync across all your family's devices (everyone needs to sign in with the same email/password)
And if your kids don't have a smartphone? No problem – this app is actually available on the web/desktop! I love that.
Currency symbols can be configured in Account settings for almost all world currencies.
Available on iOS, Android, AND on desktop.
iAllowance is a free app that allows you to track money, stars, or time that each of your child has earned, plus how they use them.
You can:
Set any number of allowances to pay out automatically at repeating intervals
Set allowances to pay out into your child's separate banks (spend, charity, save, or specific ones they create)
Set up rewards that kids work towards
Use parental controls (under Settings) to disable bank totals from being seen by your child, and/or hide the reordering button on the child's main bookshelf
Available on iOS only.
This app came about from a mother who was frustrated by trying to track her kid's earnings and money use through money jars, and then excel sheets.
Instead, she just created her own app. I love that!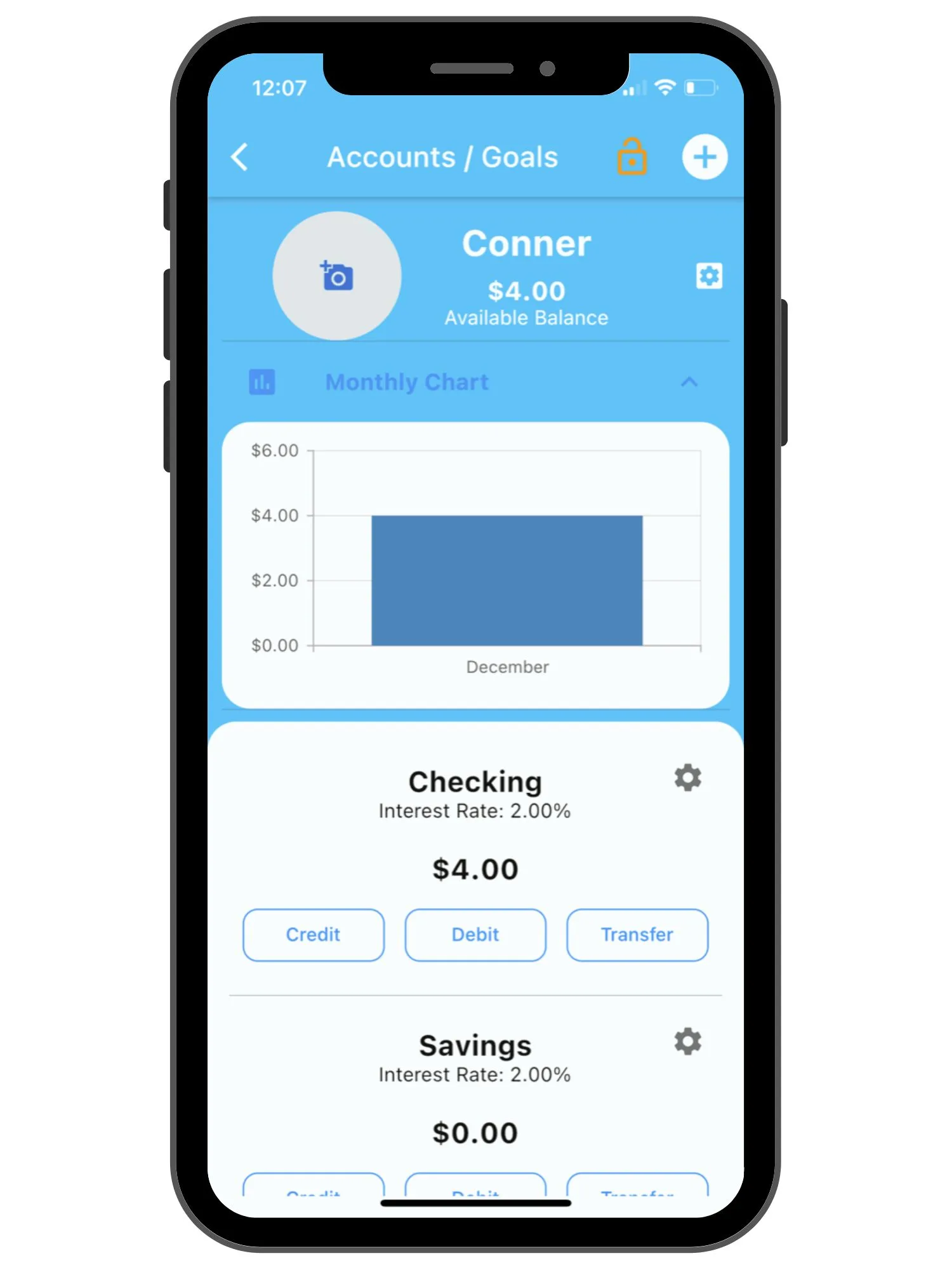 It's a way for you to add all of your kids, then you can credit kids in cash for an allowance, or credit them per chore completed, etc. And your kids can keep track of how much they have left in their various "accounts" or buckets that they create.
You can then "debit" for your kids, tracking how much they've spent say, when they go to the store with you or make an online purchase.
I also love how you can offer your kids an interest rate (the default is 2%, but you can change to whatever you'd like) to encourage them to save their money.
I also really like how you can allow negative balances (click on Settings on the account where you want to allow the negative balance).
Best Free Chores Apps
Do you want to pay your children for doing certain chores? The following free chores apps are great for tracking your chore system – which chores you want your kids to do, the amount you want to pay them, chore oversight, crediting them for the chore payments, etc.
Wondering how much do you pay per chore? Checkout this freebie.
Psst: here's my article on should you pay for chores, in case you're still deciding whether to pay for chores or not.
Activities are suggested to you, based on the ages of your child(ren) that you input during setup.
Each time your child completes an activity, they earn Bamboo Bucks.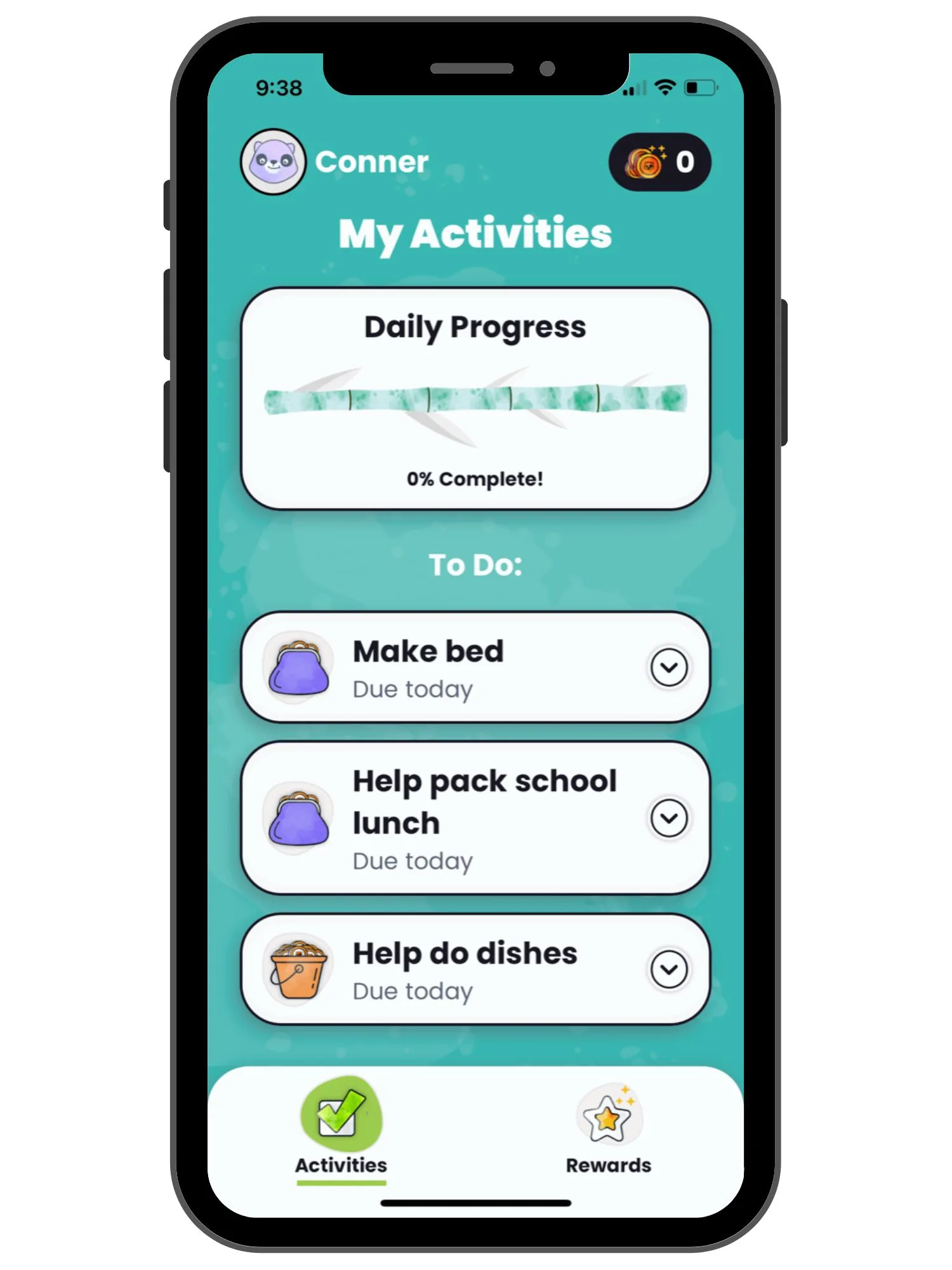 Bucks are earned for tasks:
1 Bamboo Buck for tasks that take <10 minutes
3 Bamboo Bucks for tasks that take 10-30 minutes
5 Bamboo Bucks for tasks that take 30+ minutes
The app also suggests rewards for certain Bamboo Bucks thresholds, such as:
5 Bamboo Bucks = Favorite Snack/Treat
10 Bamboo Bucks = Stay up Late (30 minutes)
25 Bamboo Bucks = No Chores Pass (1 day)
Etc.
I like how your child can either use your device, or their own – meaning this is helpful for families that aren't ready for kid smartphones yet (that's us!), but want to set up a chore reward system.
Here's a paid chores and allowance tracking app that you can use for free for up to 3 accounts.
On the free account, you can use it as a money tracking app for allowances and chore completion.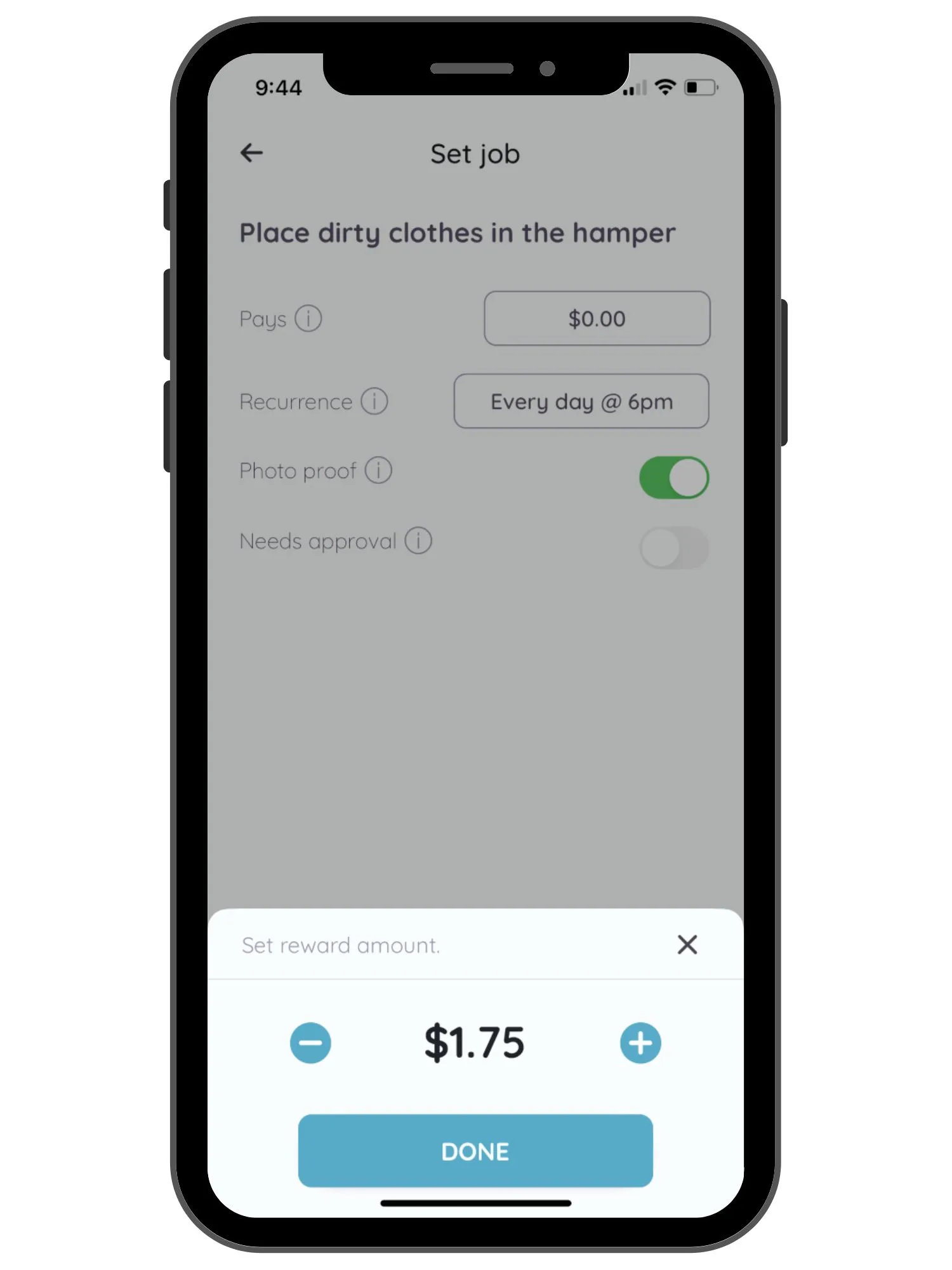 You can:
Choose from the free chore packs to assign chores easily to up to three people
Choose whether each individual chore is a paid one, or a responsibility that is not paid
Take pictures of the chore/mess area that needs to be done
Choose a chore due date, with a reminder notification sent to the person an hour before
Set up chores on repeat, or as one-time chores
Have kids take photo proof that they completed the task, and upload it to the app
Allow you to enable "completion confirmation", which means the chore requires parental approval to count towards a daily goal, allowance progress, or chore commission
And your child can manage their money in different savings jars, and for different savings goals they track through the app.
However, you should know that you cannot connect bank accounts for easy payments to your kids with the free plan – you can use it as a money tracking up on their free plan.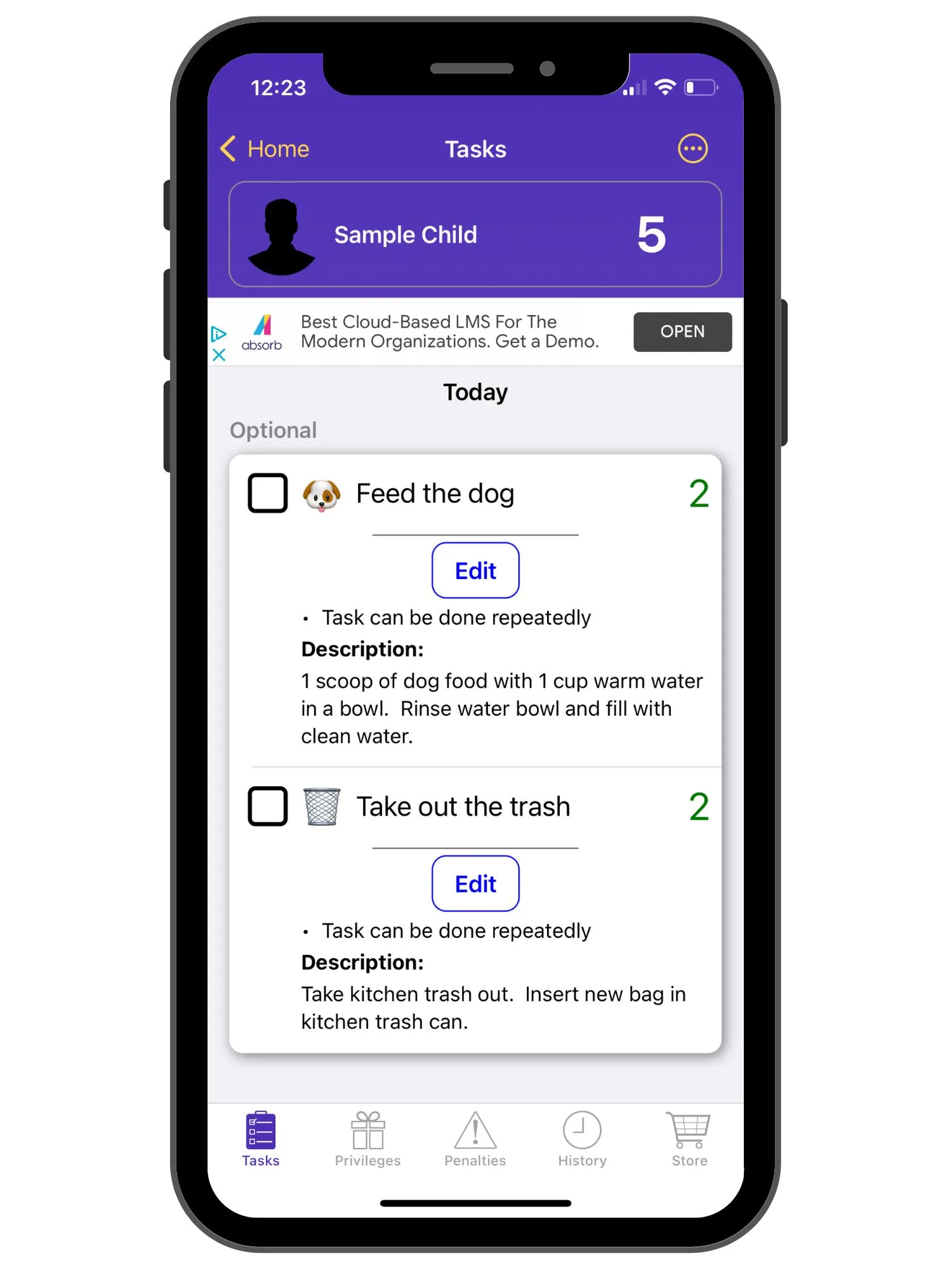 There are three areas to this app:
Tasks kids complete to earn points
Privileges are things kids can spend points on
Penalties are a way to take things away from kids
You get to define how kids can earn points and how they can spend them. You can also create rewards for good behaviors, and/or choose to punish for bad behaviors. You also choose the points cost for privileges they "buy", and points values for tasks you set up.
Available on iOS only.
You can set up family rewards that everyone works towards, or rewards by individual. Chores are set up per child, and you can choose how many points kids receive for doing them, and how often they need to be done, as well as give them a priority category.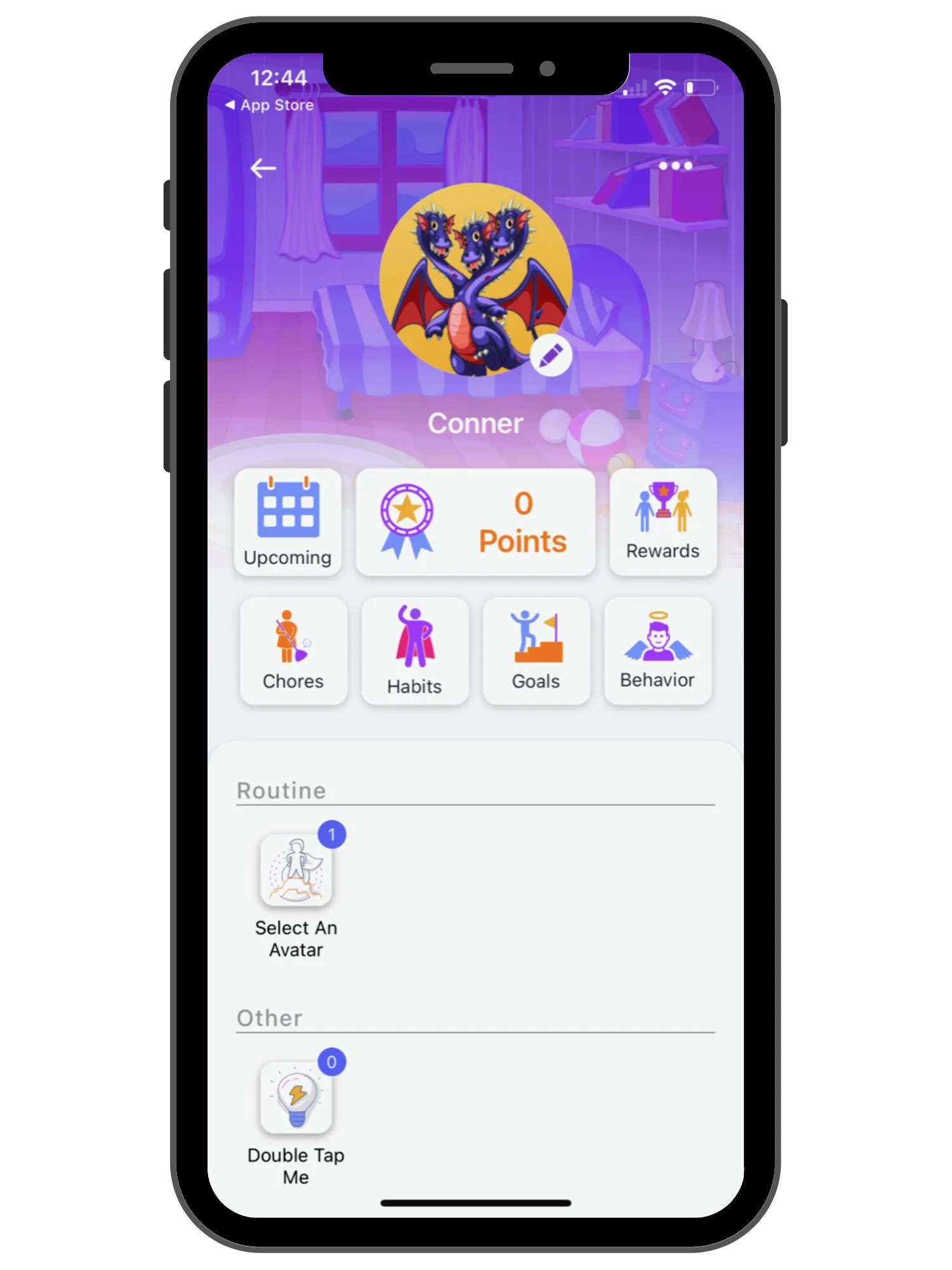 I love how you and your kids can set up goals for themselves (like points to earn, chores to complete, and daily/weekly/monthly streaks to hit).
You can also set up your family mission and family values for everyone to see.
How Do I Keep Track of My Kid's Money?
These apps don't have the banking functionality of the paid allowance and chore tracking apps, where you can pay your child within the app and the money physically goes to their account OR to their prepaid debit card for teens.
And that's okay – you can still use these apps to track your money, chore, and allowance systems. Then, you'll know how much to pay your child come the payday for your Kid Money System.
But, what if you don't want to use an app to track your kid's money?
I actually wrote a whole post on this, and you can check it out here: how can I keep track of my kid's money.
Starting with a free allowance and chore app can help upgrade your system from one where you have to remember and keep track of everything on paper, to one where you can set up automations. When you're ready to upgrade from that to a much more convenient option, be sure to check out the following articles:
The following two tabs change content below.
Amanda L. Grossman is a writer and Certified Financial Education Instructor, a 2017 Plutus Foundation Grant Recipient, and founder of Money Prodigy. Her money work has been featured on Experian, GoBankingRates, PT Money, CA.gov, Rockstar Finance, the Houston Chronicle, and Colonial Life. Amanda is the founder and CEO of Frugal Confessions, LLC.
Read more here
.
Latest posts by Amanda L. Grossman (see all)