What to do with your money as a teenager, so that you're enjoying life now, and prepping for your next big step in life.
Teens don't have mortgages to pay. They don't have kids to buy things for all the time. And they certainly aren't worrying about the rising cost of heating oil.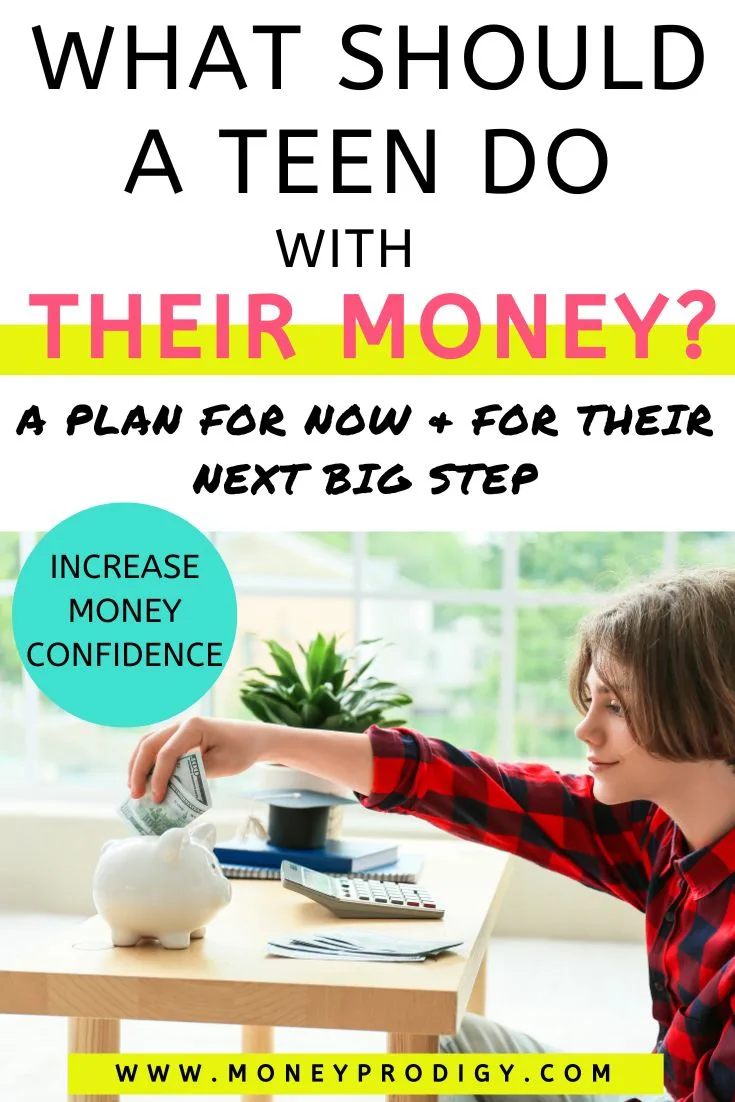 So, what exactly should they do with their money?
With their first apartment, college dorm, and/or first job just around the corner, I'd like to give you some ideas to both help your teen right now, and help them in their next big step.
Psst: not to mention, build their money management skills in the process. You in?
What Should I be Doing with My Money as a Teenager?
Teens should be doing the same things with their money as adults do…but, on a teen level.
In a nutshell, this means they should be:
Spending some of it
Saving some of it (for both short-term goals and their next, big step in life)
Using it in ways that help them practice those money managing skills they'll need to take into adulthood
1. Learn How to Organize their Money
You might not think this would be up at the top…but organizing money is a skill your teen needs to get good at.
I've written a whole article on the Teen Life File to help with this.
Specifically for money, you want your teen to learn how to:
Organize their wallet/purse (here are things teens should keep in their wallet, plus wallets for teens)
Separate money they intend to spend from money they intend to save for something else
Create a file for important money documents like bank account information, tax returns, debit card information, bank statements, etc.
Create a money station/place to manage their money
Pssst: Here are 17 more financial tips for high school students.
2. Invest in Something
When you invest in something, you're hoping to spend money today to make something – the money, you, something that you own, etc. – more valuable in the future.
Results are rarely instantaneous. Especially if you're investing in your education, or in a property.
Having this skill – to set aside money you have today and use it for something that may or may not pay off in the future – is incredibly valuable.
That's why I think your teen should get some practice in doing this now, when losing some money doesn't hurt so much (well…they might get really upset, but at least they aren't having to figure out how to pay the mortgage afterwards).
There are so many opportunities for teens to invest in something, and in themselves.
Invest in Skills: Take a class that will earn them or save them extra money in the future, such as a driver's ed course that will decrease their car insurance costs, or a CPR class that can help them charge more as a babysitter.
Invest in a Roth IRA: If your teen has earned income, then they can contribute to a Roth IRA. However, a custodian (you!) needs to open and manage the account for them. Here's lots more information on this.
Invest in a Single Stock: Apps like Greenlight and BusyKid have built in features that allow your teen to buy stocks (with parental approval, FYI, since they're a minor).
Here are stock apps for under 18, with built-in parental controls.
3. Stretch Themselves with a Teen Money Challenge
Stretch their money capabilities and understanding of what they can have money do with these teen money challenges.
4. Cover a Money Responsibility
Have you handed over a Money Responsibility – something they must pay for – to your teenager yet? It's one of the ways you can raise a financially responsible child (here are other ways to teach your teenager financial responsibility).
Money Responsibilities can include things like:
Data plan/data plan overages
Christmas presents for siblings
In-app purchases
School dance costs
Driver license expenses
Prom (here's a free prom budget template)
There are tons of options – and what you choose will be based on your own money values. You can learn more about choosing Money Responsibilities for your child here.
5. Make a Short-Term Savings Goal
Teens should start flexing their savings muscles by setting a short-term savings goal.
A short-term financial goal for high school students is anything they want to be, to do, or to have that costs more time and money than one earned pay cycle (allowance, paycheck, etc.) to accomplish.
Here are intermediate financial goals for high school students, and long-term financial goals for high school students.
Hint: is your teen just not there yet? The baby step before setting a short-term savings goal is planned spending. Ask them to plan out how they will spend the next bit of money they have coming in. Also, have them read these 9 reasons to save money as a teenager.
6. Save for the Mid-Term Future
Your teen's got some big expenses coming up in the not-so-distant future.
Things like:
A vehicle/car insurance/car maintenance
College/trade school
First apartment's first month rent/last month rent/deposit
Special trips like Senior Week, Gap Year, etc.
While working on a short-term savings goal, they should also start chipping away at a bigger savings goal.
Hint: wondering what is a good amount of money to have saved by 18? I've actually written a whole article on how much to have saved by 18.
7. Budget It
Budgeting is definitely a skill your teen needs to get comfortable with.
Take one of these free teen budget worksheets, and sit down to work out a budget for their next bit of money that will come in. Here's how to budget as a teenager.
Sneak Peek: Things I Did with My Money as a Teen
I looked back over my own teen years – plus read through the journals I've been keeping since elementary school – so that I could share a few things that I did with my own money.
Bought a Pair of Old Navy Cargo Pants: Do you remember when those $20 Old Navy cargo pants came out? I was ecstatic to get a pair, out of my own money.
Bought my Sister Perfume for her Birthday: It was my sister's birthday, and we happened to be in a Gap Outlet store while waiting to get into a restaurant with my family. I saw a $20 bottle of perfume, and bought it for her.
Paid for a Summer in Spain: I mucked horse stalls for several years, worked around our farm, and did enough promotions as the Chester County Dairy Princess to reach the $1200 incentive, and saved up enough money to go to Spain as a student exchange in Spain for the summer.
Bought a Used Car: I saved up $1500 and got a very good, used car (hint: that car lasted me into my late twenties!).
Paid for Gas and Car Insurance: I had to pay for my car by myself, as well as all the costs that went with it like gas, car insurance, oil changes, etc.
Paid for my Prom and Dance Dresses: I can remember saving up for each of my high school dance dresses – for my senior prom, I even set myself a challenge to save up the money through a change jar I kept the whole year. I ended up with over $80, and got the prom goal + white gloves of my dreams.
Bought a Computer for College: I paid a little over $800 for a desktop computer I took to college with me.
What to do with your money as a teenager? Learn to start using it wisely. All (or almost all) of these things your teen will be asked to do or will have an opportunity to do as an adult…so they might as well get their feet wet when the stakes aren't so high, right?
The following two tabs change content below.
Amanda L. Grossman is a writer and Certified Financial Education Instructor, a 2017 Plutus Foundation Grant Recipient, and founder of Money Prodigy. Her money work has been featured on Experian, GoBankingRates, PT Money, CA.gov, Rockstar Finance, the Houston Chronicle, and Colonial Life. Amanda is the founder and CEO of Frugal Confessions, LLC.
Read more here
.
Latest posts by Amanda L. Grossman (see all)