You and I use consumer math every single day – let's teach our students to do the same with these free consumer math worksheets.
Want to know why I love consumer math and consumer math worksheets so much (enough to write a post about them)?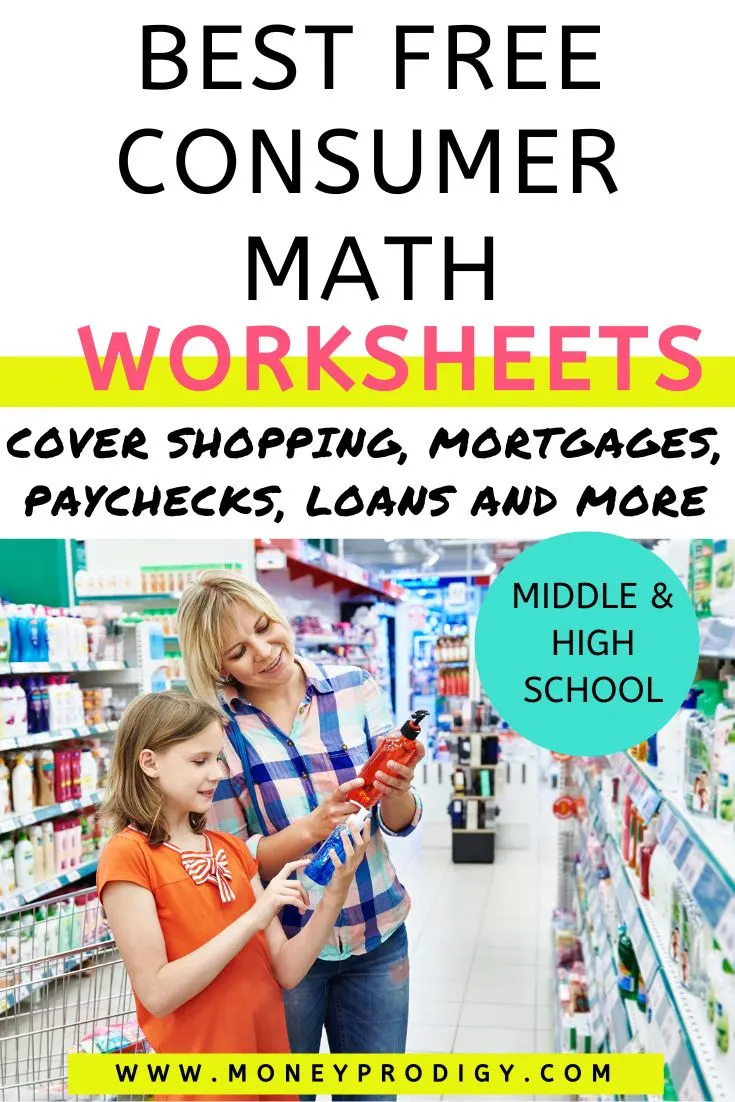 Because it's sort of where the rubber meets the road. It's real-world prep.
Where math and daily life collide.
Every child in the world will need to be able to do some simple consumer math to get around in life.
And it's a great idea to have them practice it, first. If they can't practice by actually doing it, then worksheets are the next best thing.
Let me show you what I mean.
What Topics are in Consumer Math?
You and I use consumer math every day to navigate the world. And not just to get around, but knowing "consumer math" actually gives us an edge.
We can figure out where the cheapest gas is and if it's worth it to drive there. Or where to find the lowest-costing product we're looking for, given sales/coupons/rebates. Or how to compare mortgage loans and choose the right one for us.
And so much more.
If I had a wish list of what every student would learn before getting their hands on their first paycheck from a real job-job, it'd be these consumer math topics:
Comparing hourly vs. salary vs. by-the-job opportunities
Figuring out whether or not a deal is worth it
Budgeting a fixed amount of money
Calculating tips, making store transactions, etc.
Understanding discount tools (coupons, rebates, sales, clearance, etc.)
Understanding loans and interest rates
Reading bank statements, credit card statements, and other financial statements
Understanding income vs. expenses
Understanding variable vs. fixed expenses
Calculating ownership and maintenance costs before purchasing something
Consumption taxes and personal taxes
For a full money life-skills checklist, definitely sign up here.
Free Consumer Math Worksheets for Middle School
Middle schoolers have likely completed their first store transactions, might be receiving an allowance or chore commissions to manage, and are on the cusp of using real-world consumer math on a more consistent basis (like teens do).
Let's help them along with these free consumer math worksheets.
Students read Cameron's story about buying a computer, with his $520. He's looking for certain features, and students are given three computer options to choose from to satisfy Cameron's wants, plus keep within his budget.
Students complete an overall buying plan for the computer, showing all the things that should go into making a decision on a large purchase.
Psst: for a fun + free, class-wide, consumer-math activity? Here's my free bill pay project.
The FDIC has a whole lesson plan, plus tons of consumer math and personal finance worksheets that you can immediately download and use.
Some of the worksheets that deal with consumer math include:
Lesson 2: Bread-and-Butter – Tax Impact
Lesson 4: Being a Savvy Shopper
Lesson 5: Go with the Flow
Lesson 7: How to Stash Your Cash
Lesson 11: Risky Business – Purchasing a Vehicle
So much more
Really, really thorough offerings here.
Subscriptions – with a monthly, recurring cost – are everywhere. It's helpful if your students can learn about the true costs of a subscription plus whether or not it's a good deal before they start buying their own. And that's what this worksheet does!
I love how it has them calculate what each subscription costs for one month, for 3 months, and for a whole year – eye-opening.
What child hasn't thought about getting a pet?
This handout and worksheet are great because they drive home the point that an animal has costs far beyond the initial ones to get them. Students are also asked to rate how much care each type of pet needs (fish vs. cat vs. hamsters, etc.), and if that would make it a good pet for the person looking for one.
Your middle schoolers aren't far away from going to restaurants themselves. Which means, they need to know how to tip properly.
And not just at restaurants – taxicab drivers, hair stylists, etc. are also included.
Students are given various scenarios, and must calculate how much a 15%, 18%, and 20% tip would be.
Hint: you'll also want to pair a lesson with these fun Would You Rather money questions for middle schoolers.
Free Consumer Math Worksheets for High School
I'd like to call out a few free consumer math worksheets that are more complex, and better for high school students to tackle.
Psst: you might also want to check out my money word problems with solutions and answers, and Would You Rather money questions for high schoolers.
What if you gave your 12-graders the task of shopping around for a mortgage?
Hint: the St. Louis Fed has a great 6:53 minute video about mortgages vs. renting that could introduce this activity to your students.
Consumer.gov allows you to order 50-300 free Mortgage Shopping Worksheets (free shipping, too!), and you can use them for this consumer math project.
This is a very detailed sheet, and includes collecting some of the following information from three different lenders:
Type of mortgage
Minimum down payment needed
Length of loan
Interest rate
Monthly private mortgage insurance (PMI)
Application/origination/processing/appraisal/etc. fees
Prepayment penalties
And much more
Bonus: available in Spanish.
2. Consumer Scram-Scams Activity
There are so many scams out there. In fact, I have a whole article with hundreds of comments on my other blog about the Vehicle Wrap scam.
Wouldn't it be awesome to put together a scams unit to teach your students?
You can order a bunch of free consumer scam information sheets from Consumer.gov, and create different scam stations where students can sit and read about the scams.
Then, gather screenshots of both scams mixed in with legitimate deals you've found out there. Have students read through the scams, then vote on which "deals" they think are legitimate, and which they think are scams.
Have them write down why and possibly even debate – after all, you might not exactly know which ones are scams and which aren't. The point is that your students are going to get savvier and savvier about how to spot them.
Here are some free scam worksheets you can send away for:
Hint: you can also order free scam placemats filled with information to keep at each students' desk through ConsumerFinance.gov.
Ready for a whole lesson plan, with worksheets and screenshots and presentations, on car title loans?
It's fantastic!
Consumer.gov created the following:
Very detailed lesson plan for educators
Vocabulary worksheet
Questions for guided reading
Sentence strips
Etc.
Inflation is an incredibly important consumer math topic, because it affects us all.
Not only that, but it's particularly relevant into today's world.
Here's a free handout for students to read through, then several worksheets for them to fill out afterwards to further their understanding in a way that brings inflation to both everyday life and the bigger economy.
The FDIC has a whole lesson plan, plus tons of consumer math and personal finance worksheets that you can immediately download and use.
Some of the worksheets that deal with consumer math include:
Really, really thorough offerings here.
Your high schoolers likely have a job, or will be getting their teen first job very shortly. Being able to read their pay stub and understand their paycheck is important.
This lesson has them learning about pay stubs and taxes, then includes worksheets for them to work on their new skills.
Here's a lesson plan plus 3-page consumer math worksheet that has students planning out savings and investing for Miya's future goals.
Hint: there's a free financial literacy game online students will need to complete as part of this.
Character Sonya gives advice on things to think about when making a large purchase, something teenagers will be doing in just a short amount of time.
Hint: there's a free financial literacy game online students will need to complete as part of this.
Students will answer some questions on a worksheet, then create their own plan for buying a large purchase.
Here's a full, comprehensive lesson plan and set of worksheets to help your students understand a paycheck.
Consumer Math Worksheet Resource Hubs
Didn't find exactly what you were looking for above?
In this section, you'll find resource hubs filled with all kinds of consumer math worksheets and printables to use.
You'll find a wealth of publications around consumer math subjects, plus some worksheets to help students work through them. You can also order free worksheets and information packets for all of your students (includes free shipping!).
There's a whole educator and students' section that features lots of lesson plans and worksheets for both economics and personal finance.
There is an entire consumer and money curriculum for each of the following groups that you can download immediately to use:
Pre-K – 2nd grade
3rd – 5th grade
6th – 8th grade
9th – 12th grade
Find help reviewing your curriculum, consumer math and personal finance worksheets and activities, and more.
They also have a section where you can request free publications, stickers, and other materials for your classroom.
Check back to these consumer math worksheets, as I'll be adding more free resources as I find them. And let me know in the comments below specifically, what are you looking for? Thanks.
The following two tabs change content below.
Amanda L. Grossman is a writer and Certified Financial Education Instructor, a 2017 Plutus Foundation Grant Recipient, and founder of Money Prodigy. Her money work has been featured on Experian, GoBankingRates, PT Money, CA.gov, Rockstar Finance, the Houston Chronicle, and Colonial Life. Amanda is the founder and CEO of Frugal Confessions, LLC.
Read more here
.
Latest posts by Amanda L. Grossman (see all)