Looking for intermediate financial goals for high school students to go after? Here's lots of examples, plus what makes a goal a medium-term one.
Intermediate financial goals for high school students are going to be different than ones for adults.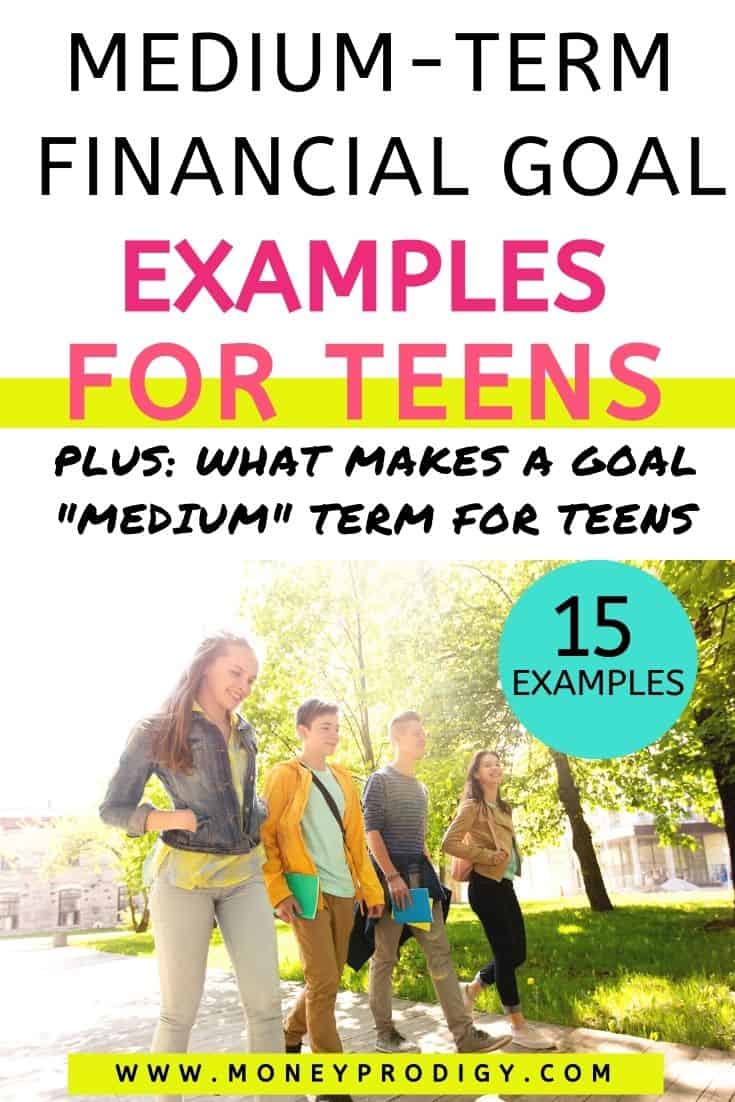 That's because of a few things:
Teens earn less money than adults, so it'll take them longer to achieve a financial goal
Teens are not as used to setting goals and achieving them, so what's considered intermediate or medium-term goals should be shorter
Teens are in a different stage of life than adults, so their goals will look different anyway
All of these reasons are why it's important to write an article specific to teenagers that will help them with specific examples, plus what is considered a medium-term financial goal for teens.
What's Considered an Intermediate Financial Goal for High School Students?
In order to know what's considered an intermediate or medium-term financial goal for high school students, we've first got to know what one even is.
I define a financial goal as:
Anything you want to be, to do, or to have that costs more time and money than one earned pay cycle (allowance, paycheck, etc.) to do.
There are three types of financial goals that have to do with the length of time:
Intermediate financial goals for high schoolers
As far as high school students are concerned, here is how I advise you figure out whether or not a goal is short-term, intermediate-term, or long-term.
| Short Term Financial Goal | Medium Term Financial Goal | Long Term Financial Goal |
| --- | --- | --- |
| Takes more than one pay cycle, but less than 1 month to save up for | Takes more than one month, but less than 3 months to save up for | Takes more than 3 months to save up for |
You can see that a financial goal is short, medium, or long term, depending on a combination of:
Goal Cost: How much money your student will need to save to reach their goal
Resources they have to use/spend: How much money they have at their use
Motivation and Financial Obligations: How much of that money they'll set aside to save for the goal
Now, let's dig into actual examples of teen intermediate financial goals.
Intermediate Financial Goal Examples for High Schoolers
Below, you'll find lots of example financial goals that will take your high school students around 1 to 3 months to achieve.
What's the money range they should shoot for when choosing a financial goal? Well, that depends. Some students will have less money at their disposal, and some students who work more might have more income to put towards a financial goal.
So, for example, if your teenager gets a weekly allowance of $15, then a medium-term financial goal would be something that will cost more than $60, but less than $180.
And if they have a job and can dedicate $100/week towards their goal? Then a medium-term goal would be something that costs between $400 and $1200.
Intermediate-Term Financial Savings Goals for High School Students
In this section, you'll find long-term savings goals for teens – cool things for teens to save up for.
1. Lifeguard Certification Course
Make it much more likely you'll get a high paying job for high school students next summer (and beyond) by working on a lifeguard certification.
2. Senior Week Trip with Friends
Does your teen want to participate in senior week – where they go on a trip with other students for the week after they graduate?
I did, and definitely had to save up for the house I shared with other students on a beach in Delaware. Such fun memories!
3. First Semester Textbooks
Going to college? Those textbooks are expensive! I remember dropping up to $600/semester while in college on textbooks (though some semesters, it was around $200).
4. Dorm Gear
I remember saving up each summer to buy some cool new stuff for my dorm room – to make it a big cozier.
5. New Stereo for Used Car
This is the first major purchase I made as a teen after buying my car! It was an alpine stereo, and made a lovely addition to my 80s beater car. If I remember correctly, it cost around $200…and then another $150 to install it (they had to take off the dashboard and everything – lesson learned!).
6. Weekend Youth Retreat
Maybe they found a weekend camp or retreat they want to go to – like a yoga retreat, a church retreat, a youth entrepreneur competition, etc. Saving up for the fees will ensure they get there.
7. DSLR Camera
This can be for a class or extracurricular class they want to take, OR, used as a hobby they want to get paid for (like doing pet portraits at the pet park – here's 15 more kid business ideas).
8. New Car Tires
They might need to do some semi-serious upgrades on their car – especially if they buy used – like 4 new tires.
9. Driver's Ed Course
Saving up a few hundred dollars to take a driver's ed course will not only help them get their license, but it will also decrease their overall car insurance costs each month.
That's a win-win!
10. Emergency Fund
Yes, I believe teens need an emergency fund. Especially since they're getting ready to take on some responsibilities that cost money.
For example, what would your teen do if they bought a car, and got a flat tire the next month? Or the head gasket blew? Or they smashed their smartphone screen?
Parents can take care of these depending on the money rules and responsibilities in their household. OR, a teen can save up an emergency fund and get into the habit of "expecting" unexpected expenses.
Psst: here's my article on common teenage expenses to help them figure out how much should go in their emergency fund.
11. New (or Used) Smartphone
Maybe your teen can split the cost of owning a phone between them and their parent. And part of that? Can start after the teenager saves up enough to buy the phone.
Here's my whole article on how to save up for an iPhone as a kid.
Alright – let's move onto other medium-term financial goals that aren't about saving up for something.
12. Prom
Here's my free prom budget template to help high schoolers save up for the big event (plus figure out who is paying for what).
Intermediate-Term Financial Goals for High School Students
Guess what? Financial goals are more than just about saving up for something (here's the 5 types of financial goals).
In this section, you'll find financial goals for teens that will take more than 3 months to achieve.
1. Set Up a Banking System
They might have a checking account, or just a savings account, or both. Maybe they have checks, maybe they don't.
Maybe they've set up a bill-paying station or not.
Help your students to figure out what their current banking system looks like, and what's missing from it. How can they detangle things and make all the accounts work with each other?
Here's more information on money management for teens, and 50 banking activities for students.
2. Line Up a Summer Job
It takes several months to find a job, especially if it's your first job! Get started early, and hang in there.
3. Learn a Skill They'll Get Paid for
They can take an online class or an in-person class around a skill that will help them to earn cash.
Like:
Specific craft, and then they can sell crafts on a site like Etsy or at in-person craft fairs
Babysitting course
Etc.
4. Do One Resume-Building Activity
Now, I don't want teens to do something only because it will build their resume.
But if they're not thinking about ways they can build up their resume for things like college applications, first jobs, and beyond?
Well, then they're missing a huge opportunity.
For example, things that I did and that landed on my own resume (which helped in landing me my first job) include:
Becoming President of our high school's Leo club
Tutoring ESL elementary students
Volunteering at our local nursery home
Doing a summer foreign exchange to Spain
Becoming Dairy Princess for Chester County (true story!) and getting an Honorable Mention in the State Competition
Etc.
Here's how to make a resume for first jobs (high school students).
I hope I've shown you some great intermediate financial goals for high school students to tackle. And not only that, but to define what is a medium-term financial goal for this age group. I'd love to hear what financial goals your own students are coming up with, and how it all goes!
The following two tabs change content below.
Amanda L. Grossman is a writer and Certified Financial Education Instructor, a 2017 Plutus Foundation Grant Recipient, and founder of Money Prodigy. Her money work has been featured on Experian, GoBankingRates, PT Money, CA.gov, Rockstar Finance, the Houston Chronicle, and Colonial Life. Amanda is the founder and CEO of Frugal Confessions, LLC.
Read more here
.
Latest posts by Amanda L. Grossman (see all)