Looking for things to save up for as a teenager? I've got you covered with 41 examples plus how to figure out what to spend money on as a teenager.
Sooo…you want your teenager to start saving up their money. OR, you ARE the teenager (hi!) and you'd like to start saving for something.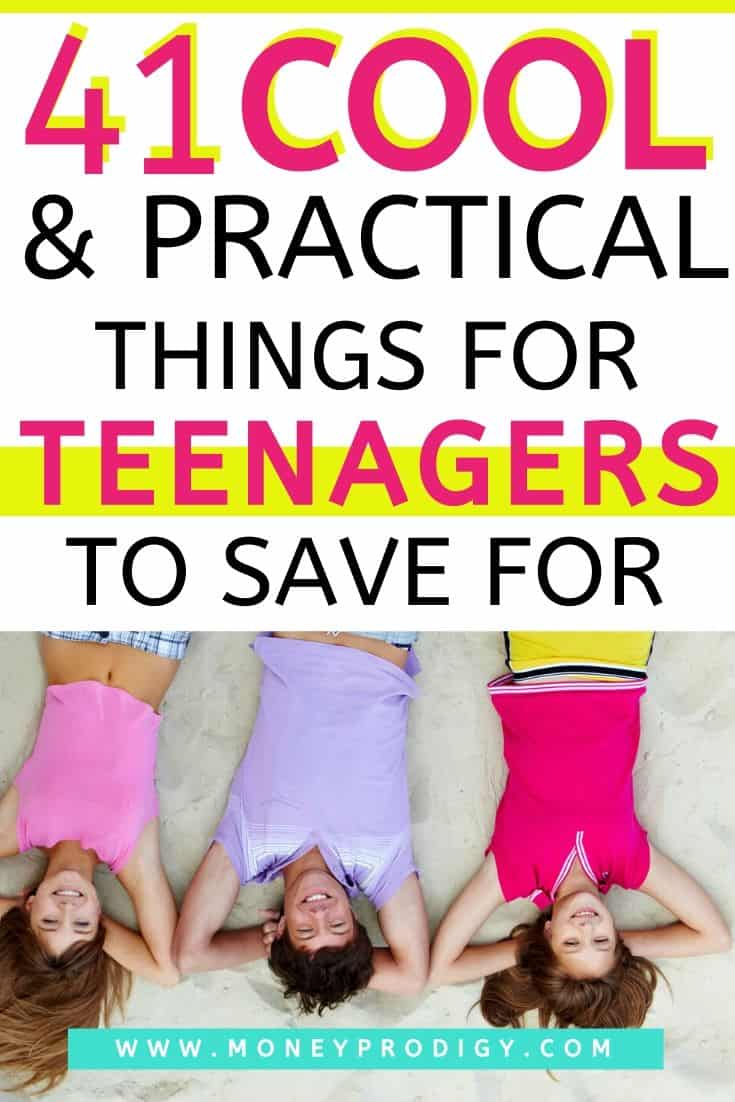 What are you going to save your money up for? Don't worry if you can't decide – you're in the right place.
I want to give you tons of examples of things to save up for as a teenager so that you can start setting your own savings goals.
We'll look at both short-term savings goals (or things that will take just 3 months or less to save up for), and long-term savings goals (things that will take more than 3 months to save up for).
Before I go into a long, long list of cool things to save up for as a teen (either girl, or boy) – I want to share with you the top 10 things teens are buying nowadays.
Psst: you'll also definitely want to check out my article on how to save money as a teen, and how much should I have saved by 18.
Top 10 Things Teenagers Buy
It's sometimes helpful to know what others are doing, and then to take that information and apply it to your own life.
So, what exactly are the top 10 things teens are buying these days?
According to a survey completed by Piper Jaffray, teens spend an average of $2,600 each year on these top 10 things/brands/stores:
Food (Chick-fil-A is #1 spending outlet, followed by Starbucks)
Beauty products (Ulta is #1 brand, followed by Sephora)
Clothing (Nike is #1, followed by American Eagle)
Footwear (Nike is #1, followed by Vans)
Handbags (Michael Kors is #1 brand, followed by Louis Vuitton)
Wow, is that eye-opening!
I don't know about you, but I certainly was not sophisticated enough as a teen for things like Louis Vuitton and Starbucks to even be part of my vocabulary (let alone, part of my spending).
Next up, let's talk about what a teenager should spend their money on.
What to Spend Money on as a Teenager
Since we're talking about things to save your money up for, I'd like to point out that the way you spend your money actually matters a lot.
Specifically, for these two reasons:
Spending Can Dilute Your Money's Power: The more you spend your money on things other than what you're saving for, the longer it'll take you to get what you want.
You Need to Spend on Money Responsibilities First: You likely have money responsibilities from your parents, or things that they expect you to contribute towards and otherwise pay for. You'll need to save up for those at the same time (and possibly ahead of what you choose from below).
So, what are the things you should spend your money on as a teenager?
For starters, you need to spend your money on any money responsibilities your parents have given you.
Money responsibilities a teen might have:
Weekend nights out with friends
Car insurance
Data plan on your smartphone
Gas for your car
After school vending machine snacks
Driver's Ed
Driver's license fees
Next up, you should spend your money on a mixture of a) things that make you happy, and b) things that will contribute towards your future.
Remember, you won't be a teen forever. The next stage in your life can get quite costly, and anything you can spend now with your spendable cash to make your late teens/early 20s a bit easier will be appreciated by your future self.
For example, if you were to go save for a driver's ed course and complete it, then you're looking at discounted auto insurance for years to come. That will make a difference when you're on your own!
Other things that you could spend your money on now that can help you in the not-too-distant-future:
Laptop/computer you can take to college with you, and/or use to job search
Resume-building activities (like completing the Congressional Award Program, study abroad opportunities, etc.)
Used car
Piece of bedroom furniture (you can take with you to your first apartment)
I mean…just think about how much saving up your money to spend on things like that could make a difference to your life in your 20s (compared to spending your money on something like each new video game that comes out)?
Things to Save Up for as a Teenager
I've got a long, long list of things + experiences to save up your money for as a teenager.
Before you start choosing which to go after, you'll want to think about a few things:
Length of Time to Save Up for It: Do you want to be able to save up for this thing in a short amount of time, or is a long amount of time okay?
Your Other Money Responsibilities: Do your parents have certain savings requirements for you (i.e. money responsibilities you'll need to pay for that you need to save for)?
Parental Permission: You're still a teen, so you'll definitely need to get permission from your parents before you go after any of these things. Think about how devastated you might be after saving up 8 months for something…only to have your parents say "no" when it's time to buy because you didn't ask them ahead of time?
Now, let's get to that list!
Short-Term Savings Ideas:
Prom night expenses (gown/tux, other rentals, tickets, etc.)
Horse lessons
Ugg boots
Sneakers
Bedroom accessories
Christmas presents for siblings/parents
Smartphone accessories
Back-to-school shopping above and beyond parent's contribution
School dance tickets
Job interview outfit
Streaming service
Private singing or piano lessons
College application fees
Long-Term Savings Ideas:
Used car
Smartphone
Laptop/computer
College (textbooks, tuition, living expenses, etc.)
Gaming console
First month's/Last month's/security deposit for your a first apartment
Trip for senior week
Trip for spring break
Horse + boarding expenses
Bedroom furniture
Stereo system for your used car
Big school trip
Summer camp
Class ring
Study abroad/summer exchange tuition
Car tires/car repairs
Things to Save Up for as a 13-Year-Old
The easiest way to break down savings ideas by age is to see what is the next closest thing coming up that your child/tween/teen is going to need or want to purchase.
So, for a 13-year-old, this likely means a car is on the horizon (as far as a long-term goal).
But for short-term things to save up for as a 13-year-old?
Here's some ideas:
Family vacation spending money
School field trip spending money
Homecoming expenses
Extra sports equipment beyond the essentials
Tickets to an amusement park
Things to Save Up for as a 14-Year-Old
What things can a 14-year old save up for, besides what we've already discussed?
Definitely read all the ideas from above.
Here's a few more:
Pedicure party or afternoon with friends
Tickets to a concert
Afternoon with friends at Starbucks
Do you feel like you have a better idea of some short-term and long-term things to save up for as a teenager now? I hope so. I'd love to hear your own savings goals in the comments below!
The following two tabs change content below.
Amanda L. Grossman is a Certified Financial Education Instructor, a 2017 Plutus Foundation Grant Recipient, and founder of Money Prodigy. Amanda's kid money work has been featured on Experian, GoBankingRates, PT Money, CA.gov, Rockstar Finance, the Houston Chronicle, and Colonial Life.
Read more here
.
Latest posts by Amanda L. Grossman (see all)