Looking for kid entrepreneur kits? I've got 7 entrepreneurship kits for you (for both kids and teens), plus teenager entrepreneur's stories to inspire.
Have you ever noticed that kids are innately entrepreneurial?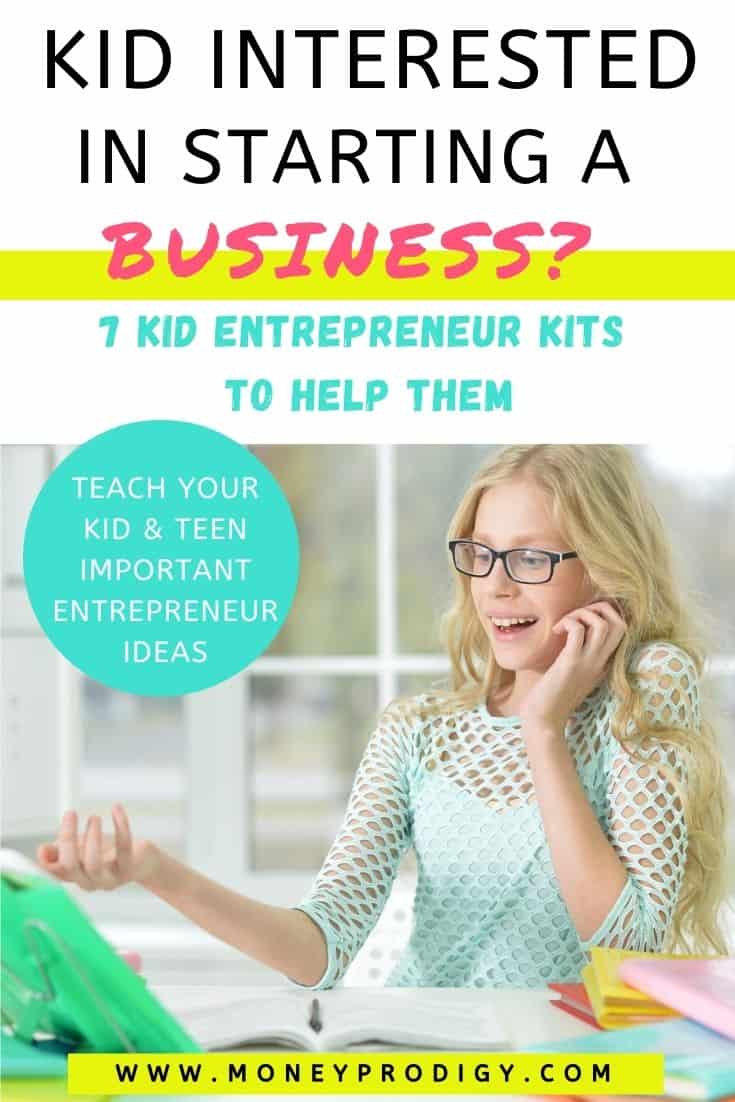 Sure, their creations mostly never end up on Shark Tank, and hearing teenage entrepreneur stories and kid entrepreneur stories is still the exception, not the rule.
But kids, in general, want to create.
When they find a problem, they focus in on it and they want to come up with a way to solve it (even if it means emptying your cupboards of ingredients to attempt to make a new kind of slime to sell).
Kid entrepreneur kits can help encourage your child's natural entrepreneur tendencies. Not only will your kid's eyes light up when you give one to them, but they'll be able to get some guidance from real business owners.
And let's be honest – when you invest in your child, they know that you are believing them. In fact, after I read 23 biographies of "successful" adults, I noticed a pattern – 98% of their parents had allowed them to go after what they were interested in as kids, without judgment (or at least, without much of it).
They believed in them, and it propelled them forward into wildly successful careers.
I'm going to share with you 7 kid entrepreneur kits, and then several of my favorite teenage and kid entrepreneur stories for some inspiration (plus tips).
7 Kid Entrepreneur Kits
Before a few months ago, I didn't even know kid entrepreneur kits existed! I've now happily received several in the mail, and have only shared the BEST with you below.
Who knows – getting your child one of these kits might be just the thing that spawns their career.
Psst: it would be a great idea to pair one of these entrepreneur kits with an entrepreneur books for kids, or a business book for teens.
Kit #1: Teen Entrepreneur Toolbox
Are you looking for an entrepreneur kit where your teen and child actually come up with their own ideas and get guided through how to bring them to market? This is the kit for you.
Anthony ONeal partnered up with Dave Ramsey to create the Teen Entrepreneur Toolbox, a kid's entrepreneur kit and small business guide for teens.
My thoughts? First up, I think the look of this is perfect for teens. It's professional and sleek enough to make them want to pay attention to whatever business ideas and work they're going to complete with it.
The entrepreneur kit includes the following:
Access to Free Entrepreneur Toolbox app
Teen Portfolio Book
DVD of Anthony's Training Video
Parent's Guide Book
Pack of Thank You Cards
Deck of Conversation Starter Cards about Starting a Business
Goal Tracker Poster
The Entrepreneur Toolbox App is pretty awesome. It's got the ability for your teen (and anyone, for that matter) to track savings goals, organize a business calendar for appointments, and even figure out profit potential for either a product or a service they're thinking about trying out.
Pssst: you can access all the Teen Entrepreneur App features without buying the kit – it's a free app!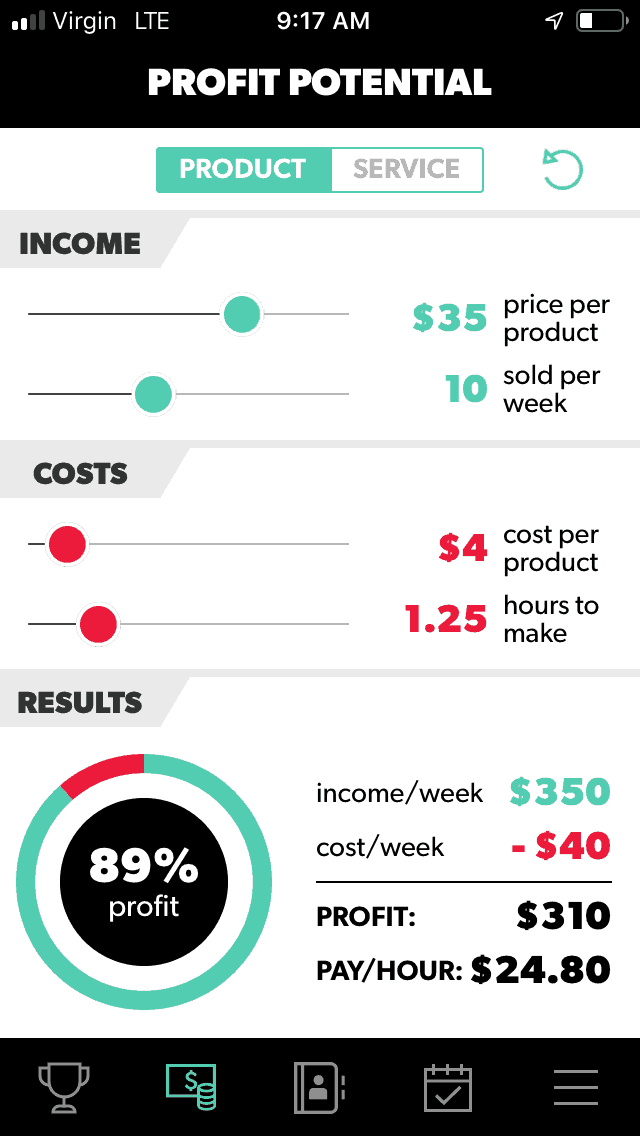 Your child is guided through 8 steps in the Teen Portfolio for how to start a business. Including help finding their idea, creating a price, building a business, winning customers, getting organized, etc. Then, there's a parent guide book that talks to you, the parent, about what your child will be learning in each of those 8 steps. Not only that, but it shares throughout tips for how you can get involved with your teen's business and help them through the process.
Psst: Need a few product ideas? Here are 22 simple things for kids to make and sell, and 17 boy crafts to sell.
Here is a comprehensive guidebook with plenty of activities and work for your child to do to not only get their startup idea off the ground, but to teach them about entrepreneurship.
In fact, if your child follows through this book? Then they're taking a self-guided class on being an entrepreneur.
Topics covered include things like:
Understanding the character trait, grit, and how that ties into the entrepreneur's journey
Concept of wealth, and how it doesn't only include making money
Generating and ranking ideas for how to solve problems through a business
Doing primary and secondary market research to figure out your customer
Sales and marketing
Expenses to start a business up, plus maintain it
and SO much more
The goal is to challenge your child to go through one of the chapters each week, and then apply the lessons to their own business.
Psst: your child wants to start a business? Check out these business plan templates for kids, and 16 kid business ideas.
Shopfiy is offering both a free digital kid business starter kit you can download and use immediately, AND, one they'll send you in the mail (for free – no shipping!).
The kit includes:
10 Business Exercises
Branding Exercises
Stories of Young Entrepreneurs
Marketing Activities
Bonus Activities
etc.
Kit #4: Biz Ops Game
This says Biz-Ops "game", but I would consider it a kid's entrepreneur kit (and certainly great entrepreneur homeschool curriculum, or teaching entrepreneurship curriculum).
Each child becomes a bootstrapping entrepreneur attempting to bring an Air Transportation Business to life.
Players must create a business name, plan for expenses, make paper airplanes (their product), as well as sell them, and keep records of sales and expenses. Each player begins with a $200 bank loan and a financial sheet.
I love how players are responsible for wearing many hats (just like a true, bootstrapping, entrepreneur!), such as being in charge of buying raw materials, office supplies, dealing with the bank, coming up with their company's name, designing and testing their product, sell their product to other players (who are the customers), etc.
The customer then gets to choose how much they will pay for the airplane, depending on quality.
I think this would be a lot of fun in a classroom environment!
Kit #5: Free Lemonade Stand Packet
This free lemonade stand packet will teach your kids:
How to tally the cost of a glass of lemonade
How to sell lemonade
How to tell when you've made a profit
The 4 P's of marketing (can I just say that I didn't even learn these until I was like 26??)
All key ideas for a budding entrepreneur to understand!
Now, who doesn't love a good kid or teenage entrepreneur story? I've got several below I'd like to share with you.
Kit #6: The Entrepreneur Game
Ages: 12+ years
Players: 2-6
The Entrepreneur Game isn't a kit, exactly, but it sure is a great idea for a tween or teen who wants to understand better how being an entrepreneur works.
How you win the game is by being the player who accumulated the highest net worth (by the time all players make it to the finish space). One player is the banker, and each player receives $20,000 to begin the game (the banker gets a $10,000 bonus).
Kids get to choose the kind of business they want:
Home-Based Business
Brick & Mortar
And choosing that determines which game path each play goes down. Spaces on the board include "Wild Card" draw, "Trump Card" draw, "Losses", and "Marketing Card" draws.
Kit #7: DIY Entrepreneur Kit Option
For one DIY option, you can check out VentureLab's free workbooks for kids, such as a "Problem Solving Workbook", and a "Learning to Embrace Failure" workbook. These are great ways to get your kids working on entrepreneur problems and understanding an entrepreneur's life!
I got to review the Kid's Financial Edition of the Kid's Night In Subscription Box, and while you can't actually purchase this box anymore (it is sold out), I think it has some neat concepts to use when making your own DIY entrepreneur kit for kids.
For starters, I love how the setup is for your child to purchase ingredients from your own cupboards in order to create their product to sell: ice-cream. The kit comes with the ingredients needed for them to make and decorate their product (such as the vanilla extract, the salt, the sugar, and the Ziploc bag), and then they need to use the included pretend coins to actually purchase those ingredients from you.
You could easily do this activity at home, and you likely have the ingredients needed for your child to create a product right in your own cupboards. No having to go to the grocery store to start a business!
The subscription box that it all comes in? Actually turns into a piggy bank. Now why do I love that idea for your own DIY Entrepreneur Kit? Well, it's inventive. Innovation is a huge part of business and entrepreneurial skills, and anytime you can give your child some raw materials and ask them to create something from them that they could sell is a good lesson taught in expanding their minds and showing them what's possible (and sometimes, what's not possible!).
They also included a copy of the book, "If You Made a Million", something that could get your little one interested in making and earning their own money.
Pssst: For more recommendations for personal finance kid books, you might want to check out my review of 29 money books for kids.
Teenage Entrepreneur's Stories – Businesses by Kids
Over the last several years I've collected teenage entrepreneur stories and kid entrepreneur stories (I know – weird hobby. But I find them inspirational!).
One thing I've learned is this: every successful entrepreneurship story starts off by a kid becoming intensely fascinated by a problem they find. For example, when Alina wanted to eat candy but her father said it would rot her teeth. Or when
And the second thing I learned? Parents (that's you!) have to help their kids at some point. After all, a child cannot run their own business.
Keep those two nuggets in mind as you read below.
Here are my favorites kid and teenage entrepreneur stories:
#1: Alina Morse's Sugar-Free Business, Zollipops
Alina's father told her she couldn't eat candy because it was bad for her teeth. The problem? She still wanted to eat candy. So, at age 9, she set out to research how to make candy. She watched YouTube videos, and began experimenting in her parent's kitchen.
Eventually, she created a sugar-free lollipop recipe (her teeth-cleaning candy recipe), which currently sits at No. 1 on Amazon for sugar-free lollipops! In fact, she's got a million-dollar business called Zollipops.
Entrepreneurship Tips from Alina's Story: Alina actually starting inventing when she was just 3 years old, and she kept with her an "idea binder", where she'd write down her latest business concepts. She also had some skin-in-the-game; she had saved up $3,750 from birthday and holiday gifts, and her Dad matched it as an investment.
#2: Canaan's Marshmallows Company
Since the age of 3, Canaan has enjoyed cooking and watching the Food Network. When he was 4, he was looking up at the clouds one day and thought they looked an awful lot like marshmallows. He wanted to try all kinds of marshmallow flavors, but there just aren't that many out there.
His Mom actually created peach marshmallows with him shortly thereafter, and they turned out pretty good. He started baking and selling marshmallows at his parent's party, and then moved onto the local coffee shop in his town, and now Canaan's Marshmallows Company has gone big time.
#3: Fraser Doherty's Real-Fruit Jams
At age 14, Fraser Doherty learned his Gran's secret jam recipe. developed a recipe to make jam entirely from fruit. After selling the jam in farmer's markets and delicatessens for a few years (making nearly 1,000 jars of jam a week), Fraser took out a $9,000 loan and in March 2007 began supplying SuperJam to Waitrose, a UK supermarket chain.
The deal made Fraser a millionaire before he was 20. Today SuperJam is sold in over 2,000 supermarkets around the world.
#4: Lily Born's Kangaroo Cup
Lily noticed a problem: her grandfather, who had Parkinson's Disease, found it difficult to hold onto things. He would often spill what was in a cup he was trying to handle. She experimented with a moldable plastic material to create her first three-legged cup, and then a year later, she created one for her father at a pottery studio.
Using Kickstart and Indiegogo, crowdfunding sites, Lily raised over $62,000. She and her father traveled to China, created several more models, fine-tuned them, and then found a manufacturer. The Kangaroo Cup was born!
You can download her six-step Entrepreneur Workbook for free.
#5: Aelita Andre's Art
Aelita Andre was named the world's youngest artist and a "color prodigy" at age 4.
Aelita began experimenting with paint before she could walk and even had her first piece exhibited in an Australian gallery at just 22-months-old. A couple of years later, at age four, she hosted her first solo exhibition at the Agora Gallery in the Chelsea neighborhood of New York City.
Three of her paintings have sold for a total of $27,000.
I hope you've found at least one of these kid entrepreneur kits and teen business resources to be really helpful. Share your own favorites in the comments below!
The following two tabs change content below.
Amanda L. Grossman is a writer and Certified Financial Education Instructor, a 2017 Plutus Foundation Grant Recipient, and founder of Money Prodigy. Her money work has been featured on Experian, GoBankingRates, PT Money, CA.gov, Rockstar Finance, the Houston Chronicle, and Colonial Life. Amanda is the founder and CEO of Frugal Confessions, LLC.
Read more here
.
Latest posts by Amanda L. Grossman (see all)