Need business books for teenagers? Great business books for high school beginners, to start-up their own business and learn from others who have.
What books should a teen read if they want to start a business, run a business, or understand how a business works?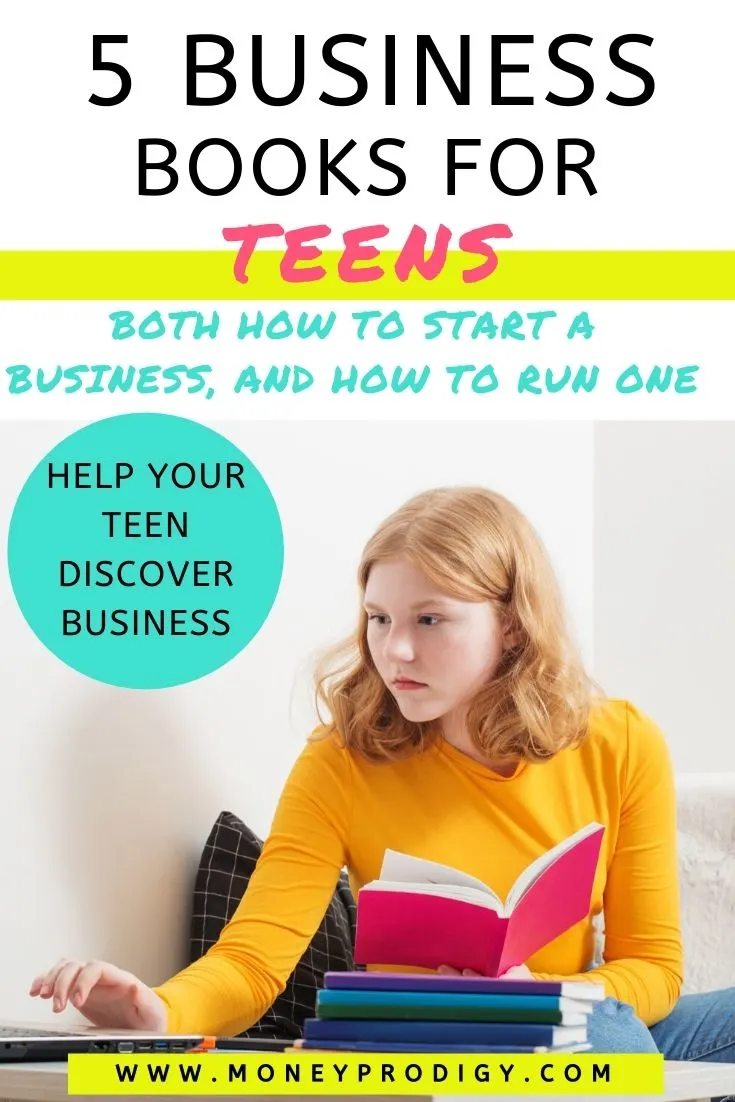 Teens can learn about business by:
Reading a book that guides them through the process of starting their own business
Reading books from others who've done this at a young age, and learning their business-building mistakes and successes alongside them
Diving headfirst with their best friend into a bean-bag-selling business (this is what I did with my friend! We failed miserably…)
I've got books here that accomplish #1 and #2 (#3 will teach them a lot, too! But if they're anything like me, they'll take years to really get it…)!
Whether you want a business book that shows teens how to start their own business, or a book that takes them through important business concepts in a teen-friendly way, you'll find that here.
Business Books for Teenagers – Starting and Running a Teen Business
So, your teenager says they want to start a business. What do you do?
A great starting point is to get one of these teen start-up business books into their hands. They're full of guidance on things like:
Here, you'll find books that will take your teen's ideas (or give them ideas) and run them through how to bring them to life.
Age Range: 8+ years
Don't let the "for kids" on this title fool you – this is a robust workbook that will guide teens through ideation to creation to business maintenance.
I like how the book starts out with defining true wealth, and how it doesn't mean just being rich. True wealth is a balanced combination of:
Personal well-being
Relationships
Health
Money
The next chapter moves into the important topic of "grit" (especially when starting up a business!), and then onto core business topics like:
Solving problems as the core of your business
Getting to know your customers
Marketing your products
Using your story to sell and other opportunities
Protecting your business
Funding your business
And much more
Great resource to get into your teen's hands.
Psst: you also might want to check out these 16 kid business ideas., and 22 things kids can make and sell.
Age Range: 12-18 years
Here's a sleek toolbox that includes several guides to help your teen understand how a business runs, and to start their own.
In the Teen Portfolio, your teenager will be guided through:
Picking an idea
Pricing their idea
Building a business
Gaining customers
Budgeting in their business
I like that this toolbox also comes with a length Parent's Guide, so that you can help guide your teen through each step of this process.
Also includes a DVD, conversation starters all around business start-ups, and more.
Here's my full review on the Teen Entrepreneur Toolbox.
Business Books for Teenagers – Business Biographies and Autobiographies
One of the great things about starting up a business as a teen now, compared to when you and I were teenagers?
There are a sizable number of teen entrepreneurs who have paved the way. Meaning, your teen can read up on their real-life experiences, that happened when they were the same age as them.
That's priceless!
Check out these teen entrepreneur and startup biographies for high school students.
Age Range: 11-14 years
Moziah Bridges ("Mo") is the 17-year-old owner of Mo's Bows, a company that creates handmade bow ties.
He's famous for pitching (and winning funding) on Shark Tank, and he's even met President Obama!
He talks your teen through:
Getting your minimum viable product out there
How to craft your Shark Tank pitch (also helpful just to be able to succinctly talk about what your business is!)
Finding free business resources to begin with, so that you can get up and going for the least amount of cost
Viral strategies to get your product to take off
Outsourcing part of a business
Etc.
All of this is organized through his Measure, Cut, Stitch system, which is how he divides up the book.
Age Range: 10-15 years
Mikaila Ulmer decided to start a lemonade stand to help save the honeybees – and this, after getting stung twice in one week and having a lot of fear around it.
What resulted was a growing company with lemonade bottles in over 1500 stores, a deal on Shark Tank, and getting to meet the President of the United States!
Mikaila starts off with her story on how she started her own business, then goes into lots of business principles, like:
Selling products with a mission behind them
Near-misses and failures of product creation (I think this part is really important – to understand that it takes perseverance and trying things over, over, and over again to get them just right)
Finding ways to reduce costs
Figuring out profit, and how to change the equation
Psst: check out some of my lemonade stand ideas, here.
I just love her emphasis on how kids see "possibilities where adults see problems".
The following two tabs change content below.
Amanda L. Grossman is a writer and Certified Financial Education Instructor, a 2017 Plutus Foundation Grant Recipient, and founder of Money Prodigy. Her money work has been featured on Experian, GoBankingRates, PT Money, CA.gov, Rockstar Finance, the Houston Chronicle, and Colonial Life. Amanda is the founder and CEO of Frugal Confessions, LLC.
Read more here
.
Latest posts by Amanda L. Grossman (see all)