These 9 free personal finance games for elementary students online add engagement and FUN to teaching personal finance.
Do you want online personal finance games for elementary students that go beyond counting coins, and simple money math?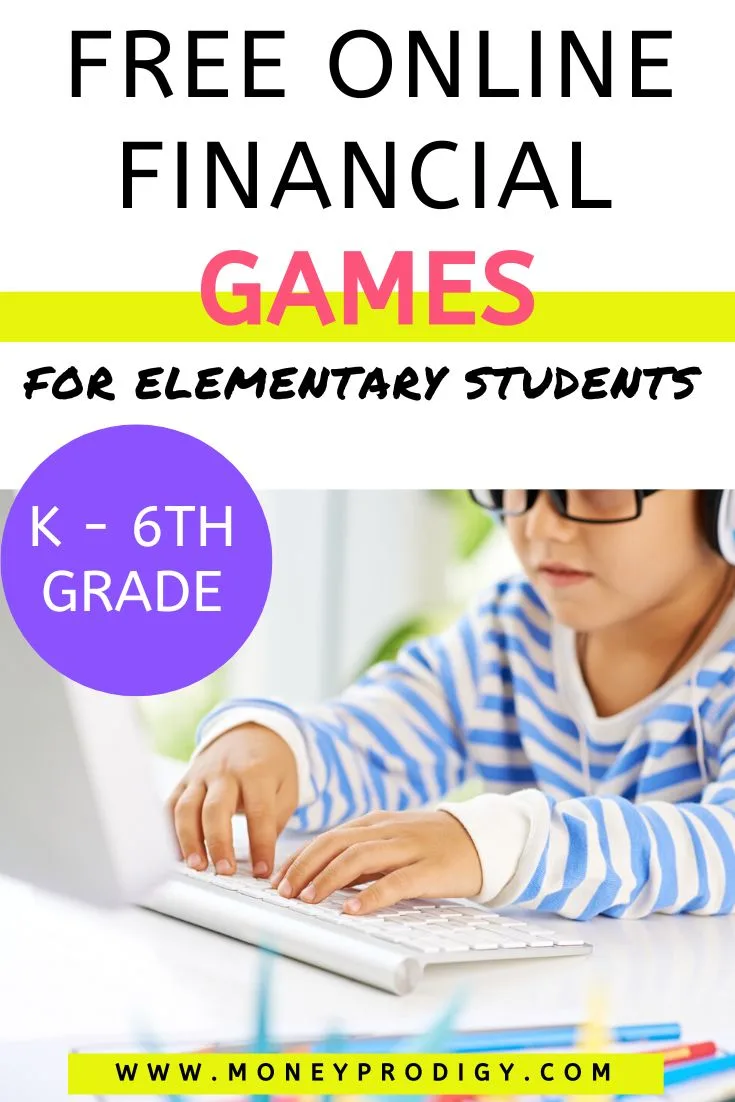 These games will teach your students lots of really important financial lessons, such as:
How money developed/purpose of money
Making choices with money (opportunity costs)
Prioritizing needs over wants
Psst: looking for counting coin online games? You can find counting money apps here.
Online Personal Finance Games for Elementary Students
Want to teach your students the difference between needs and wants, or what a budget is, or how to spend money well?
Check out all these great online personal finance games for elementary students (Kindergarten through 6th grade) below.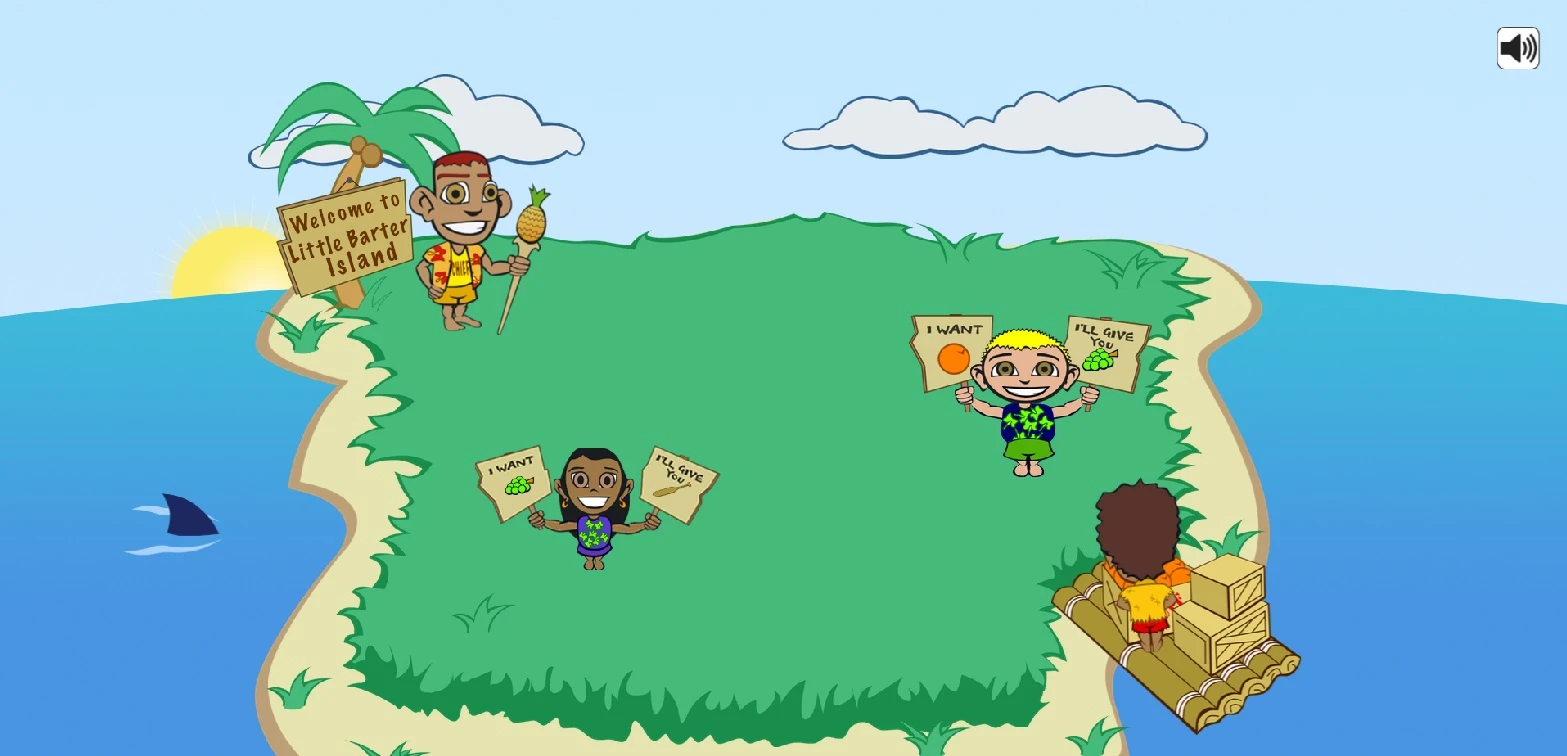 Your students are tasked with bartering their way up to buying a new sail they need to escape Barter Island.
There's a cute intro that shows Robbie sailing and getting into an accident. Along the way, he's acquired a bunch of oranges. These are the only thing he has to start the bartering process.
There are prompts to help with what the students should do next – such as trading oranges for an oar so that they can get to the next island and barter some more.
I think this is a great game to really illustrate why we have money at all (instead of just trying to teach kids in words about bartering – they'll actually practice doing it).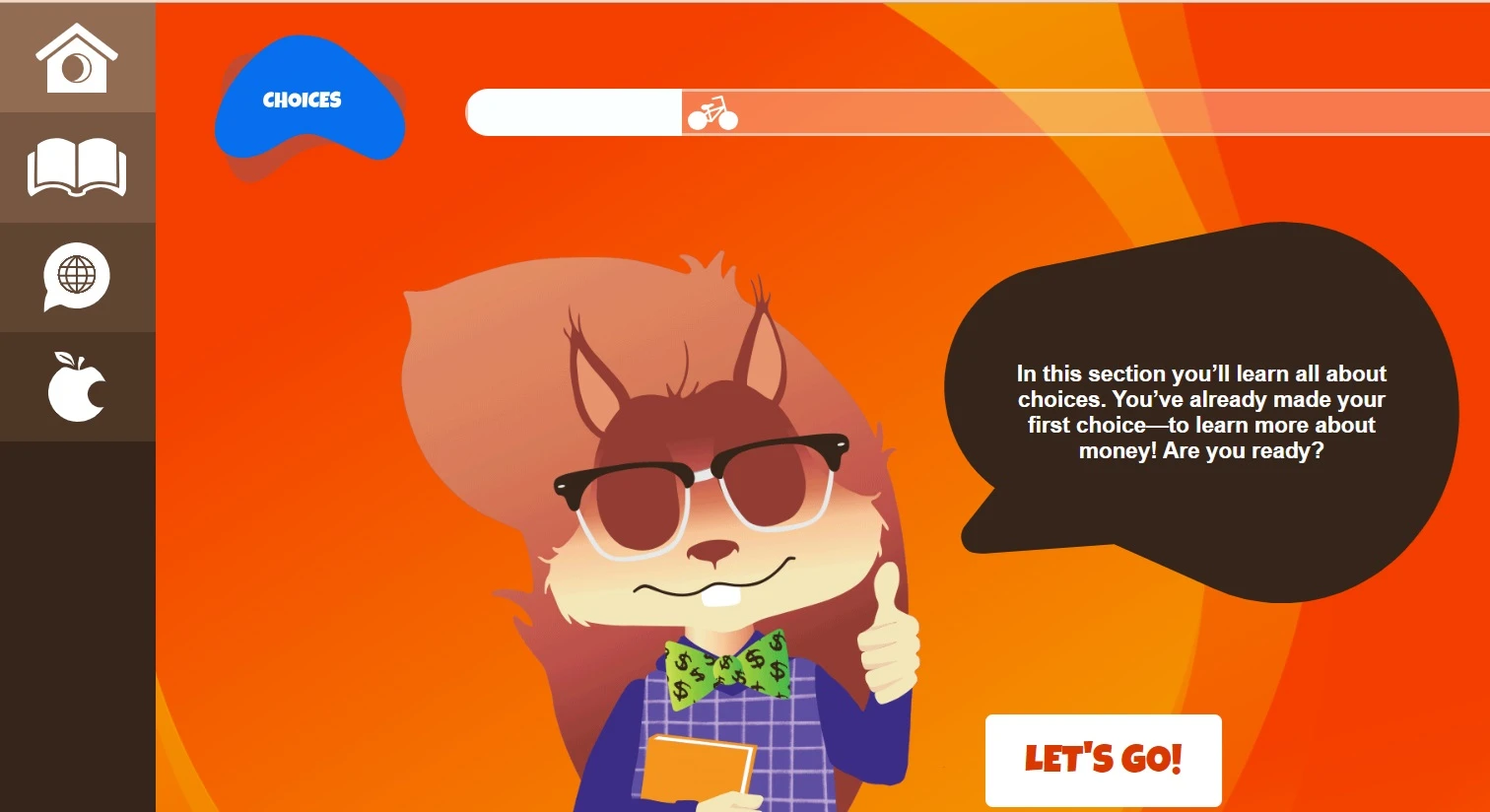 Monte, the personal finance expert squirrel, guides your student through helping Alex with her saving goal: to buy a new bike.
Money topics covered include:
Choices
Earning
Spending
Budgeting
Activities
Students learn about something by reading through several paragraphs, then are quizzed on what words mean by dragging the word to the correct boxes.
Then, students are asked to use their new knowledge. For example, in the Choices module, they learn about benefits, choices, consequences, cost, etc. After being quizzed about what they learned, they're then asked to make a choice for Alex and point out the cost and benefits from it.
Bonus: there are lesson plans and more for free at the bottom of the page here.

This game takes your students through needs vs. wants by making choices about who their avatar is, what career they have, and what they want to spend money on daily.
If they choose too many things, they'll run out of cash for the month. The option is to keep going, or to change what they spent each day.
Hint: while I do think the budget chart they present after students choose a career for their avatar is well above elementary level, the rest of the game seems very doable for that age group. And I do believe it helps reinforce how daily money decisions have a monthly impact.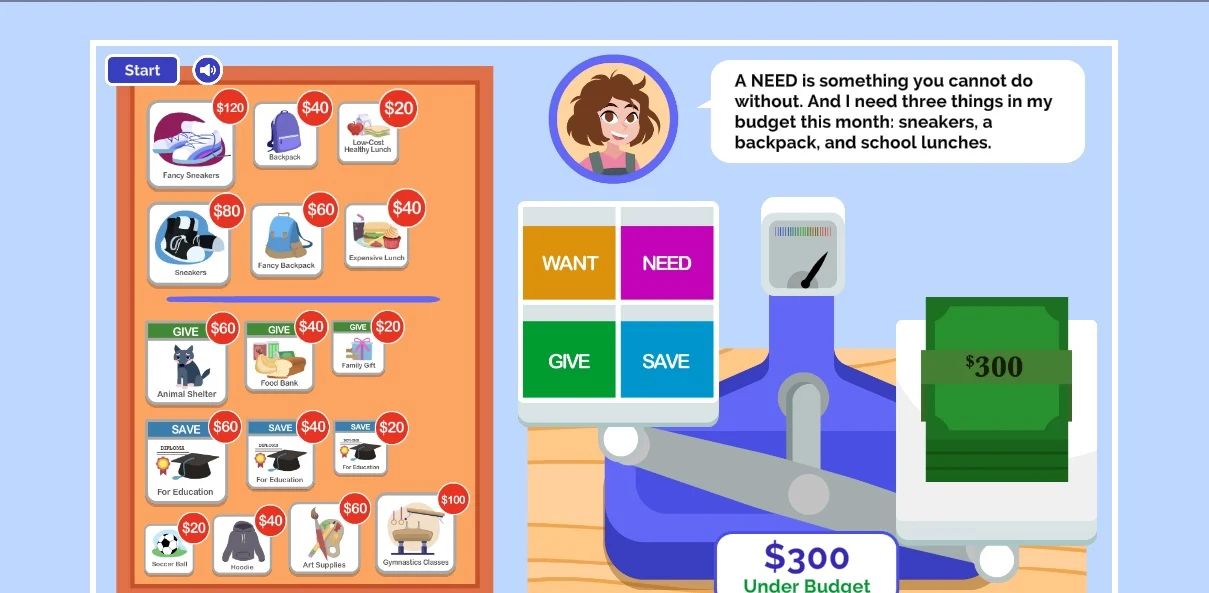 Students are given $300 and a task to help a person buy three things they need: sneakers, backpack, and school lunches.
Choices include lower-costing options that satisfy the actual need, plus higher-costing options that are nicer, but could put them over budget.
They must choose selections, then "balance" the budget to see how much money is left. When they click on choices, the option automatically gets categorized as a need or want.
If they don't satisfy all of the needs? Then they need to put some things back until they satisfy all needs, AND, come in at or below budget.
I really like how this game reads the prompts and information out loud to students.
Students start with $500, and are tasked with a money choice that gets recorded in their account.
And there are some surprises along the way (just like in life!). Like, needing to take your dog to the vet at a cost of $50.
At the end, they see how much money is left from the decisions they've made.
Psst: wondering what board game teaches kids money? Check out the best money board games for kids, and free printable money board games I could find.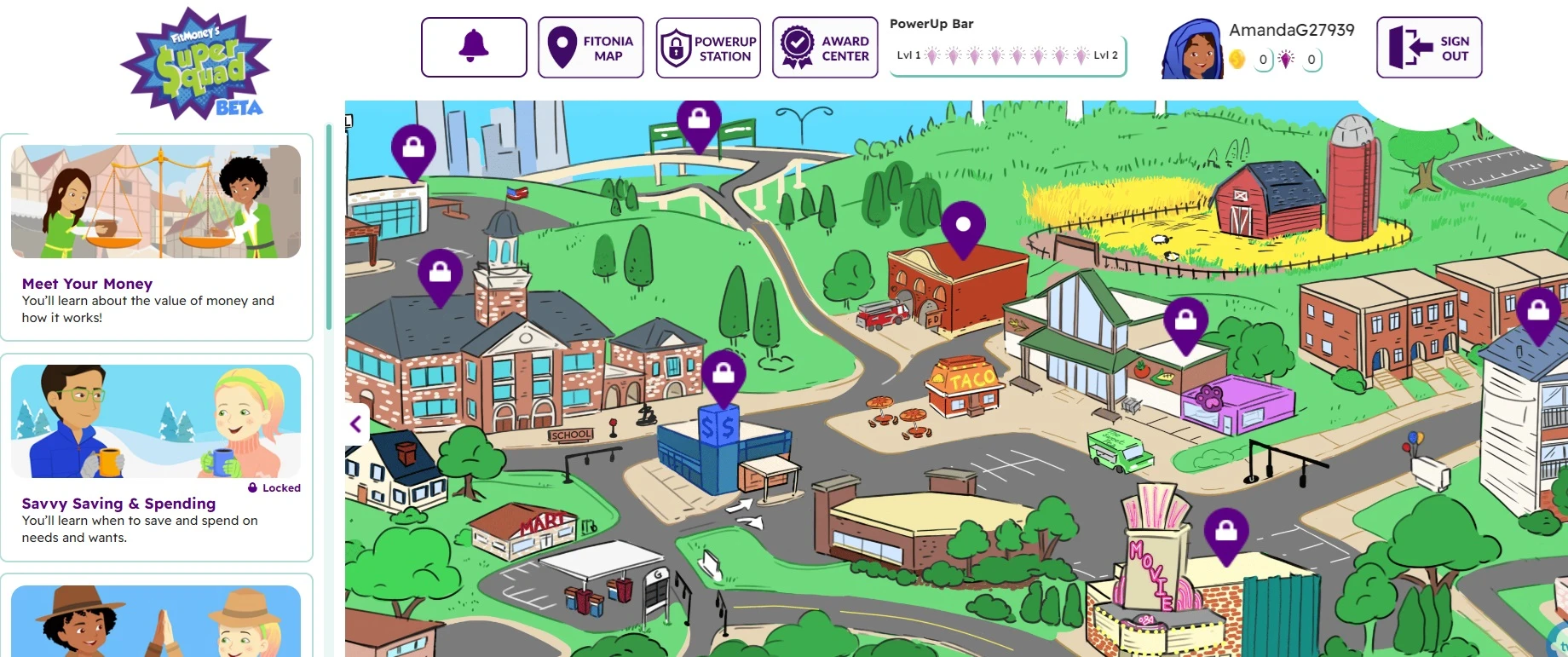 Students need to answer a series of questions (to be honest, I think some of them are advanced for the elementary level), and then they unlock videos on financial literacy topics (like bartering, and why we pay taxes).
I do like how students are allowed to really choose their own avatar, choosing from clothing options, skin options, hair options, and accessory options.
Hint: your students will need to sign up for a free account – also, their parents are asked permission for them to play. BUT, they can play for 7 days without parental permission (with teacher permission).
Here's a character-led way to reinforce some of the things you're teaching your students already: budgeting, career planning, and healthy borrowing habits.
Students follow a group of diverse friends who are transported to different worlds. Each world has a new character that needs specific help with managing their money. There are both lessons to learn, and games to play to reinforce what they're learning.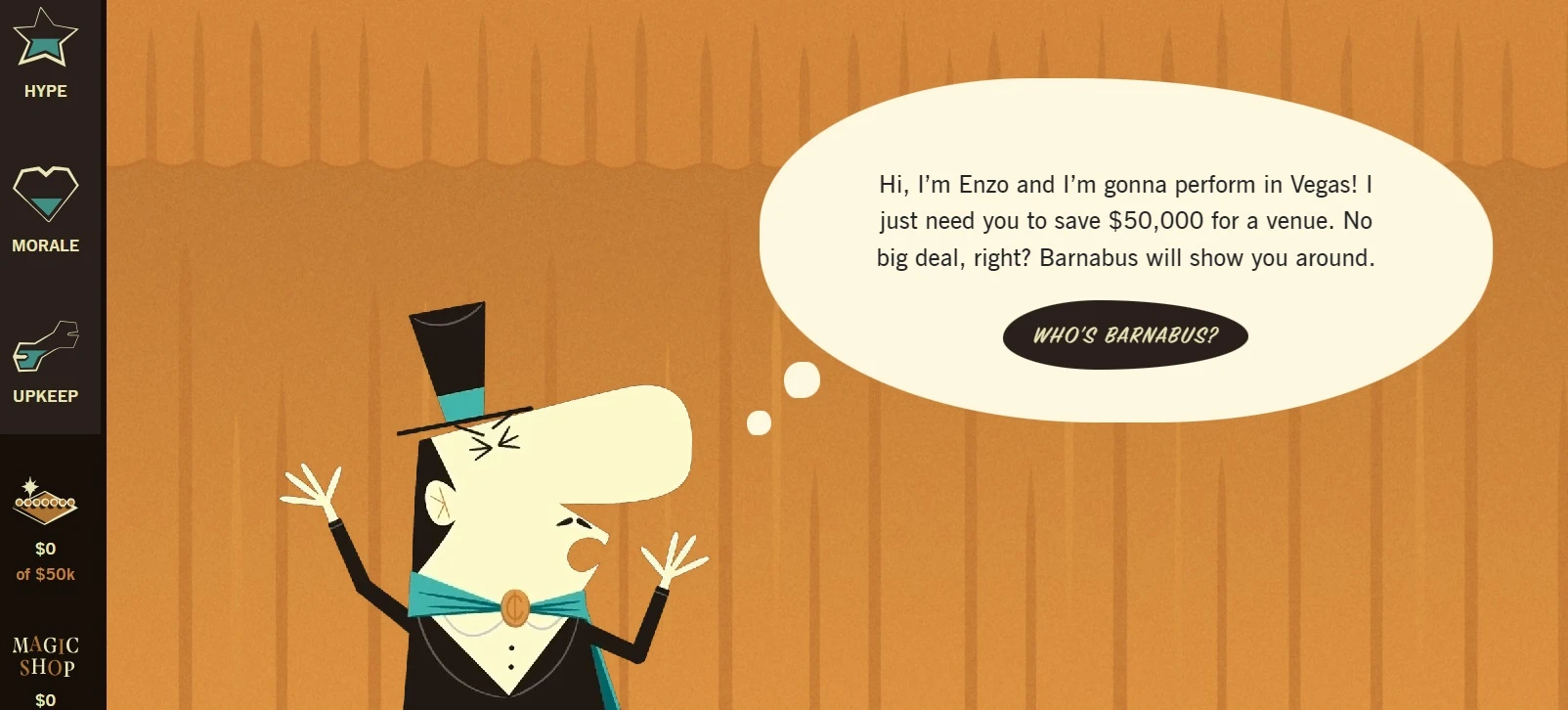 Students meet Enzo, who needs to save up $50,000 for a venue in Vegas to do his magic show.
Kids will need to:
Balance Enzo's budget
Save up the money
Manage his 10 shows
To begin with, students are given $10,000 to budget however they wish between advertising, Enzo's needs, Maintenance, the Vegas Fund, and the Magic Shop Fund.
I know I've already mentioned a barter game, but my son is an elementary student and he's asked me no less than 5 times why we need money and what ancient people did before they had money and lots of other money-origin questions.
So, here's another barter online finance game for kids for good measure!
I hope I've shown you some great online finance games for your elementary students. How are you going to use these in your classroom? I can't wait to hear in the comments below!
The following two tabs change content below.
Amanda L. Grossman is a writer and Certified Financial Education Instructor, a 2017 Plutus Foundation Grant Recipient, and founder of Money Prodigy. Her money work has been featured on Experian, GoBankingRates, PT Money, CA.gov, Rockstar Finance, the Houston Chronicle, and Colonial Life. Amanda is the founder and CEO of Frugal Confessions, LLC.
Read more here
.
Latest posts by Amanda L. Grossman (see all)