Introduce these free money board game printables for kids and teens to teach and reinforce great money life skills.
Do you know the greatest thing about money board games printables?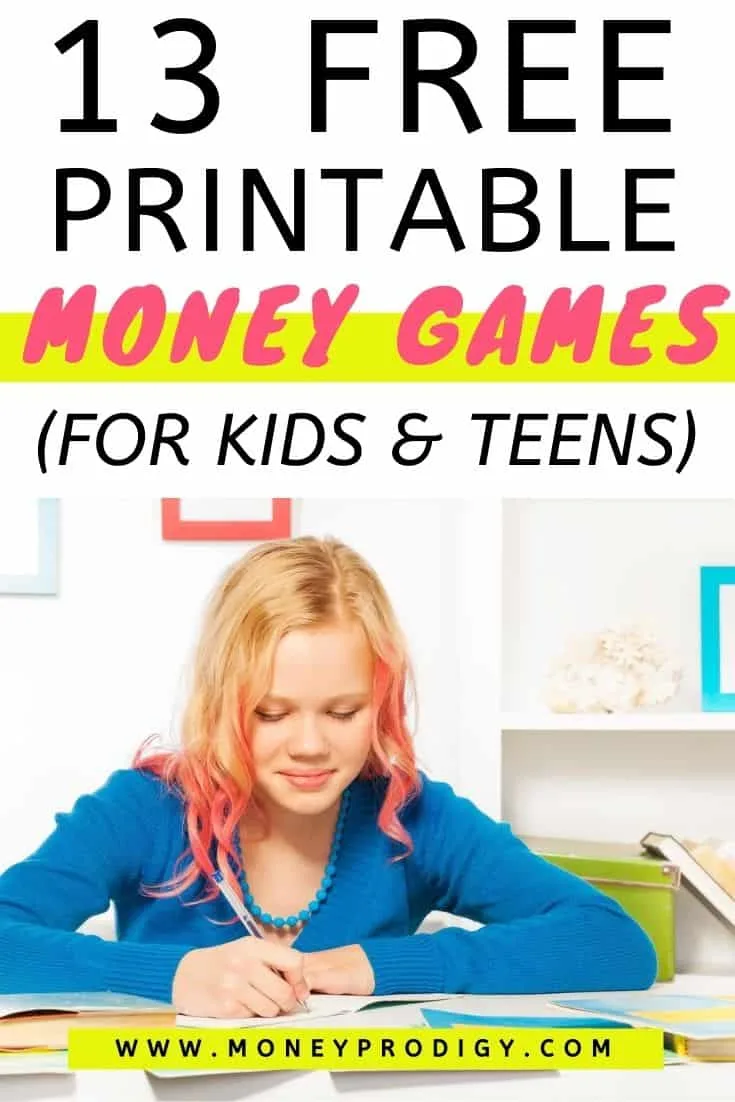 Free printable money games make learning about money – at any stage, from preschooler to teen-hood – a lot of fun.
Did I mention that each of these money board games are actually free, too?
Count me in!
We'll start with printable money board games for young kids, then move all the way up to money board game printables for teens! Click around, as needed.
Money Board Games Printable for Kids
For younger kids from preschool to 3rd grade, you want to choose free printable money board games that teach the following:
Coin recognition
Coin values
Coin addition and subtraction
Counting money
Making change (from bills and coins)
Understand how to make a simple store transaction
Psst: you'll definitely want to check out my article on teaching kids about money. Among other things – like getting clear on what you want to teach your child – it goes into depth about what to teach at each stage of their money education.
Here are some educational (and fun) money games for 2nd grade, preschoolers, and children just learning about money.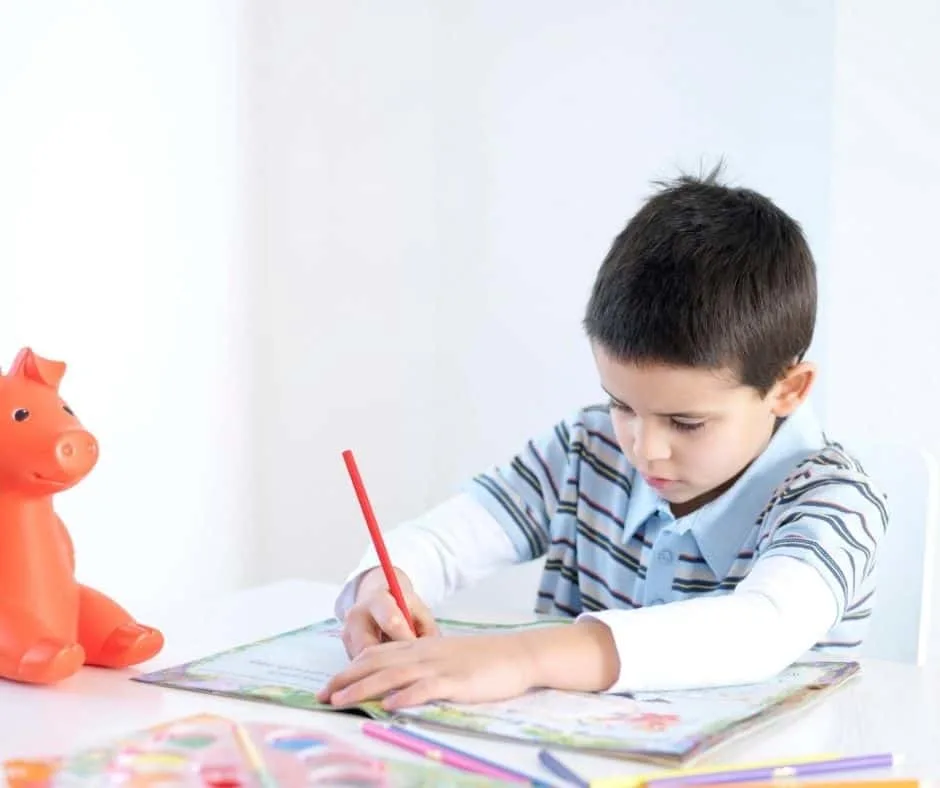 Teach kids both coin recognition and coin values using this money trail board game you can print out for free.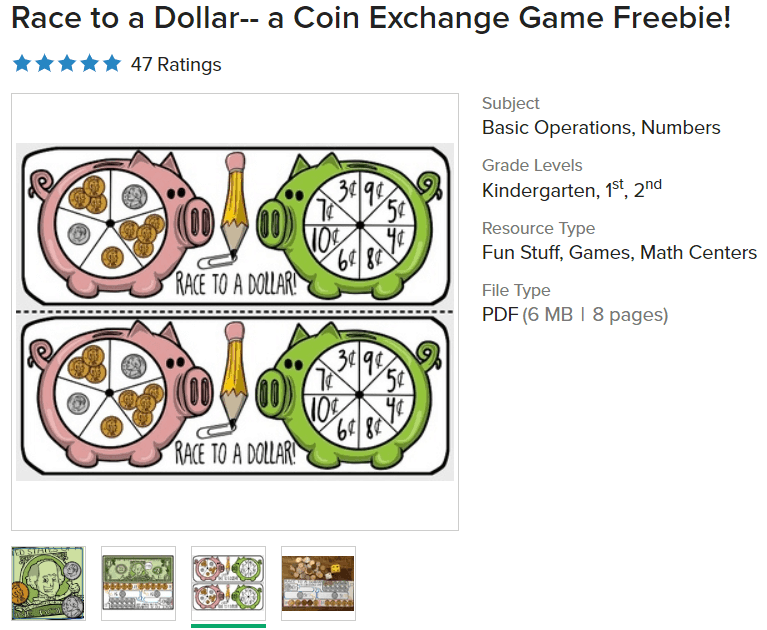 Kids either roll a dice or use the spinner that you download with the game to determine how many pennies they get. Every 5 pennies they have, they can trade it for a nickel.
The goal of the game? Is to trade your coins to get all the way up to ten dimes…so that you can trade it for $1.00 and win.
Hint: You'll need to sign up for a free account with Teachers Pay Teachers to access this free printable money game – I've had a free account for a few years, and it's well worth it.
What an awesome way to reinforce teaching kids coin values, adding up coin amounts, and then also understanding which coin amounts are greater than others.
This looks so fun!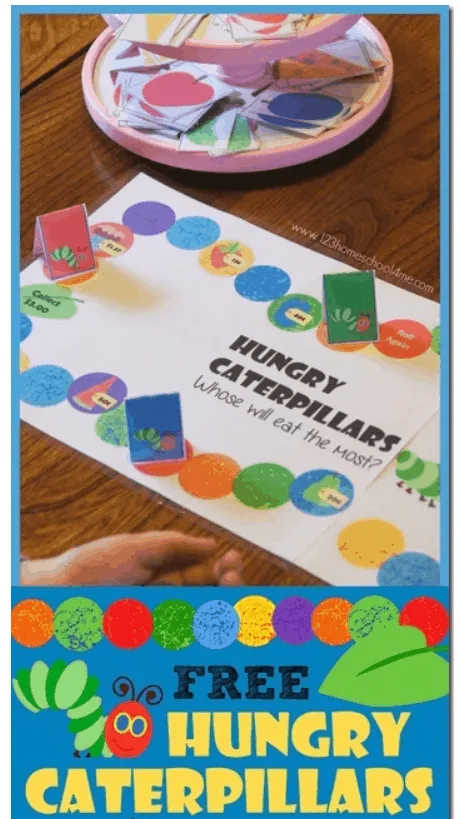 Preschoolers through 3rd grade will enjoy this Hungry Caterpillars money game that you can play two ways:
One way for coin recognition, for younger kids
One way for kids to practice making change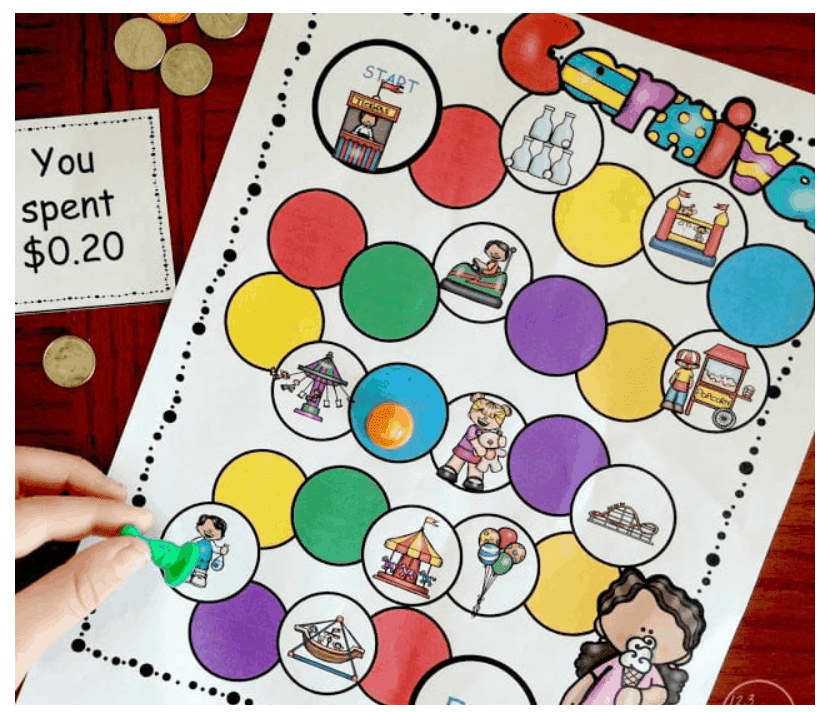 Second and third graders can practice subtracting money values as they work through the carnival game board and spend money on various carnival-goodies.
Each child starts with a $10 or a $20 bill in fake money.
Pssst: here's 7 games kids can play with fake money.
Want a whole bunch of cool coin printable games, all in one pack (completely free)?
This printable pack includes 12 different printable money coin recognition, coin value games, and adding coins together, in the same format (the printable board game is called "What's in the Bank?").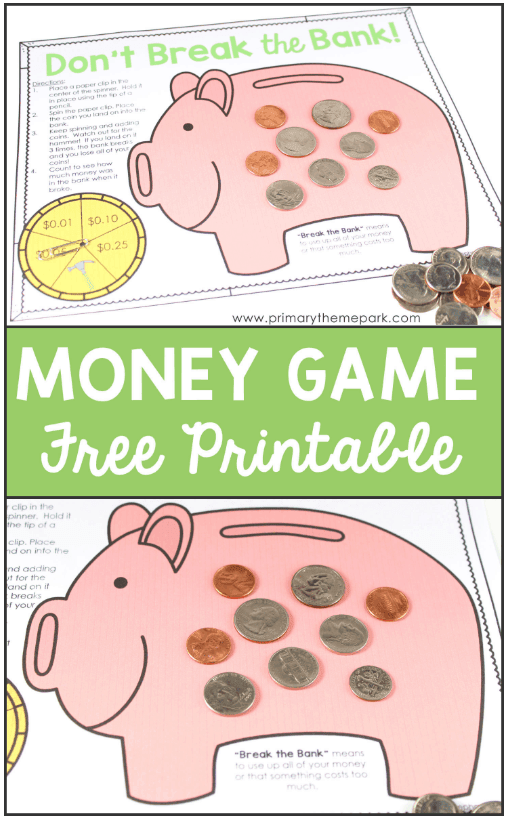 Here's a really cute money board game for 2nd graders or any kid trying to learn how to recognize coins, and coin values.
Plus…it's just kinda fun.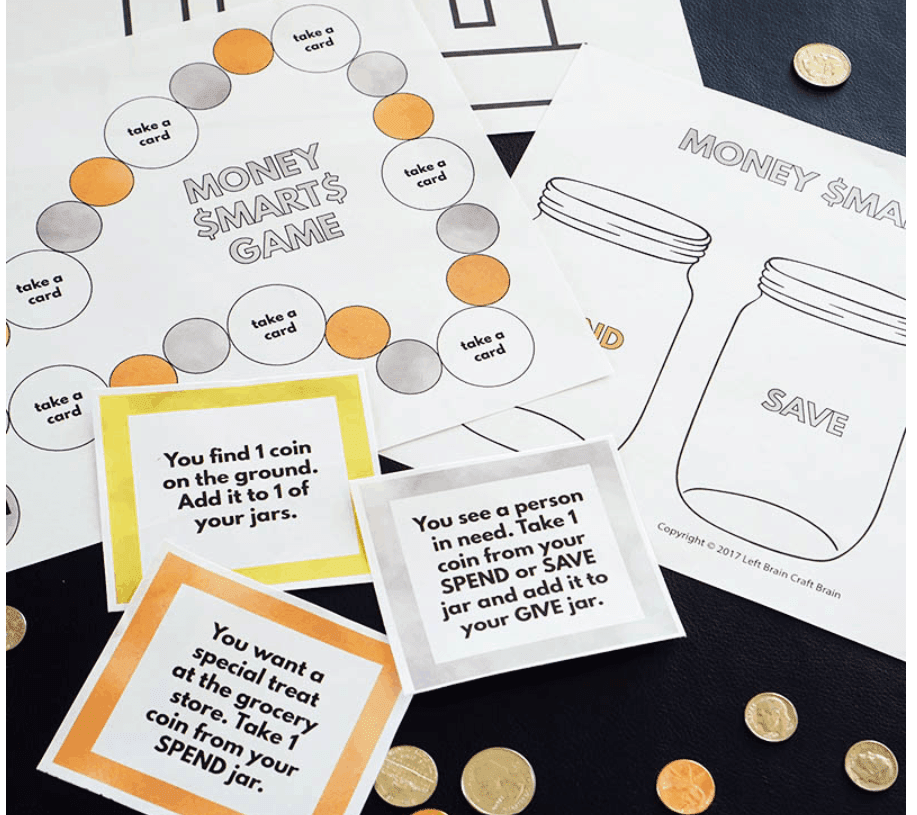 Here's a printable money game for kids that works with the popular give, spend, save jars.
As kids work their way around the board, cards are drawn. Each card tells your child a money action that took place (like, your grandmother giving you money), as well as which jar the money should be moved into or out of.
Whoever ends the game with the most money, wins.
Check out even more counting money games, best counting money apps, money worksheets for 2nd grade, and teaching preschoolers about money.
Now, let's move onto free money board game printables for older kids and teens!
Money Board Games Printables for Teens (and Older Kids)
If you've got teens, tweens, or older kids? Then check out this section on free money board game printables for teens to help them with things like:
How to budget
Awareness of everyday product costs
Owning assets
Saving money for a "rainy day", or, life's unforeseen situations
Etc.
Let's dive in.
This printable game is the closest you'll get to a printable Monopoly board game!
Note: you should know that The Landlord Game (www.thelandlordgame.com) by Randal Sean Harrison, Ph.D. is licensed under a Creative Commons Attribution – NonCommercial – ShareAlike 4.0 International License. Based on a work at https://www.hasbro.com/en-us/brands/monopoly.
Okay…so technically, this is a group date night made for adults. BUT – hear me out on this one.
Wouldn't it be both fun and great learning for your teenagers to guess what common items in your household actually cost?
Could be a really eye-opening experience.
You can download this free printable money game, and test your teenager's knowledge about what things like a can of soup actually cost.
Did I mention they'll have fun doing it, too?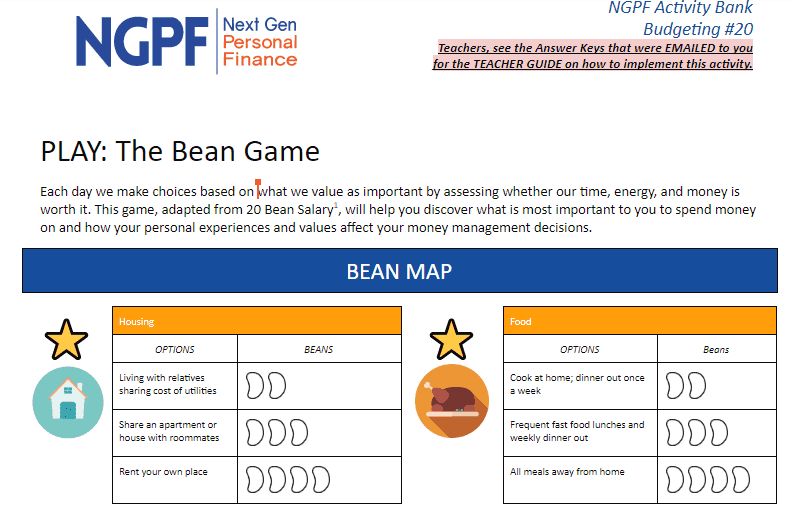 Here's a fun budgeting game for teens and kids.
Each person gets 20 beans and the free printable board game. Some items a person has to spend their beans on, and some they get to choose whether or not to "spend" their beans on.
You can even shake things up, and tell your teens that they've been downsized or lost their job and so they must decide what 7 beans to give up!
Speaking of bean budgeting games…
This bean budgeting game goes one step further by introducing life issues and circumstances each round that teams of 2-4 teens will have to work through addressing. Like breaking a leg, or your income getting slashed.
Lucky for you, this mother made her own version of a budgeting game that she gave to her teenagers to work through. And she's made it available, free, for everyone!
Your teen will go through 12 months of pretend budgets based on $300/month income.
The goal is to end the game with a certain amount of pretend money in savings + a certain amount of pretend social/well-being points (in other words, you can't win the game by depriving yourself entirely).
Like the Jelly Bean and Bean Budgeting Game, this printable budgeting board game lets your kids and teens make decisions on how best to spend their "beans" each round…in the hopes that they don't "bust" their budget when different scenarios creep up (just like they do in life!).
I love the discussion questions she gives to use at the end of each round – these can get your teens reflecting on why they made the choices they did, and how that impacted their overall budget.
Psst: here's 19 free financial literacy activities for high school students, and 12 fun budgeting PDFs.
I challenge you to pick a new money board games printable a month, and let your kid and teen dive into it as part of your overall at-home learning strategy. After all, even though money education is both a vital life skill, it's still not widely being taught in schools.
The following two tabs change content below.
Amanda L. Grossman is a writer and Certified Financial Education Instructor, a 2017 Plutus Foundation Grant Recipient, and founder of Money Prodigy. Her money work has been featured on Experian, GoBankingRates, PT Money, CA.gov, Rockstar Finance, the Houston Chronicle, and Colonial Life. Amanda is the founder and CEO of Frugal Confessions, LLC.
Read more here
.
Latest posts by Amanda L. Grossman (see all)