Check out these activities to do with teenagers that they (and you) will actually love! Great way to bond with your teen.
Sometimes, it can feel like we're not connected at all with our used-to-be-kid, turned-teen.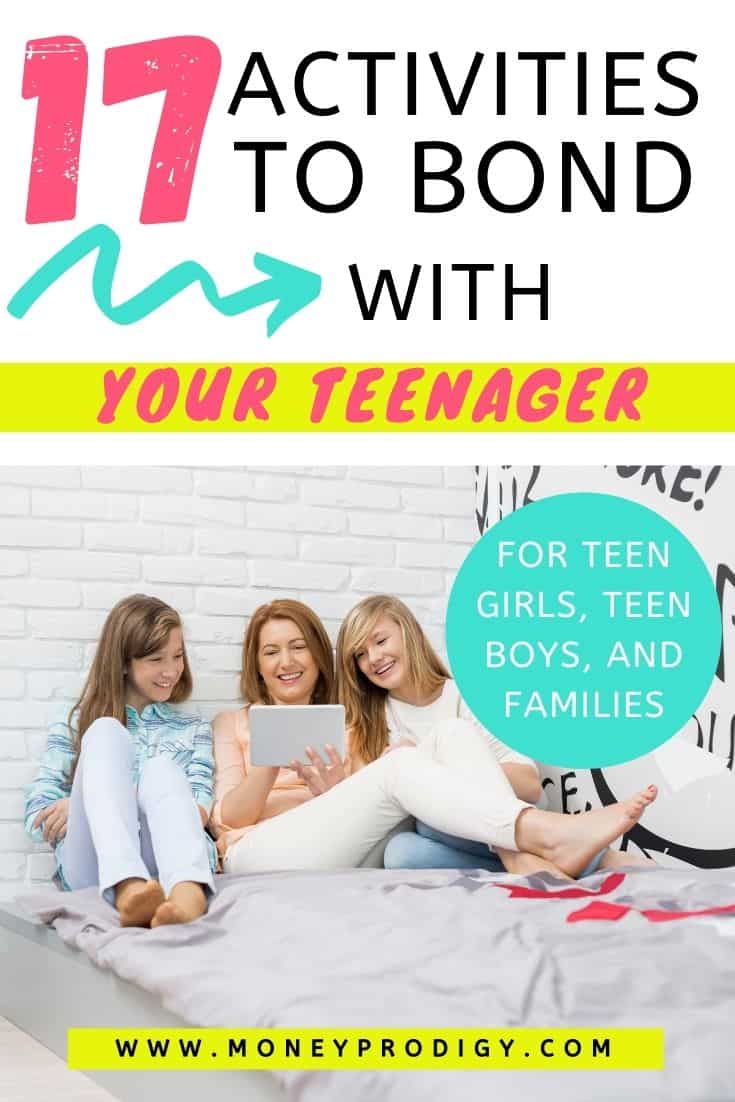 As teens work through growing up – finding their own interests, trying on different social groups, testing boundaries, taking risks – staying connected with them can get challenging.
They like different things. They act differently. They're not as forthcoming with their emotions, and it can feel like you're having a lot of one-sided conversations lately.
Activities they used to love as kids and the two of you thrived on, may not hold any interest for them anymore.
That's why I'm writing this article – to offer up some awesome activities to do with teenagers where both you and your teen walk away satisfied.
Before we dive into some fun bonding activities with your teen, let's first manage some expectations by looking at how much time teens "should" be spending with their families at this stage of life.
How Much Time Should a Teenager Spend with Family?
Almost every parent of a teenager will tell you that their teen is less engaged with the family, and wanting to spend more time on activities and doing things with friends.
And guess what? That's completely normal.
A child spends less time with their families as they age because the family unit becomes less important than establishing their social circles.
Have you ever read the book, Boomerang Kids by Carl Pickhardt, PhD? It's sooooo good. Especially if you feel like you just don't understand your teen anymore.
Here's a few nuggets to consider:
Stage 1 (9-13 years old): During this stage, your child is formally separating from childhood. Part of this is also beginning the separation from us parents. "In loosening ties of dependency on parents and lessening communication with them, young people become more interested in the larger world beyond the shelter of family, a world they are now more eager to explore."
Stage 2 (13-15 years): At this stage, a teen's main challenge is to form a "family of friends" to "…support and accompany (and pressure) the young person through the experiences and adventures of growing up. Your child will tell his or her friends much more about what is going on than he or she will tell you." They want social independence and time to create this family of friends…meaning they're wanting less time with the family.
One of the biggest takeaways I got from this book is how our role as parents changes as a child ages, from manager to mentor.
And you know what? In order to mentor your teen, one thing has to happen:
You need to connect with them through things like family bonding activities together.
Even if, at first, it's awkward. Or not exciting (by your teen's standards).
That's because in order to influence your child, you have to connect with them. Jane Nelson in Positive Discipline Parenting Tools says it well,
"…Extensive research has shown that we cannot influence children in a positive way until we create a connection with them."
So, let's get to work on creating fun, consistent connections with our teens so that they come to us as mentors as they continue into young adulthood.
Activities to Do with Teenagers
So, what makes good activities to do with teenagers?
Something that does at least one of the following:
Has an element of fun for both the parent and the teen
Shows that you're actively interested in their current life stage
Has an element of adventure to it
Takes each of you a little out of your comfort zone (great way to show your teens that you're human, too)
Allows for spontaneous eruptions of conversation
With all that said, let's see if you can't find some awesome activities to do with teenagers to fit the bill.
1. Volunteer with Animals Together
Many people really open up around animals – making this the perfect bonding activity for you two.
You could volunteer at an animal shelter, or become a zoo volunteer, or even at your local farmer's (I grew up on a dairy farm myself, and trust me when I say, we consistently gave people tours and looked for extra help).
Bonus: your teen's animal volunteer time could lead to an internship or first job!
2. Let Your Teen Drive a Golf Cart
Check out the golf cart driving laws in your state, and see if you can let your teen drive you around a golf course, or private property, or other non-road.
Hint: my nieces and nephews have been doing this for years with their parent's golf cart, and they have so much fun with it!
3. Go on a Graffiti Crawl
Love it or hate it…many teens love graffiti. And many cities have approved graffiti areas where artists have created some pretty stellar stuff.
Show your teen that you're "with it" and care about the things they care about by researching a path of graffiti OR murals in your closest city, and taking them on it.
Bonus: an impromptu photoshoot in front of artistic graffiti would probably delight your teen, too!
4. Tour a College They're Interested In
When I was a teen, my uncle, aunt, and stepmother all took me on lots of tours of college campuses I was thinking about attending (or that I didn't think I was good enough to attend!).
The fact that they took time out of their schedule to engage with something important in my life was touching.
Not only that, but we had great conversations and quality time in the car rides there and back.
5. Play a Fantasy Stock Market Game with Them
Most parents I talk to want to make sure their teens know how to invest…but they free unconfident in teaching it, themselves.
That's where the beauty of a fantasy stock market game comes in: you can both go through it together with some guidance, materials, and prompts.
Plus, it's kinda fun!
Here are 6 free stock market games for student.
6. Hit Up a Used Book Sale Together
Does your teen daughter or son like to read? Bond with them at a used book sale – where you guys can give each other some space to find books you're specifically interested in, but then engage in conversation with each other about books!
7. Treat them to a Car Detail
Does your teen own their own car? Offer to meet them at a car detailer (or car wash), and treat their wheels to a wash-up.
You can sit with one another in the waiting area and talk about your day.
8. Do a Polar Bear Plunge Together
Is there an annual Polar Bear Plunge near where you live? Take your teenager the next time, and do this very memorable event together.
Hint: you'll also want to check out my ideas for Halloween family night ideas – some are great to do with teens!
Fun Things to Do with Your Teenage Daughter
Connecting with your teenage daughter becomes much easier when you find some fun things the two of you can both enjoy together.
Not only that, but you'll be creating memories they'll take with them into adulthood.
1. Host a Photoshoot – Starring them!
Teenagers love taking pictures of themselves.
What better way to show your support in something that interests them than an outdoor photoshoot?
Get them excited about time together by picking a beautiful outdoor location for the pictures, and telling them to pick out an outfit and do their hair/makeup for it.
Hint: want to show them you're engaged and interested in their current life? Let their boyfriend or a friend meet you guys at the location halfway through your time together, and include them in the photoshoot.
2. Let them (Help You) Redo Your Wardrobe
Your daughter is likely tuned into modern-day clothing trends.
Why not invite her to help you clean out your closet, put together some fun new outfits from what you've already got, and then shop for a few more modern pieces to freshen it up?
Here's a few fun ways to add to this activity:
Free color quiz: you guys can help each other figure out your season or "colors".
3. Let Your Teen Daughter Pick Your Nail Colors
Take your teen daughter to get pedicures together…and here's the fun part: whatever nail color she chooses for hers, is the one you'll get, too!
4. Drive into the City for a Formal Afternoon Tea
Research "formal afternoon tea" in the town or city near you, and surprise your daughter with an invitation to one!
Both of you get dressed up for the occasion, drive in together, and have a wonderful sit-down tea + snacks together.
Hint: you could make this an annual tradition, like Carmela does on the show The Sopranos, and carry it into their adulthood.
Things to Do with Dad and Teenage Daughter
Fathers bonding with their teenager daughter? Is a beautiful thing. Let me share with you some great teen activities many fathers will naturally enjoy, too.
1. Help them Drive Your Tractor
I grew up on a dairy farm, and used to love it when my father would let me drive the tractor in the back field.
Such fond memories of this! I felt like he trusted me, and that was definitely a good way for us to bond.
2. Take them to a Gun Range
My Mom mentions how her father used to teach her to hunt clay pigeons as a teenager – it's something she loved and remembers well.
You can take your daughter to a gun range. Be sure to check on age requirements, and take a safety course and/or go through safety training ahead of time.
3. Teach them How to Start a Fire
Learning how to start a fire not only passes on an important life skill, but it shows your teenage daughter that you trust them with more adult responsibilities. Win-win!
Family Activities with Teens
Is connecting with your family – including your teen – on your wish list? Here are family activities to do with teens that everyone in the family will enjoy.
1. Play a "High Stakes" Board Game
Board games might sound boring to some teens…so choose one the family can play together and add in a twist to make it "high stakes".
Meaning, give the winner something everyone in the family would really want and will actively compete for.
This could be:
Chore-free pass for next week
First-pick of chores
Gets to pick the family movie for next Friday night
Gets a ride to wherever they'd like to go next weekend
Wins a sleepover with their friends
Etc.
2. Host Make-Your-Own-Pizza Night
Teens love pizza…so do most people.
Let them choose what they'd like on their own by making pizza dough and the pizza sauce, then creating a "pizza bar" of toppings they get to choose from.
Each person in the family gets their own rolled-out pizza pie, with sauce, and then let them choose things like:
Cheeses (mozzarella, parmesan, cheddar…anything you'd like)
Seasonings (basil, oregano, etc.)
Meats (ham, pepperonis, sausage pieces, etc.)
Veggies (garlic, broccoli, spinach, red peppers, etc.)
Then, cook them off one-by-one.
Psst: here are 12 more fun Saturday night family dinner ideas.
Remember that part of growing up means finding interests, trying on different social groups, and rebelling against boundaries. Even though these things can lead to less time with your teenager, consistently choosing to engage with them with these activities to do with teenagers will help you establish a mentoring and loving bond to last throughout their adult lives.
The following two tabs change content below.
Amanda L. Grossman is a Certified Financial Education Instructor, a 2017 Plutus Foundation Grant Recipient, and founder of Money Prodigy. Amanda's kid money work has been featured on Experian, GoBankingRates, PT Money, CA.gov, Rockstar Finance, the Houston Chronicle, and Colonial Life.
Read more here
.
Latest posts by Amanda L. Grossman (see all)