Find the best online business simulation games for kids (middle school and high school), and 4 business board games.
Do you have a budding kidpreneur, or students eager to learn about business?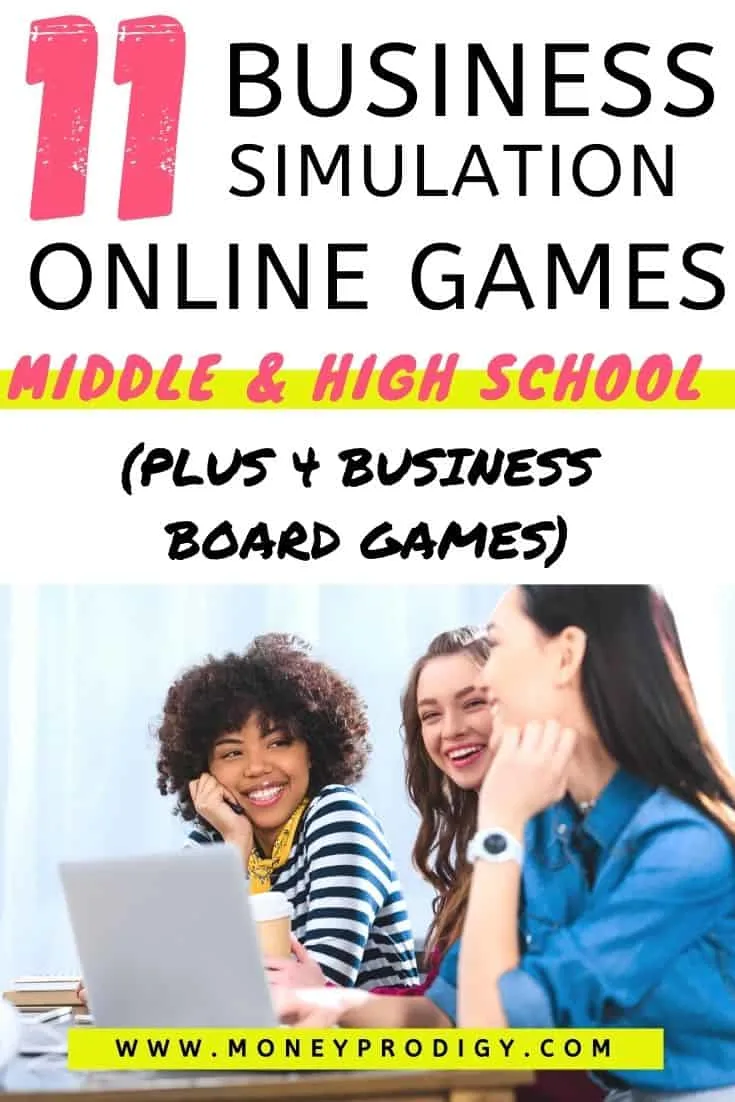 Perhaps your child doesn't seem to have any real-world business sense at all and you'd like to gently introduce them to these concepts.
Free online business simulations for high school students and middle school students are the perfect way to introduce kids to how a business runs.
And business board games? Well, they're awesome for business education and lessons, too.
Doesn't matter where your child falls with their biz-understanding because these 11 business simulation games will both introduce them to business in general, plus shape their understanding of some key business concepts.
Online Business Games for Kids (Middle School and High School)
Here you'll find free online business games for students in both middle school and high school.
Did I mention these business simulation games for students are pretty fun to play, too?
Psst: you'll definitely want to check out these 7 free business plan templates for kids, 14 entrepreneur books for kids, 5 business books for teens and 3 kid business plan examples.
Age Range: Middle + High School
Game Objective: Become the richest business owner on the island, which is the first person to make it to 5,000,000 zables.
Where to Play: http://www.Zapitalism.com
Zapitalism is a six-player game (any slots not taken by people are taken by computer players, so your child can play on their own). Your kid gets to choose a company to run after reading through its description.
This is a turn-based game, meaning each player must take a turn before the time advances by one week. You're given 50,000 zables to start, and with this money you need to turn a profit by purchasing items from a wholesaler to stock your shelves with.
You are in charge of setting the price to turn a profit, but watch out! If you become too greedy, then customers will not buy from you.
You can do other cool/not-so-cool money things like:
Take a loan out with interest up to your credit limit for your business to purchase better products as well.
Take a peek at the store shelves of competitors to see what they have. Each week the companies are ranked according to their net cash.
Compete for a building permit to enlarge your store size, thereby enlarging your shelf space.
Be audited if you fail to pay taxes every 10 weeks that passes.
Pay your employees.
Levels are from Tutorial all the way up to Master. I highly recommend going through the tutorial round first because it really helps with understanding how to play.
Bonus: here are some free worksheets to go along with this game!
Age Range: Middle + High School
Game Objective: Start a small company and bring it all the way to trade tycoon status.
Where to Play: http://www.gazillionaire.com/index.php
This game is for up to 6 human players and 6 computer players (I really like how you can do a multi-player game with your kid's friends/students by just sending them an email invite to the game!).
Your child will be running their own trading company where they'll need to buy low and sell high in order to prosper.
And, as with any business, there are start-up costs.
Right off the bat, your child will need to take a loan out (at 4% interest) to buy a ship — the ship they'll use to travel from planet to planet to buy cargo at low prices that they can then (hopefully) sell at a profit.
Other things your child needs to decide on is whether or not to pay their insurance bill (which could come in handy when disaster strikes). This game also teaches about demand, and how you can't sell a product if no one wants to buy it.
FYI: kids can play 20 rounds of this for free, then you'll need to subscribe at $14.99/year.
Bonus: here are some free worksheets to go along with this game!
Age Range: Middle + High School
Game Objective: Keep your monthly business cash flow in check, while making the firm as valuable as possible. Don't go into bankruptcy, and make sure you always keep money in your business bank account.
Where to Play: http://sims.myej.org/wcgame/
Your child is taking over the firm Galactic Zappers. As the player, you need to make sure you keep enough cash on hand, and order enough supplies to keep things moving.
You need to pay fixed period costs to keep the factory running (things like rent and electricity). You can accept or reject orders from suppliers after reviewing their details. They can offer you cash, or credit of 30-60-90 day terms to purchase their raw materials, which you need to produce your products and get them to your customers.
You can also accept or reject customers based on their details.
There's some shady characters in there!
You also will need to decide if you'd accept cash, or credit on 30-60-90 day terms from customers (hint: you'll need to have a firm grasp on your monthly cash flow in order to pay expenses. Valuable business lesson there!).
There are some handy-dandy buttons allowing you to collectively see your accounts receivables and your accounts payable at any time you'd like. That's helpful in managing your monthly cash flow.
And each are connected to the "Bank", so you can clearly see what your balance does throughout the game.
Again, it's very helpful to have your child go through the "How to Play" video before diving in. Lots of terms to learn for this one!
Psst: here are more fun money activities for middle school students.
Suggested Age Range: Appropriate for all ages (this is what it says — I would say tween is a good age)
Players: 1 player
Your child gets to manage employees at their budding cookie bakery in this kid's business game.
Not only that, but they can get actual feedback from customers, and make decisions based on that feedback (or not make decisions, and watch their bakery fail).
After each business day, the player gets a rundown of the store's statistics: how much the overhead costs (such as cookie ingredients and staff wages cost), how many cookies sold and at what price, and the overall profit/loss for the day.
As the days progress forward, the bakery chef and staff get more experience and your shop can earn more money. This means you'll get to decide on making upgrades to your store's appearance (that will, hopefully, earn you even more money!).
Suggested Age Range: Appropriate for all ages (this is what it says — I would say tween is a good age)
Players: 1 player
Where to Play: http://play.americangirl.com/play/games/
In this game, your kid takes control of a flower shop.
As the boss, it's up to them to select the right flowers to make the bouquet, per the order.
The quicker they can make bouquets, the more orders they get to go through, and ultimately the more money the business makes.
6. Refund Rush
Suggested Age Range: N/A
Players: 1 player
Where to Play: https://www.consumerjungle.org/games/refund-rush
As customers come to the cash register, the player gets to take a peek at their financial profile (which includes things like financial goals, age, and tax refund amount).
You then decide how this person should split up their tax refund to meet their goals and needs. Then you give your advice to the customer.
At the end of the round you get to see how your advice worked for each customer.
Psst: here's 7 free stock market games for students.
Suggested Age Range: Says adult, but I think it could be suitable for teens
Players: 1 player
Where to Play: https://financialentertainment.org/
A relative died, and the player has just inherited their farm. Unfortunately, to keep things going, you had to take out a loan.
You now need to make a profit so that you can pay back this debt (oh yeah, and save some for the future as well!). Also, it drives home the point of needing to prepare for unforeseen natural catastrophes.
Business Games for Kids
In this section, you'll find business board games for kids and teens.
Suggested Age Range: 6+ years
Players: 2-6 players
Are you a Rich Dad, Poor Dad fan? It's an eye-opening book from Robert Kiyosaki that breaks down what rich parents are teaching their kids that middle-class parents are not.
In a nutshell, it's all about putting as much of your money into assets as possible, while keeping your liabilities as low as you can.
Thankfully, Robert came out with a game for kids!
CASHFLOW for Kids teachers younger children the relationship between their balance sheet, and their income statement. It encourages side hustles, such as real estate businesses, that eventually will create more passive income than expenses.
Here's what you want: your assets + passive income to be greater than your liabilities + expenses.
In fact, that's how you win the game – the person whose passive income surpasses their expenses wins!
Each of the three types of cards – assets, liabilities, and sunshine cards – give your child ample practice making some great business decisions as well as personal finance decisions. And every player/child gets their own Financial Statement sheet (which includes their Balance Sheet and their Income Statement) to track throughout the game.
Suggested Age Range: 6+ years
Players: 2-4 players
Game Objective: The winner is the kid with the most money, after paying back the $20 + $5 startup costs.

Your child can simulate being in business selling lemonade.
Each player will incur capital costs to start-up, just like in real business. They'll have to take on a $20 bank loan, and pay out $2 to get started (talk about some cheap startup costs!).
The goal of the game is to finish with the most money, but this is after each player pays back their $20 loan + $5 in interest.
What I like about this game is it teaches your child that there is much more to running a lemonade stand – and really, any business – than turning your lights on and hoping customers will appear.
There's a bit of luck in how your business goes because your cost of supplies and your selling price are dictated by cards you draw (Grocery Store Cards, and My Selling Price cards) throughout the game.
However, I do like how the amount of lemonade you can sell is mostly determined by your stand's location (such as "sports field" and "neighborhood"). Makes sense, right?
Take the lessons and lemonade stand ideas learned in this game, and then apply them to an actual lemonade stand business plan to hopefully make more money!
Psst: you'll want to also check out my lemonade stand worksheets, and review of the best money games for kids for more resources.
Suggested Age Range: 7+ years
Players: 2-4 players
Game Objective: To be the first to build 8 different ice cream shops (thus, building your ice cream empire!).
With changing ice-cream inventory costs, varying ice-cream demand (depending on the number of ice-cream socials are planned), and a potential distribution network across the whole United States…this game really packs a punch in teaching some important business lessons.
I love how kids can learn about expanding a business, supply and demand and things that may cause them to change, acquiring assets (like ice-cream stores) from competitors, dominating market spaces, hostile business take-overs, and all kinds of other business plays you can make in the real world.
Players are given $300 in money to start, plus an ice-cream delivery truck. For each turn, a player can choose one of three actions:
Buy inventory
Sell inventory from their truck
Build a store
As players land on a spot, they'll also have to follow its instructions – which can have consequences for all players.
For examples, players may need to/be given the choice to:
Buy 1 safe store from any competitor for $800
Pay $100 for each store in your largest chain
Change inventory price card
etc.
The first player to create their ice-cream empire by building 8 stores around the country, wins.
Suggested Age Range: 10+ years
Players: 2-4 players
Game Objective: The winner is the kid who has the most money, which means they earned the most profit from potions they built and sold.
Here's a really cool game where kids are tasked with collecting various ingredients, and then creating potions from them to sell on the market.
The only problem?
Well, just like in real life, market prices for ingredients change. Which means that overall profits can increase or decrease, depending on how much it costs for you to get your ingredients.
Which is why I think this is a great business simulation – kids have to think on their feet and swap out ingredients with less expensive ones as the market changes, in order to still come out ahead with profit.
5. Monopoly
Good ol' Monopoly has some great business lessons to teach your child (not to mention, basic personal finance lessons – be sure to grab your free Monopoly game supplement below that I created to make the game much more educational).
Here are two major business lessons from Monopoly:
The Need to Diversify Income: Your kid will quickly learn (well, within 1-2 game rounds, anyway – and I guess Monopoly game rounds aren't all that quick!) that they need to purchase more than one property in order to earn enough cash to keep themselves afloat.
Juggling Business Investments with Current Cash Flow Needs: Once your kid gets the chance to purchase houses for their properties, they have to learn a very valuable skill – how to juggle investing in your business enough to increase your profits, while not decimating your cash flow (so that you end up, well, belly-up).
Pssst: Click the image below to get your free printable that will turn your next round of Monopoly play into a life skills money lesson for your kids.
Which business game for kids are you most excited to have your kids and students try out?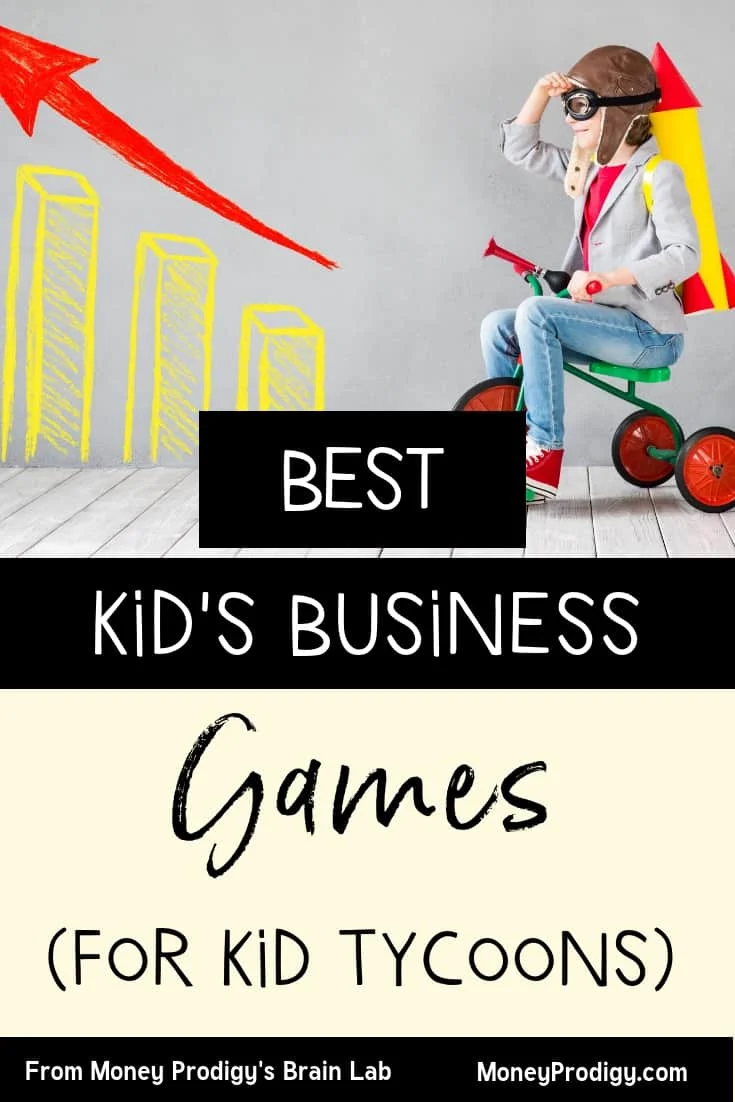 The following two tabs change content below.
Amanda L. Grossman is a writer and Certified Financial Education Instructor, a 2017 Plutus Foundation Grant Recipient, and founder of Money Prodigy. Her money work has been featured on Experian, GoBankingRates, PT Money, CA.gov, Rockstar Finance, the Houston Chronicle, and Colonial Life. Amanda is the founder and CEO of Frugal Confessions, LLC.
Read more here
.
Latest posts by Amanda L. Grossman (see all)