Can teens under 18 invest? You bet. Here are stock apps for under 18, with a breakdown of available parental controls.
I hear from parents all the time that they want their teens to learn how to invest.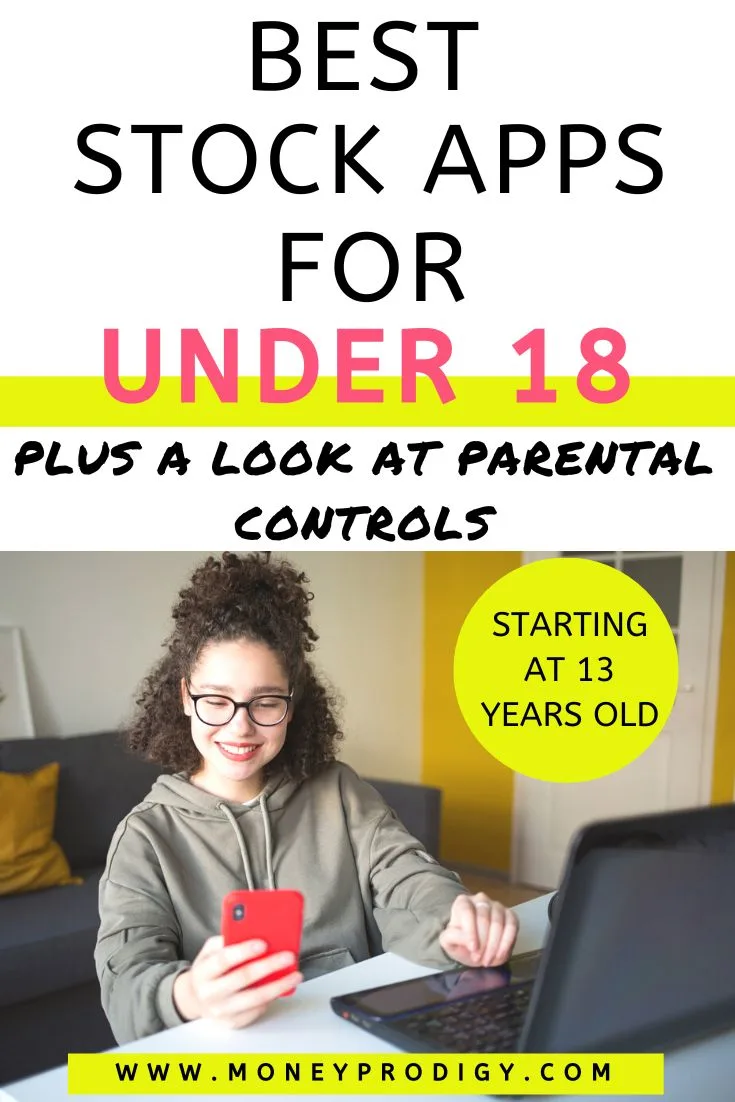 If you're one of the parents who wants your teen to learn how to invest by actually investing, then you're in luck!
I'm spilling the beans on several stock apps for under 18 that allow your teen to start the investing process, with some serious money guardrails parents can use to keep things in check.
Stock Apps for Under 18
Stock apps for teens give your child a platform to make stock trades and get their feet wet in investing…with some great parental controls to keep things in check.
Also, you should know that each of these apps allow teens to buy fractional shares. This means they can buy part or a fraction of a share (without needing to save up enough to buy one whole share).
It also means they can choose a dollar amount to invest, and not have to calculate out the number of whole shares they can afford.
And before they get started, or alongside their investing journey?
Introduce a few of these resources to help your teen understand how to invest:
Psst: Got younger kids? Check out these 7 stock apps for kids.
1. Cash App
Cash App is a mobile payment app with a little-known investment feature that kids as young as 13 can use (through a sponsored account).
A teen who is at least 13 years or older would need to download Cash App, then send a request to their parents for approval.
Parents – as the account sponsor – have controls though not as many as you'd get with one of these prepaid debit cards + money management apps for teens.
With Cash App, parents can:
See a full record of transactions
Deactivate the card with customer support
Set a bitcoin buying limit of between $5 and $100 in a rolling 30-day period
Approve or deny access to investing (up to $100/week)
Send a maximum total of $1,000 in a 30-day-period
Spend using the cash card
Use an ATM to withdraw money
Cash out up to $25,000 in a 7-day period
Reload $7,500 in a 30-day period
Direct deposit (like from their first teen job!)
Deposit paper money (limit of $250 per 7 days, or $1000 per 30 days)
Buy up to $100 in stocks/week (with account sponsor approval)
Buy up to approved amount (between $5 and $100/week) in bitcoin
There are also specific transaction-type blocks on sponsored accounts to protect and monitor how your teen uses their account.
Free and available for iOS and Android.
Teens aged 13 to 17 can invest through a Fidelity® Youth Account.
This is a teen-owned taxable brokerage account. This is not a custodial account, and the teen makes the decisions.
However, there are parental controls.
Parents can:
Initiate and approve account opening
Close/deactivate the account/debit card at anytime
Review debit card statements, trade confirmations, and transactions as they occur, online
Serve as a point of contact with Fidelity
Set up alerts for teen's trades, transactions, and cash management in the Alerts Center
You should know that there are no limits on trading amounts or quantities currently, but that there are daily spending limits through the debit card on transactions and cash withdrawals.
There is also a Youth Learning Center to help your teen get ready to make investment decision.
Your teen can access everything through the Fidelity Mobile® app.
Bonus: they have a bonus going on right now, where if a parent opens a Fidelity Youth Account and funds it with $50, your teen gets $50 in the account to start with!
Greenlight is a prepaid debit card with a money management app that helps parents and teens manage money together.
With the Greenlight + Invest, or Greenlight Max plans, teens can research stocks, invest an amount of their choice, and track progress over time.
More info:
No trading fees
There's also an educational component to this investing app for kids – quizzes, and articles from investor pros that kids can read
Updates to the stock values plus investment gains happen right on the app
Parental Controls include:
Parents must approve each stock purchase or trade before it actually happens with real-time notifications when your child is ready to buy or trade a stock
Investing plans start at $7.98/month.
Are you looking for a way for your teen to invest, but with a lot of both parent control and guidance?
Acorns Early is a UTMA/UGMA account within the Acorn Family Plan that has two major built-in controls with investing:
Your child cannot engage with the app – you must do everything (so you are investing FOR your teen)
There are 5 pre-chosen managed portfolios to choose from, with varying risk levels (so not individual stock picks)
Plan price starts at $5, which will allow you to have an Acorns Early account within the Acorn Family Plan.
5. Stockpile
You can open a custodial brokerage account for your teen using Stockpile. Which means the teen owns the stock, but the parent is legally responsible for the account.
Your teen gets to pick the stocks or crypto they want to invest in, and they set up the transaction. An email then gets sent to the parent and they can approve the trade request or deny it.
Teens have their own log-in credentials.
Another cool feature is adults can buy stock gift cards through Stockpile for a child, then that child can buy stock with it. What a cool graduation money gift idea!
You should know that all trades are executed at the close of a market day. So, not in real-time.
A Stockpile membership for 1 adult and up to 5 kids is $4.95/month.
Here's the Stockpile App for iOS, and for Android. And here are step-by-step instructions for how a parent can open an account for their teen.
Are there Stock Apps 16-Year-Olds Can Use?
Yes – the stock apps 16-year-olds can use include:
With each, parent help and approval is needed to create the account, plus parent approval for each stock purchase your teen wants to make.
Can You Do Stock Trading Under 18?
You sure can. But, you'll need parent approval. Each of the apps that allow stock trading for teens has varying parental controls, including the following:
Annnndddd…if you're not quite ready to have your teenager assume any risk by making real investments, but you want them to still learn how to do it? Then they can use a free stock market simulation app. This allows them to get comfortable making trades and tracking progress, without skin in the game.
The following two tabs change content below.
Amanda L. Grossman is a writer and Certified Financial Education Instructor, a 2017 Plutus Foundation Grant Recipient, and founder of Money Prodigy. Her money work has been featured on Experian, GoBankingRates, PT Money, CA.gov, Rockstar Finance, the Houston Chronicle, and Colonial Life. Amanda is the founder and CEO of Frugal Confessions, LLC.
Read more here
.
Latest posts by Amanda L. Grossman (see all)