What sets the Greenlight prepaid debit card apart from the Goalsetter app? Get help quickly deciding which is best for your family.
How to choose between Goalsetter vs. Greenlight's prepaid debit card?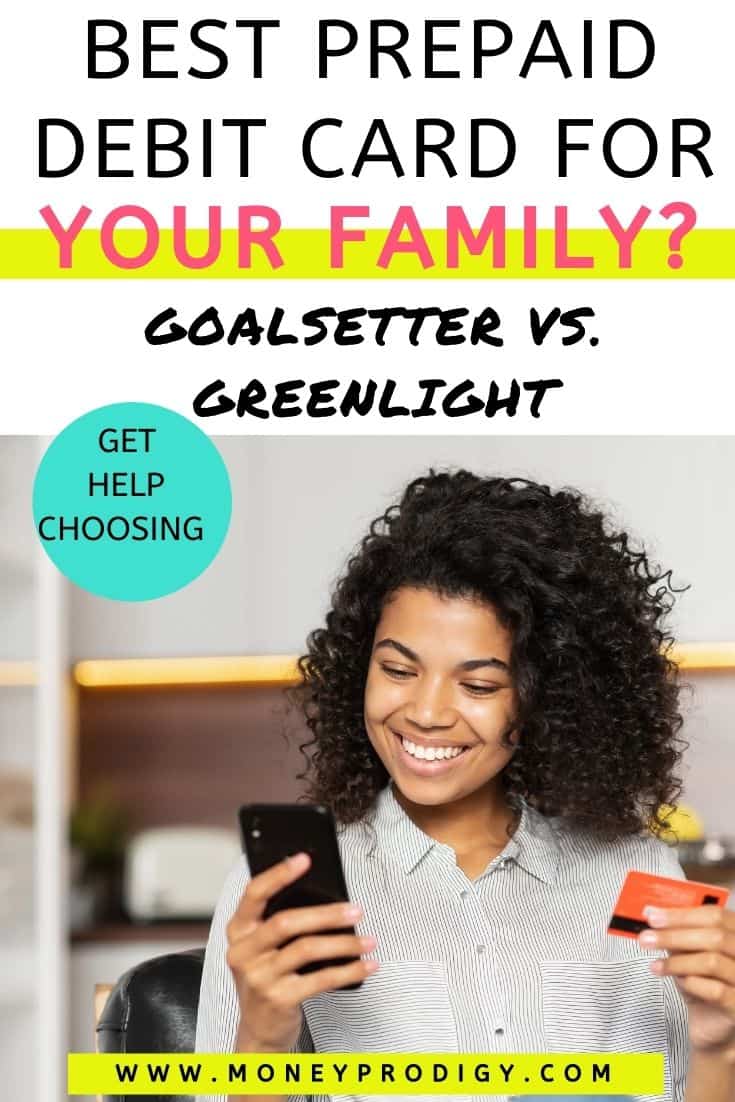 While each of these apps has similar functions that overlap each other, perhaps the best way to show you the main difference between the two is what each was created for:
The point of Greenlight is to help manage your child's spending habits
The point of Goalsetter app is to help your child set and manage savings goals
Let's dive into each of these apps – first looking at their similarities, and then what makes them different – so that you can choose the best one for your family.
Goalsetter and Greenlight App Similarities
Let's start with what makes these two similar: both Goalsetter and Greenlight offer prepaid debit cards.
The major difference between the two is that Greenlight's app is centered around the prepaid debit card, whereas you can use the Goalsetter app with or without a prepaid debit card.
But before we dive into the differences, here's what you get with either the Goalsetter or Greenlight app:
Both offer allowance and chore system management
Both have varying degrees of parental spending controls
Both allow you settings to set-and-forget allowances, or pay-per-tasks functionality
Both offer your kids the chance to set and track progress towards savings goals
Greenlight vs Goalsetter – Differences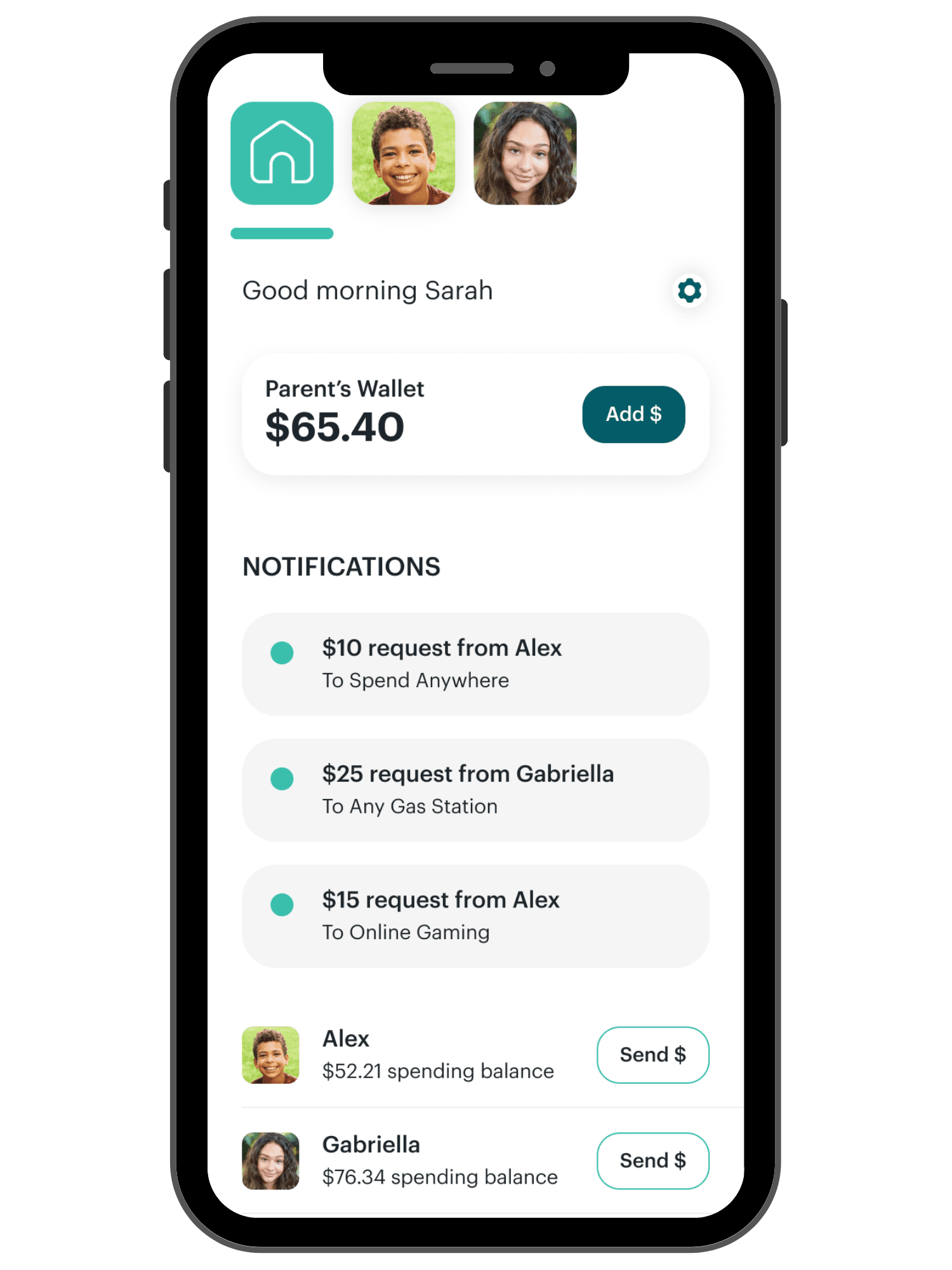 Age Range: 8-18 years (U.S. only)
Cost: $4.99-$9.98/month (up to 5 kids)
Parent Spending Controls: You can lock and unlock all spending, set up store-level spending limits, and set up category spending limits.
Saving Incentives: Earn 1% savings reward with linked bank account, and 2% with the Greenlight Max plan, save the change roundup capability, and/or incentivize your child to save more by paying them an interest rate on money saved.
Investing Capabilities: Kids can use the Greenlight + Invest app to research stocks, invest an amount of their choice and track progress over time (parents must approve buys)
Charitable Giving: Parent-approved donations, starting at $10, using CharityNavigator.org
In-App Learning: Toggle "Learn Mode" on, and they'll be guided on how to interpret financial data when investing
Digital Wallet Access: Apple Pay, Google Pay, Samsung Pay (kids must meet minimum age requirements)
Gifting: Friends or family can send a Greenlight Gift money to a child's account
Cash Back on Purchases: Earn 1% cash back on purchases with the prepaid debit card (Greenlight Max plan only)
Teen Paycheck Direct Deposit: Teens can direct deposit their paychecks to their Greenlight account
Reload Sources: Parents can reload by direct deposit, debit card transfer, bank transfer, Apple Pay and Google Pay
Allowance/Chore Functionality: Parents can set up one-time and recurring chores that are tied to payment or not. Parents can choose a standard, flat-rate allowance or connect allowance to chores. Greenlight will calculate the payout. When it's time to pay, parents can choose All or Nothing, or Partial Payments, depending on chore completion.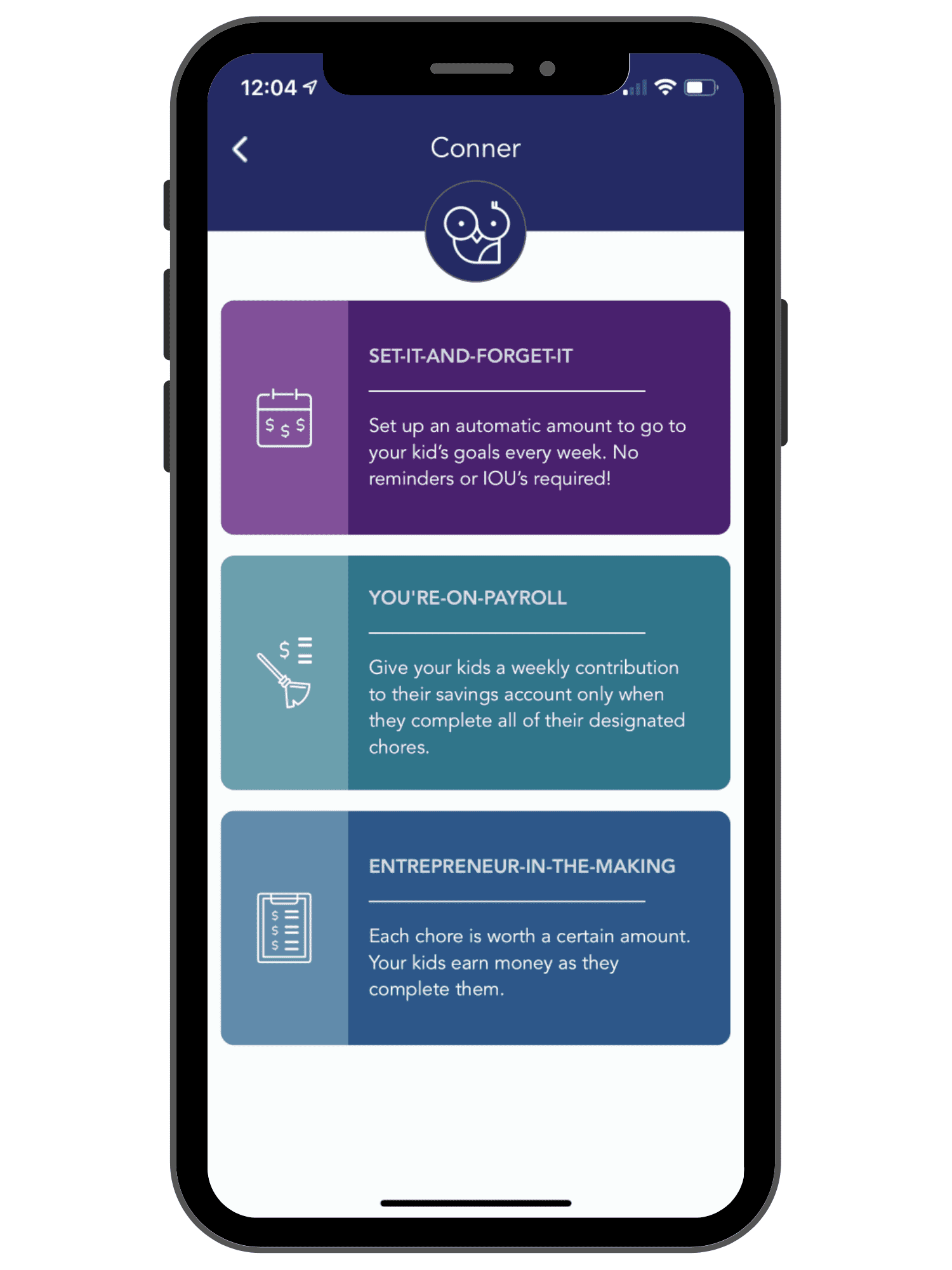 Age Range: 6-16 years
Cost: $3.95/month or $5.95/month to invest
Parent Spending Controls: Parent can lock the card from any spending if your child has not completed their Financial Literacy quiz for the week.
Saving Incentives: Goalsetter pays a .25% APY cash back bonus for any individual Goalsetter account with more than $500 in savings. Save the change roundup capability.
Investing Capabilities: Kids can invest through Goalsetter Investment.
Charitable Giving: Not available.
In-App Learning: Financial literacy quizzes are released each Monday, and kids must get 8 out of 10 questions correct for the incentive (incentives can be earning actual money from parents, unlock their prepaid debit card for spending, and/or a higher "Cred-Lit" score).
Digital Wallet Access: Apple Pay, Google Pay, CashApp or Venmo Account. Also, kids can add their Cashola Card to their digital wallet (if they meet minimum age requirements).
Gifting: Gift a GoalCard directly to a kid when they share their Goalsetter username with you. The fee to send a GoalCard is $1, and credit card fees apply if you pay by credit card.
Cash Back on Purchases: Not available
Teen Paycheck Direct Deposit: Not available, but coming soon
Reload Sources: Reload by bank account, CashApp or Venmo Account. Also, kids can add their Cashola Card to their digital wallet (if they meet minimum age requirements).
Allowance/Chore Functionality: Choose between "Set it and Forget it", "You're on Payroll", or "Entrepreneur-in-the-Making" where you pay by chore.
This is a great snapshot of what each of these apps offers that the other does not (or what they both offer), but how are you supposed to choose which one is right for your family?
Which is Better? Choosing the Right Prepaid Debit Card for Your Family
In the end, choosing the right prepaid debit card for your family comes down to your own situation.
Let me give you some guidance to help you decide.
For starters, is the heart of what you're looking for to help your child with a savings goal and ensure they're learning some financial literacy skills in a formal way? Then Goalsetter is probably for you.
But if you want to focus more on your child's spending habits and have a robust set of spending controls, then Greenlight could be the one.
If cost is an issue, then Goalsetter is definitely a good choice so that you can pay what you can afford each month (between $1 and $10). And if you're not ready for a prepaid debit card at all, but still want the functionality of an app for allowance and chores and whatever else you'd like help with managing your child's money, then Goalsetter is a great option.
Finally, if you want to get your kids started in investing right now, then Greenlight is the way to go, as Goalsetter's investing platform is not ready yet.
Goalsetter vs Greenlight App — don't get too caught up on over-analyzing the perfect one for you and your family. Make your best decision, based on the information provided, and start to use one. You'll understand better how this can help with allowance and chore management, teen and kid money management, and more, as you go.
And if you're still on the fence? Then be sure to check out:
The following two tabs change content below.
Amanda L. Grossman is a writer and Certified Financial Education Instructor, a 2017 Plutus Foundation Grant Recipient, and founder of Money Prodigy. Her money work has been featured on Experian, GoBankingRates, PT Money, CA.gov, Rockstar Finance, the Houston Chronicle, and Colonial Life. Amanda is the founder and CEO of Frugal Confessions, LLC.
Read more here
.
Latest posts by Amanda L. Grossman (see all)