Digital banking and mobile payments are here. Here's the lowdown on money apps for under 18 year olds, plus parental controls.
Chances are good your teen has either used a cash payment app already, or has thought about it – which is why I'm writing about money apps for under 18.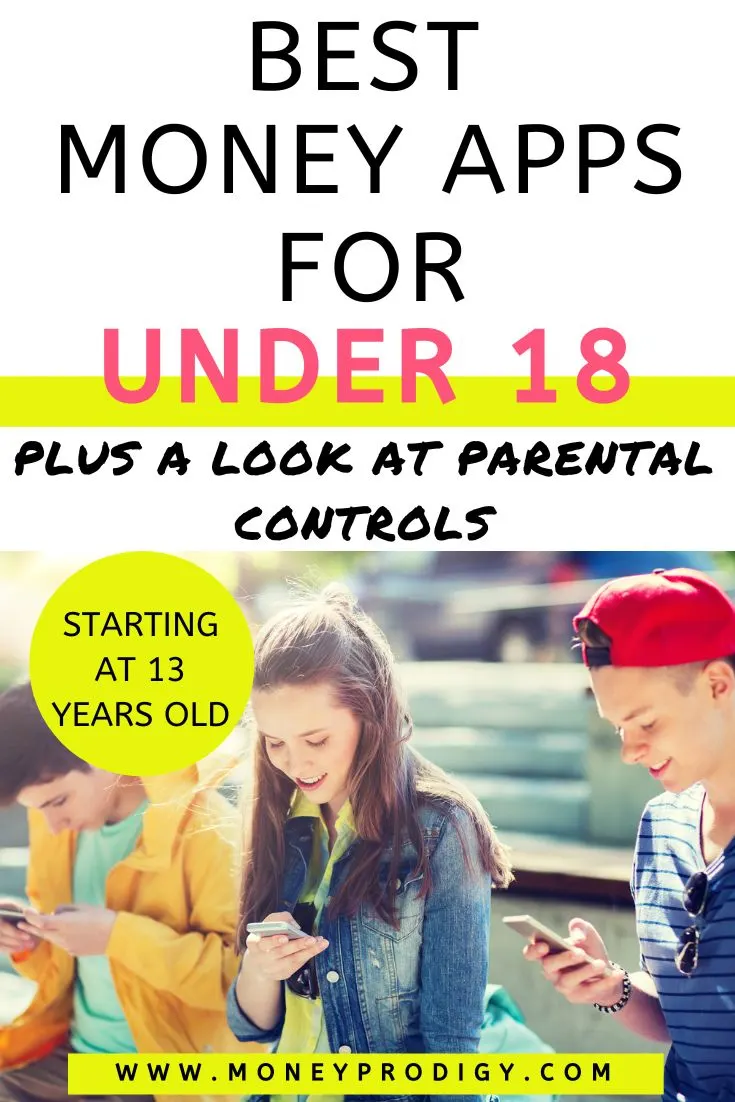 And they're not alone. In 2022, Fidelity surveyed 2,014, 13-17-year-olds and found that a whopping 50% of them have already used a payment app.
Teens use them to transfer money to someone else (peer-to-peer), to buy something (tap to pay or online purchases), or to get paid by one of their online teen jobs.
So, what are the mobile payment apps and money apps for under 18-year-olds to use?
And, more importantly, what parental controls are in place in these apps?
Mobile Payment and Money Transfer Apps for Under 18
What cash apps can minors use?
I'm going to list each of the popular cash apps available, and whether or not they can be used by someone under 18 years of age.
Hint: Looking specifically for PayPal? Sorry, there's not an option for under-18-year-olds to use it. But keep reading –I've got a workaround solution for that.
1. Cash App
Can a 13-year-old use Cash App? Yes, they can.
Cash App is a mobile payment app that you can use to send and receive money between people, and it allows kids aged 13 and older to use it through a sponsored account.
A teen who is at least 13 years or older would need to download Cash App, then send a request to their parents for approval.
Parents – as the account sponsor – have controls though not as many as you'd get with one of these prepaid debit cards + money management apps for teens.
With Cash App, parents can:
See a full record of transactions
Deactivate the card with customer support
Set a bitcoin buying limit of between $5 and $100 in a rolling 30-day period
Approve or deny access to investing (up to $100/week)
Send a maximum total of $1,000 in a 30-day-period
Spend using the cash card
Use an ATM to withdraw money
Cash out up to $25,000 in a 7-day period
Reload $7,500 in a 30-day period
Direct deposit (like from their first teen job!)
Deposit paper money (limit of $250 per 7 days, or $1000 per 30 days)
Buy up to $100 in stocks/week (with account sponsor approval – more info on built-in parental controls with stock apps for under 18)
Buy up to approved amount (between $5 and $100/week) in bitcoin
There are also specific transaction-type blocks on sponsored accounts to protect and monitor how your teen uses their account.
Free and available for iOS and Android.
Venmo is so popular, that it's become its own verb ("I'll Venmo you").
That's because people use it to pay back a friend, or split a check, or for other more social things (though you can use it to make online and in-store purchases, too).
There used to be the requirement that you needed to be 18 years or older to use them…but they just announced a new Teen Debit Card!
Teen Venmo Accounts are connected to a parent's personal Venmo account
Be physically located in the U.S.
Have a US-based cell phone that can send/receive texts
Be between the ages of 13 and 17
Parents can:
Choose to grant the teen access to the Venmo app
Monitor transactions from up to 5 Teen Accounts
View your teen's account balance
Manage privacy settings
Send money to their teen
Manage the Teen Debit Card's PIN
Lock and unlock the debit card
Review a Teen Account's friends list
Also, the privacy settings on the Teen Account are set to private by default, and only parents can change the Venmo Teen Account's privacy settings.
Teens can:
Manage their money through the Venmo App
Send and receive money among family and friends
Receive Direct Deposit (like from a Teen First Job)
3. Apple Cash Family
Does your family use iPhones?
Parents can set up a Family Sharing Group, and then set up Apple Cash Family so that money can move between everyone.
The Apple Cash Family organizer is able to:
View and manage your child's Apple Cash account
Lock their Apple Cash
Turn on and off their ability to send/receive cash
Decide who they can send/receive cash from (can be to contacts only, or in the Family Sharing Group only, or both)
Turn on spending notifications so that you can see each transaction your child makes
Kids under 18 years old can:
Use it to make purchases where Apple Pay is accepted (stores, apps, and websites)
Send and receive money with people they know (per their contact list and the Family Sharing Group – helping for graduation money gifts)
Note that kids under the age of 13 cannot add a card to Wallet to use with their Apple Cash app.
Once your child turns 18, you can no longer have these controls.
4. Google Wallet and Google Pay
Teens 13 years and older can use Google Pay.
Think of your Google Wallet as a digital wallet that houses all of your cards, digitally, and Google Pay as a money management and money transfer app.
While you need an Apple device to use Apple Pay, you can use Google Pay on either an iOS or Android device.
However, you can only use Google Wallet on an Android device.
You add your payment card to Google Wallet, then you can pay using it wherever Google Pay is accepted (tap-to-pay). You can also load your transit cards and all your store loyalty cards to your Google Wallet.
Google Pay offers money management insights on how you spend your money, the ability to split bills and send money to friends/family, and the benefit of earning rewards on money spent (even when paying back friends).
To be honest, trying to figure out parental controls, specific to Google Pay, is very difficult. For example, there are parental controls through Family Link, but that's across all Google products.
I'll circle back to this as I find more information.
Here's Google Pay for Android, and for iOS.
5. PayPal
PayPal actually used to have student accounts for people under 18, but they were discontinued back in 2016.
Can my parents make me a PayPal account? Well, yes – but there are a few serious consequences parents should be aware of before going this route.
Is there anything like PayPal for under 18? Especially since lots of online jobs for teens pay by PayPal?
Here's a few workaround solutions:
See if the online job your teen wants pays by another money app under-18-year-olds can use, such as Cash App
Open a traditional custodial bank account for them, and have them receive/make payments from there
Use a prepaid debit card that acts like a bank account. The FamZoo Prepaid Debit Card has a separate set of bank routing and account numbers that makes the card electronically accessible as a checking account. And it comes with some great parental controls – here's my FamZoo vs. Greenlight review
6. Zelle®
Zelle® is all about sending and receiving money between people, even if they're not at the same U.S. bank. However, you must be 18 years of age or older to use Zelle®.
Hint: there appears to be some testing of Zelle® with allowing a teen to use it within a teen checking account at an established bank, such as Capital One's pilot program (with parent consent). Here are the banking apps Zelle® already works with, and you can ask your teen's bank if it's available for them to use.
This is a changing and shifting industry, and so I'll be keeping this list up-to-date as new money apps for under 18 emerge, and old ones die off. In the meantime, I hope you've gotten the help you need to pick out the right one for your teen. And if your teen is about to get a serious influx of cash (like when they graduate)? Help them find smart ways to spend their graduation money.
The following two tabs change content below.
Amanda L. Grossman is a writer and Certified Financial Education Instructor, a 2017 Plutus Foundation Grant Recipient, and founder of Money Prodigy. Her money work has been featured on Experian, GoBankingRates, PT Money, CA.gov, Rockstar Finance, the Houston Chronicle, and Colonial Life. Amanda is the founder and CEO of Frugal Confessions, LLC.
Read more here
.
Latest posts by Amanda L. Grossman (see all)