Find the best money coloring pages for coins and bills out there, plus why you'd want your kids and students to color them in.
Why should you use money coloring pages when teaching kids about money?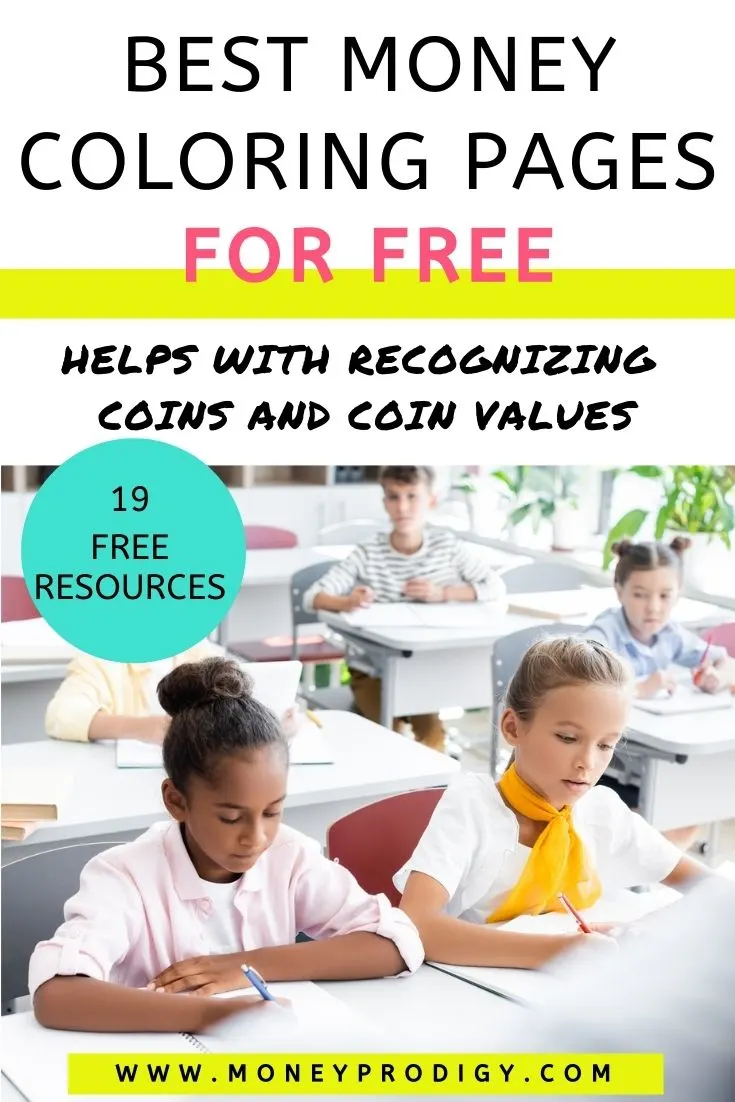 Coloring in money pages can help kids:
Associate a fun activity with money
Discover visual differences between bill and coin denominations
Learn through visual means (great for visual learners!)
Not to mention, you can get kids interested in this whole "money" thing, even if some of your students don't have any money to use yet (through an allowance or chore commissions, etc.).
And kids can even color their own set of kid money printables to use for a classroom money activity.
Note: your time is valuable and limited – I know this! That's why I've included age recommendations, where available, and screenshots to show you what you'll be getting. Also, you might want to pair these with books about money for kindergarten, and other money worksheets for kindergarten.
Money Coloring Pages PDFs
Check out these money color printable PDFs (for both coins and bill denominations) for a different way to educate your kids about money.
U.S. Bureau of Engraving and Printing Coloring Pages
If you're looking for money coloring pages, then why not start at the source where all the dollah-dollah bills are actually made?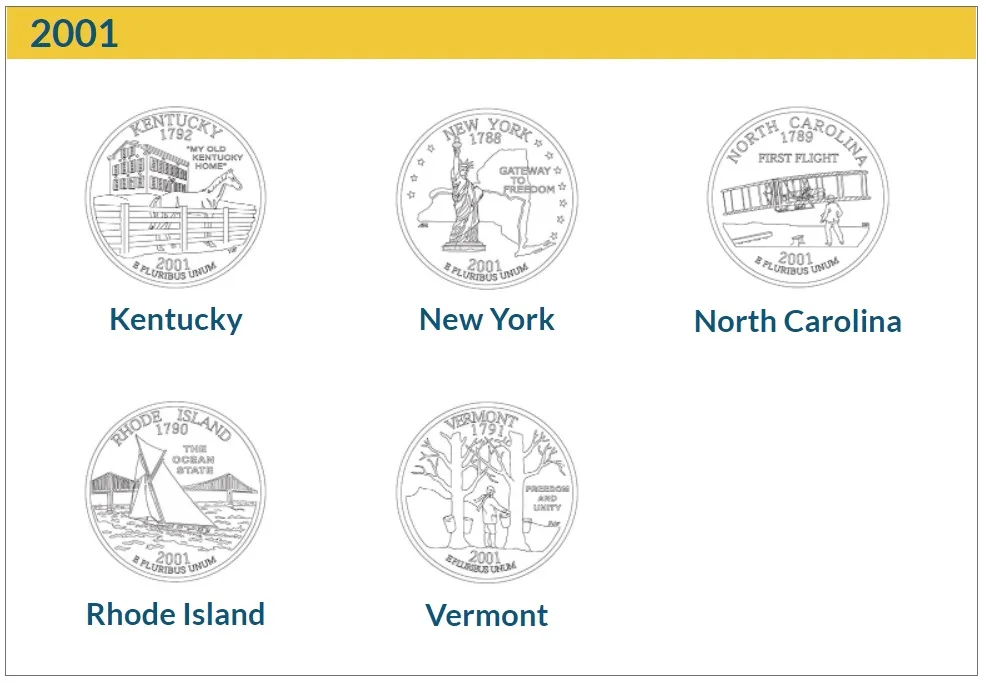 When looking for coin coloring pages…why not start with the people who actually create our real money?
That would be the U.S. Mint.
Not only do they offer free money coloring pages of each money denomination we have, but they are current. Meaning, these are the coins and dollars that your students will be looking at in their own wallets.
They have all the usual ones (front AND back), and then also some cool ones, like the:
Half dollar
Maya Angelo quarter
50 state quarters (by year and state)
Series of $1 coins
Etc.
Hint: if you email [email protected], they'll send you a free PDF coloring book of all their coins! And here's a tutorial on how these coins are actually made and distributed – a fun thing to show your students.
Suggested Age: Resources for Grades 2-5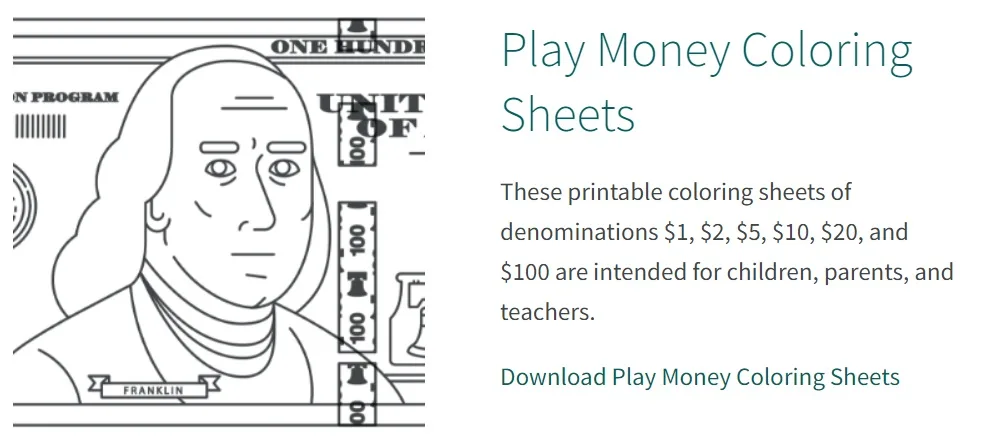 I just love how you can get this set of free coloring sheets in 24 different languages.
These free money coloring pages (scroll down about halfway) have some nice features for kids to color in, and after they're done, they can compare it to what the actual bills look like (just have them handy, or use the free brochures you can download for each bill denomination).
Psst: be sure to check out their free Currency Academy, where students can learn all kinds of things about U.S. Bills like how they're designed, how to spot counterfeits, etc. Comes with free worksheets and answers.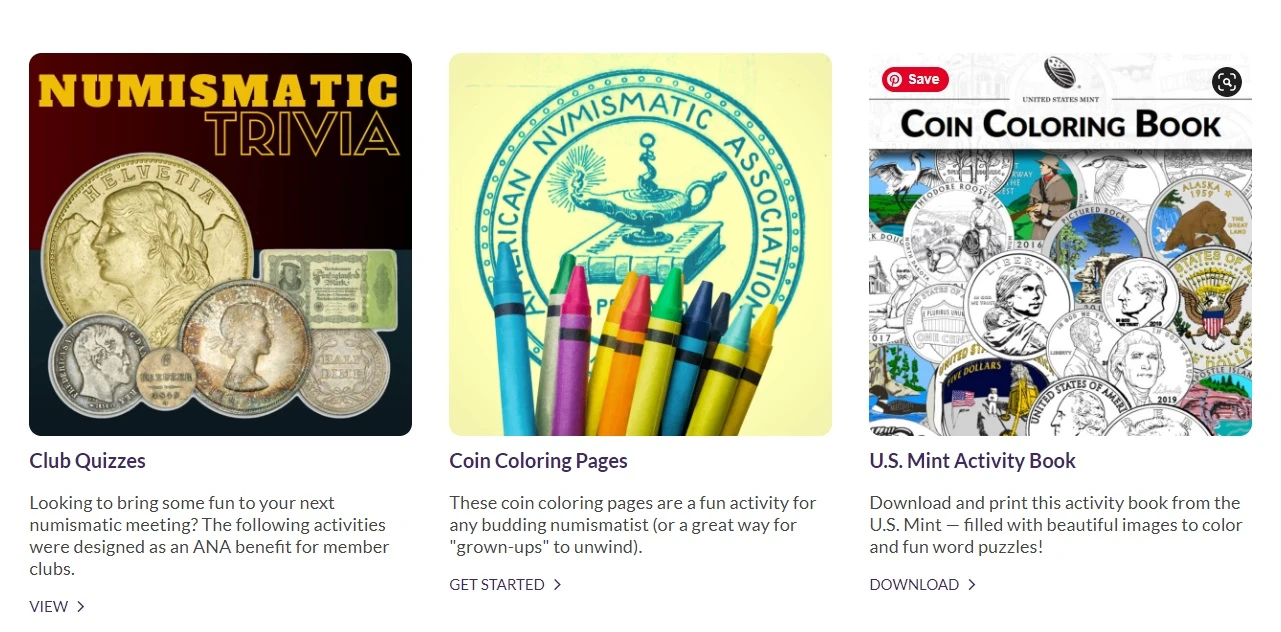 Check out this free coin coloring booklet (PDF) – great detail on each of the 18 coins. Includes both front and back of each.
Bonus: here's a really fun find – if your child gets 3 or more A's on their next report card, have them submit the info here for a free collectible coin in the mail!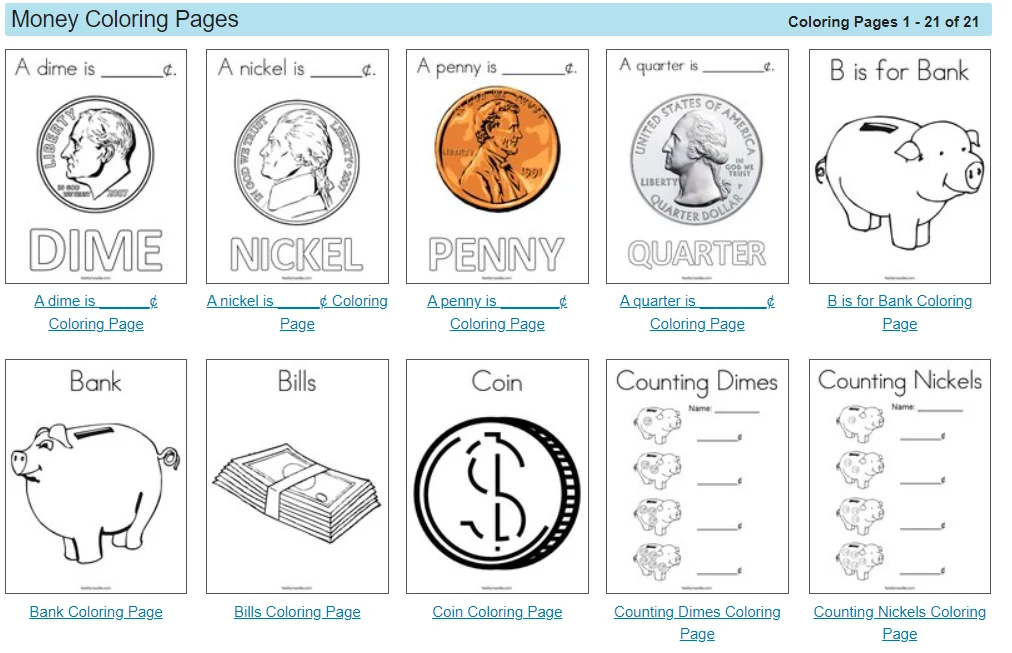 Check out this site for coin PDF coloring pages, where students also need to fill in the value of each coin they're coloring.
Coins include:
Hint: you might also like their coloring worksheets where students need to both color in the coin, and trace the letters to spell it.
Suggested Age: Grades K-2
In the student handout packet for Grades K-2, you'll find a blank dollar bill template that kids can use to create their own currency. This goes with their first lesson plan on understanding currency.
There's also a packet and lesson plan for lots of money lessons, included.
If you scroll allllll the way down, then you'll find links to both a blank coloring template for a dollar bill, and a blank piggy bank coloring sheet.
100-Dollar Bill Coloring Pages
Looking for the Benjamins, eh?
You'll find some great ones to color in, here.
Hint: here's a free PDF resource for how to decode different parts of a real $100 bill.
Free Money Color by Number & Color by Coin PDFs
Coloring by coins and by bills can be a fun little activity to teach kids how to recognize the different coins and their values.
Hint: be sure to check out my article on teaching preschoolers about money.
Get your set of two free color by coin pages – I like how they include both the front and the back of the coin. Tricky!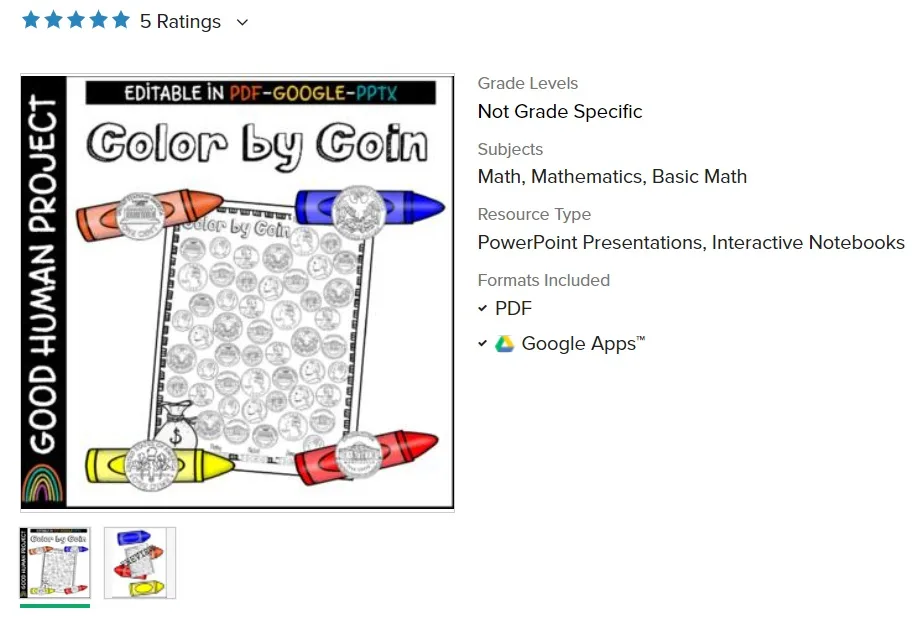 Here's a free color by coin page you can find on TPT (Teachers Pay Teachers).
Hint: you'll need to sign up for a free account to access it.
3. First Commonwealth Credit Union's Color by Number
Students are asked to color each type of four coins (penny, nickel, dime, and quarter) a different color.
Money Management Coloring Pages
Looking for coloring pages that teach some aspect of money management?
This is the section for you.
Suggested Age: PreK-Kindergarten
I really like their Lesson 5: You Can't Buy a Dinosaur with a Dime. The accompanying sheets include coloring worksheets of people saving money, and people spending money.
They'll need to color in the sheets, and then put a "+" or "-" sign for if the person is saving or spending money.
More lessons are included, plus a lesson plan.
Suggested Age: K-2
Here's an idea: Have your kids color in some coin PDFs from above, and cut out each coin.
Then, each kid can make their own box bank. You call out different money amounts, or coin types, and each student then deposits that into their bank.
Great coin-counting and recognition practice!
Hint: looking for another coin counting game? Here's my list of best counting money apps.
Suggested Age: Grades 2-5
This set of worksheets and lessons include a page for kids to draw something that they want but cannot afford right now. They're then asked whether they want to save money for it, or borrow for it.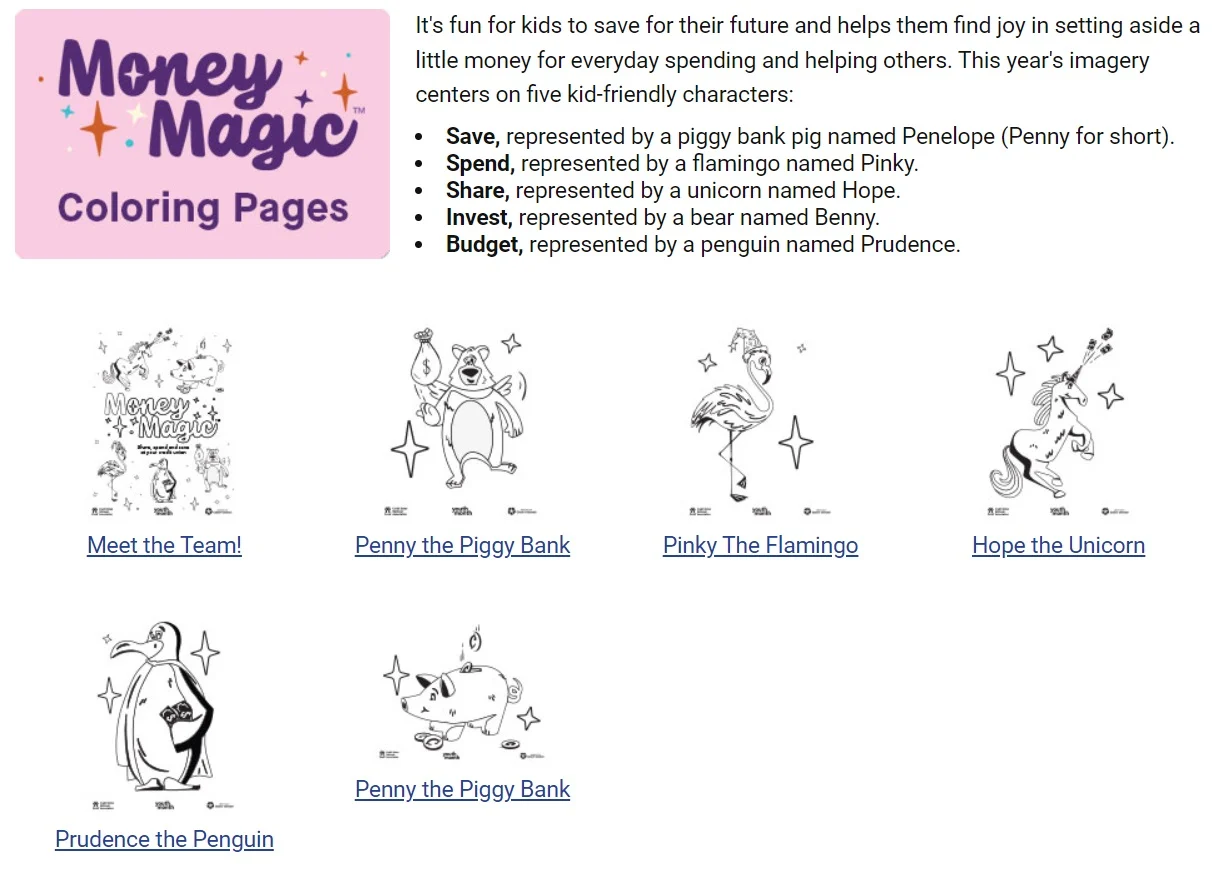 Here's a fun money management activity found on some free coloring pages. Each animal and coloring sheet represents a different part of money management:
Have your students color in each sheet, and then write in how they would spend/save/invest/donate a portion of money.
Age Range: 5-7 years
I love how this takes money math and makes it visual – great for visual learners!
Instead of writing out how much money someone needs to save up for an item, your students are asked to color in the number of bills needed to save up for a specific item.
There's also a teacher guide about how to introduce students to the concept of saving money.
Canadian Money Coloring Pages
It's actually a good deal more difficult to find Canadian money coloring pages (you probably already know that – that's why you're here!).
I've done my best below, and will update as I find more.
Hint: not coloring pages…but if you're looking for printable Canadian play money, here's a free set.
Suggested Age: Prek-1st
Check out this free Teachers Pay Teachers worksheet – a colour by code, for Canadian coins!
Hint: you'll need to sign up for a free account with them to access it.
Suggested Age: Grades 3-4
Here's a meaty worksheet PDF on Canadian money that includes several pages where students need to draw out a money value.
Hint: I usually don't like to link directly to PDFs, because it doesn't give link credit to the website. However, in this case, there doesn't seem to be a way to find the PDF any other way. Here's their actual website.
Bonus: you can check out this guide on Canadian money with your students.
These money coloring pages should be enough to help teach your students to visually recognize each coin, and even start to understand their values. After that, you might want to check out these free money board game printables to take their money education further.
The following two tabs change content below.
Amanda L. Grossman is a writer and Certified Financial Education Instructor, a 2017 Plutus Foundation Grant Recipient, and founder of Money Prodigy. Her money work has been featured on Experian, GoBankingRates, PT Money, CA.gov, Rockstar Finance, the Houston Chronicle, and Colonial Life. Amanda is the founder and CEO of Frugal Confessions, LLC.
Read more here
.
Latest posts by Amanda L. Grossman (see all)