What are good stocking stuffers for teenagers? Best stocking stuffers for teen boys – these are stocking stuffers they'll actually use (and even THANK you for!).
Teen boys can be…kinda difficult to shop for. Amiright?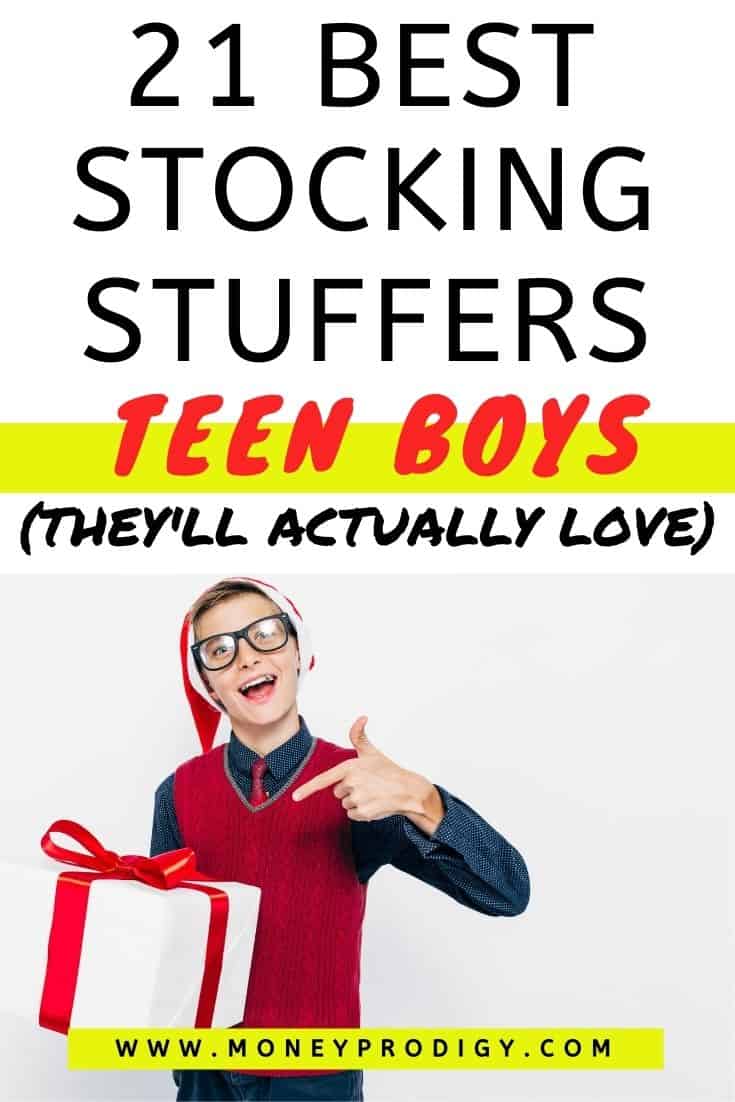 That's why I've spent an extra-long time coming up with a great list of the best stocking stuffers for teen boys.
Follow this list, and you'll get some "thank you's" and excited eye-popping on Christmas morning!
First up, let's take a look at what makes a good stocking stuffer for a teen boy.
Hint: lots of these ideas are great stocking stuffers for tomboys, too. I would know, because I was one when I was a teenager!
What are Good Stocking Stuffers for Teenagers?
So, when you're going through the list below to choose stocking stuffers for teen boys…what should you be looking for?
What did I look for when I made this list?
Good stocking stuffers for teen boys:
Fit into a stocking (worth noting, right?)
Grab their attention (measured by eye-popping, and "thank you, MOM's!")
Are usable now, but can also help them in their next life phase
Fit that fine line between kid-hood and adulthood
Here are the cool products I found that each fit at least one of these traits.
Best Stocking Stuffers for Teen Boys
Using the list I made above, I researched tons of stocking stuffers for teen boys…and I'm only including the best of what I found, here.
These are the stocking stuffers they'll actually use (and thank you for!).
Have you ever heard of the "wreck this journal"? It's soooo…unique and fun and creative and different.
And since guys like to mess around with things, this could make the perfect stocking stuffer for them.
Is your teenager into Star Wars (or your husband…for that matter? Mine is!). This deck of playing cards has a sweet design they'll be excited about.
Your teen may have their permit, be driving already, and be just a few short years away from getting their license.
This book is highly rated and is sure to help them become more responsible and safe drivers.
Do they have a car? Check out this really fun Bigfoot Car Freshener.
There are over 200 challenges and brain teasers in this neat, self-contained puzzle!
You can get really rugged-looking (and highly durable) smart phone cases for your teenager's particular smartphone.
We're teaching our son to use chopsticks this year, and this pair of light saber chopsticks is definitely going into his stocking (he's a Star Wars fanatic!).
Such a cool "necklace" for teenage guys and men!
Check out this teen-errific way to prop up a smart phone, tablet, or other device. Lots of different colors to choose from.
Is your teenage guy into cards? Playing cards, trading cards, card games, etc.?
Here's a useful card case perfect for their stocking. Holds up to 360 cards.
Psst: Check out these cheap gifts for teenage guys under $10, 19 best stocking stuffers for preteen boys,15 stocking stuffer ideas for 18-year-olds, and stocking stuffer ideas for teen drivers.
Have you ever heard of Aaron's Thinking Putty? I first came across them in the toy section of the Buc-ee's down here in Texas – and I was hooked.
Your teenager will be, too!
Plus, these are the perfect size to slip into a Christmas stocking.
A few of my favorites:
What a great gift to give your driver, or soon-to-be driver!
Here's a way to introduce how to measure progress on goals to your teenage boy.
If nothing else, they'll probably like the new gadget!
Cheap Stocking Fillers for Boys
The great thing about stocking stuffers? Is that they can be really cheap, but still awesome.
Here are cheap stocking fillers for boys (teenagers).
You can score a very cheap assortment of guitar picks, which would fit perfectly into a teen boy's stocking!
Here's one that comes with a guitar pick case, too.
Wow…this deck of black playing cards are sleek and super-cool. Your teenage boy might even start to play card games to be able to use 'em!
Not to mention, they'll definitely still want to use these into their 20s.
3. Manly Bath Products
I watched my brother light up each Christmas when he would open up a manly-bath product from his stocking. He would smell it, and he would use up the whole thing in the next month or two.
Here are a few cheap, manly bath products to put in their stocking:
I hope you can see that there are very affordable ways to stuff your teen's stockings with items off of this stocking stuffers for teen boys' list. And how surprised will they be getting to open their stocking up to a bunch of cool items…after opening all of their main gifts?
The following two tabs change content below.
Amanda L. Grossman is a writer and Certified Financial Education Instructor, a 2017 Plutus Foundation Grant Recipient, and founder of Money Prodigy. Her money work has been featured on Experian, GoBankingRates, PT Money, CA.gov, Rockstar Finance, the Houston Chronicle, and Colonial Life. Amanda is the founder and CEO of Frugal Confessions, LLC.
Read more here
.
Latest posts by Amanda L. Grossman (see all)