Check out these 19 stocking stuffers for tween boys. Cheap stocking fillers boys will actually use!
Tweens…they're kind of in-between being a kid and being a mature teenager.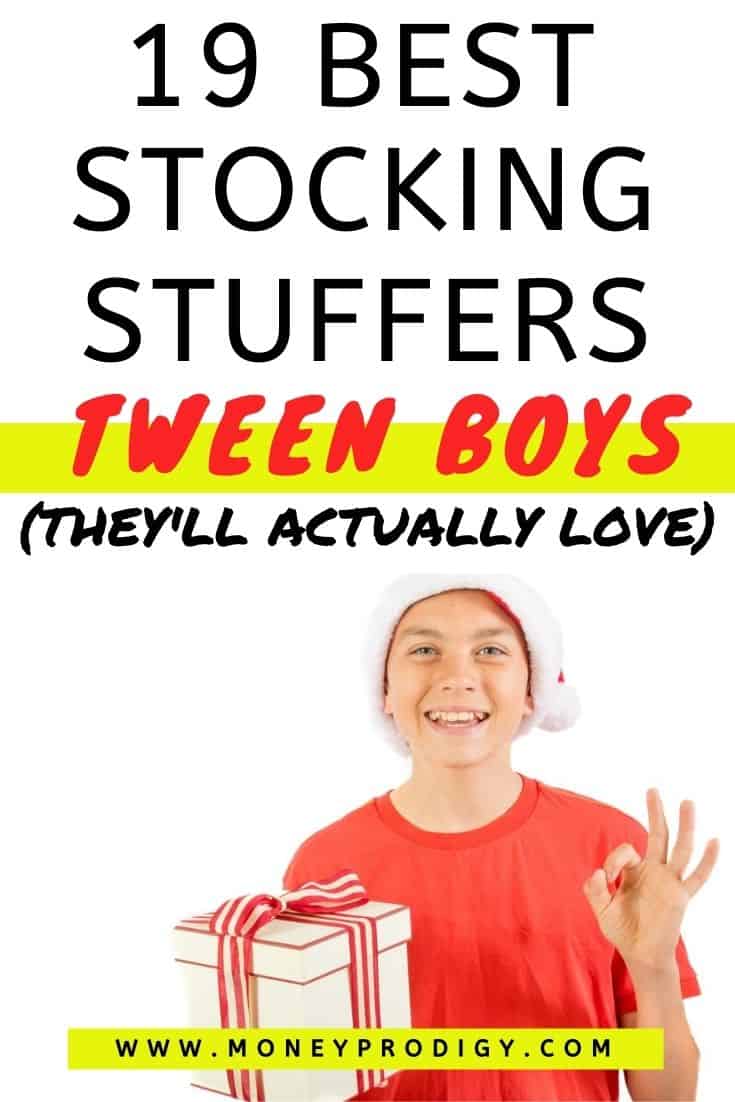 And sometimes, they seem to favor one over the other, depending on the day of the week!
That's why I've created a specific list of stocking stuffers for tween boys – because shopping for them doesn't have to be as hard as it seems.
If you've ever wondered what do you put in a 12-year-old stocking or what good stocking fillers for 10-year-old boy look like, then you're in the right place with this list of tween stocking filler ideas.
Stocking Stuffers for Tween Boys
There are lots of cheap boys stocking stuffers on amazon – you just have to know where to look.
We're teaching our son to use chopsticks this year, and this pair of light saber chopsticks is definitely going into his stocking (he's a Star Wars fanatic!).
Your tween can use this moon torch to project the moon onto any surface!
I used to looooovvveee metal brain teasers when I was a tween (and a teen, truth be told). This set would be such fun to find in a stocking!
This is definitely a more adult-version of regular fidget spinners…and what tween boy doesn't like to have things that look a bit more grown-up?
Check this cool gift out – your tween can make a total of 20 paper airplanes from it (and have competitions with your family!).
Here's a set of really fun magic tricks using a deck of cards – don't be surprised if your Tween spends Christmas morning testing these out on you and their brothers/sisters.
It's stretchy, it's noodly…it's a great fidget toy for tween boys that actually stretches to an amazing 8 feet!
Here's a really cool metal spinning top that was designed based on a 1980 UFO sighting in England.
Let your tween boy try his hand (or mouth) at playing a harmonica.
These were big when I was a tween…and are still just as fun to play around with.
When these magnets come together, they clatter and make a noise sort of like a rattle snake!
11. Cool-Looking Keychain
It's likely your tween-ager already has a set of house keys, or locker keys, or some other keys.
They'd love to see one of these manly-looking keychains peeking up at them from their stocking!
Does your tween boy still love Minecraft…or at least likes the merchandise around it? Here's a really cool and very functional idea for a stocking stuffer (your tween boy's first wallet!).
I lived for UNO as a tween-ager!
Legos are pretty much for any age…but they can especially be something tween boys love.
Plus getting a wallet that says something about you ("I like Legos") as a tween? Well, that's just perfect for their age group.
Your tween will request this one on family date nights – it's a game where everyone needs to work on building the best taco…with some spicy action cards thrown into the loop.
Here's a really simple, and tween-friendly game families and tween friends can play together.
How cool – they made a Minecraft version of the awesome game UNO!
This can be for kids, or adults!
Have you ever seen those plants that, when touched, shrink and close right up? That's what these seeds are. They're pretty neat! I think about the next best thing to owning a meat-eating plant (I always wanted a Venus Fly Trap plant when I was a tween!).
Mad Libs is that hilarious word game where you have someone fill in a noun, adjective, adverb, etc. without knowing the context of the story. Then, the story is read out loud!
This one is perfect, as it's holiday-themed.
I hope you've enjoyed this list of fun and cheap stocking stuffers for tween boys! What kinds of tween stocking stuffers are you going to surprise your pre-teens with, this year?
More gift-giving Guides to check out:
The following two tabs change content below.
Amanda L. Grossman is a writer and Certified Financial Education Instructor, a 2017 Plutus Foundation Grant Recipient, and founder of Money Prodigy. Her money work has been featured on Experian, GoBankingRates, PT Money, CA.gov, Rockstar Finance, the Houston Chronicle, and Colonial Life. Amanda is the founder and CEO of Frugal Confessions, LLC.
Read more here
.
Latest posts by Amanda L. Grossman (see all)