Check out this list of best stocking stuffers for new drivers. These ideas are perfect for teens who either own a car, or just a license. They'll be so excited Christmas morning!
Stuck wondering, what are good stocking stuffers for teenagers?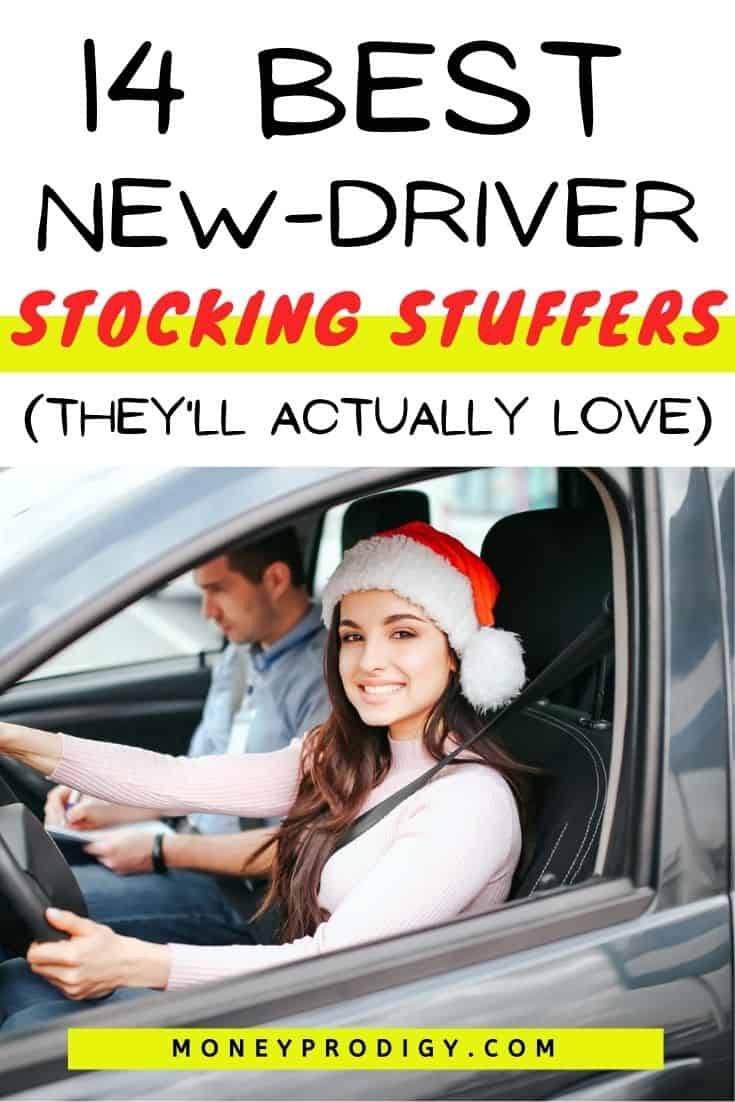 We all know it can be difficult to shop for a teenager. But if you've got a new teen driver in your life?
Well, you're in luck. Because new teen drivers are SUPER excited about all things driving and cars, so one of these stocking stuffers for new drivers is sure to delight them.
Stocking Stuffers for New Drivers
Check out these fun and (mostly) practical ideas for teen stocking stuffers – whether your teen owns a car yet, or not.
I love this so much, that I bought several as stocking stuffer gifts last year for Christmas. I think this year? I'm going to get one for myself.
Here's a black one, too:
This is a highly-rated new driver book that is perfect for a teen reader.
It also happens to be a bit more narrow than normal books, so should be able to fit into a stocking.
Topics covered include things like:
Bare essentials to keep in your car
Driving in bad weather
Getting a ticket
Breakdowns
I used to collect keychains as a teen and stick them on the back of my backpack…I guess I thought that would make me cool.
Anyway, I would've loved to get my hands on this dreamcatcher keychain. So pretty!
Psst: if they don't own a car yet? No worries – most teens also have a house key they carry around with them.
Can I just say how positively posh and grown-up I would've felt as a teen if I had this cool ID case + keychain ring?
It's also super useful – for high school, and beyond – because you can put your ID and maybe a card or two in there, and keep it all attached to your keys.
Pssst: Is a teen boy on your list? Here's 19 cheap gifts for teenage guys under $10.
Does your new teen driver own their own car? Then help them to add some bling to it (especially if it's like the clunker I used to own when I was a teen!) with these crystal car seat charms.
Pssst: Like these? Check out my article on gifts for first time car owners.
Here's the perfect way to warn people (or, to explain sub-par driving moves) that there is a teen driver.
What I love about this? Is that it removes just like a sticky note (don't get me started on how much I hate stickers on products that leave a sticky residue).
Safety, safety, safety – especially since teen drivers might now be out after dark for their job, or after going to the movies with friends, etc.
I like how this one is rechargeable – so you don't have to always have oddly-shaped batteries on hand for when it dies.
What a fun (and funny) car window decal for a teen's vehicle!
I've always loved lanyards because I like to whip them around (over, and over, and over again).
Here's a great selection of teen-styled ones!
What teen guy (who happens to love Star Wars) wouldn't want to hang one of these in his car?
Hint: my husband would looooovvveeee this, too.
While you're at it…you can deck out their cup holder with a sophisticated-looking set of black Darth Vaders.
Here's a beautiful, glittery ID badge that also has a keychain on it.
If I got a nickel for every teenager that eventually locks themselves out of their car, or out of their house (myself included)…
This could help.
Teens love to decorate and personalize things, but hanging something from a rearview mirror can be distracting and dangerous. Instead, you can help them personalize by getting them this to put around their stick shift.
Which of these awesome stocking stuffers for new drivers are you going to check out? You might also want to look at my article on 19 gifts for new drivers, which has lots more ideas for under the tree.
More gift-giving Guides to check out:
The following two tabs change content below.
Amanda L. Grossman is a writer and Certified Financial Education Instructor, a 2017 Plutus Foundation Grant Recipient, and founder of Money Prodigy. Her money work has been featured on Experian, GoBankingRates, PT Money, CA.gov, Rockstar Finance, the Houston Chronicle, and Colonial Life. Amanda is the founder and CEO of Frugal Confessions, LLC.
Read more here
.
Latest posts by Amanda L. Grossman (see all)