Teen budget worksheets are a great way to help teach kids how to budget and how to track expenses. I round up the best (free) budget planners for teenagers.
A weird thing happens when a teen starts to put numbers down on a piece of paper (i.e., a teen budget worksheet):
They get hit on the head with reality.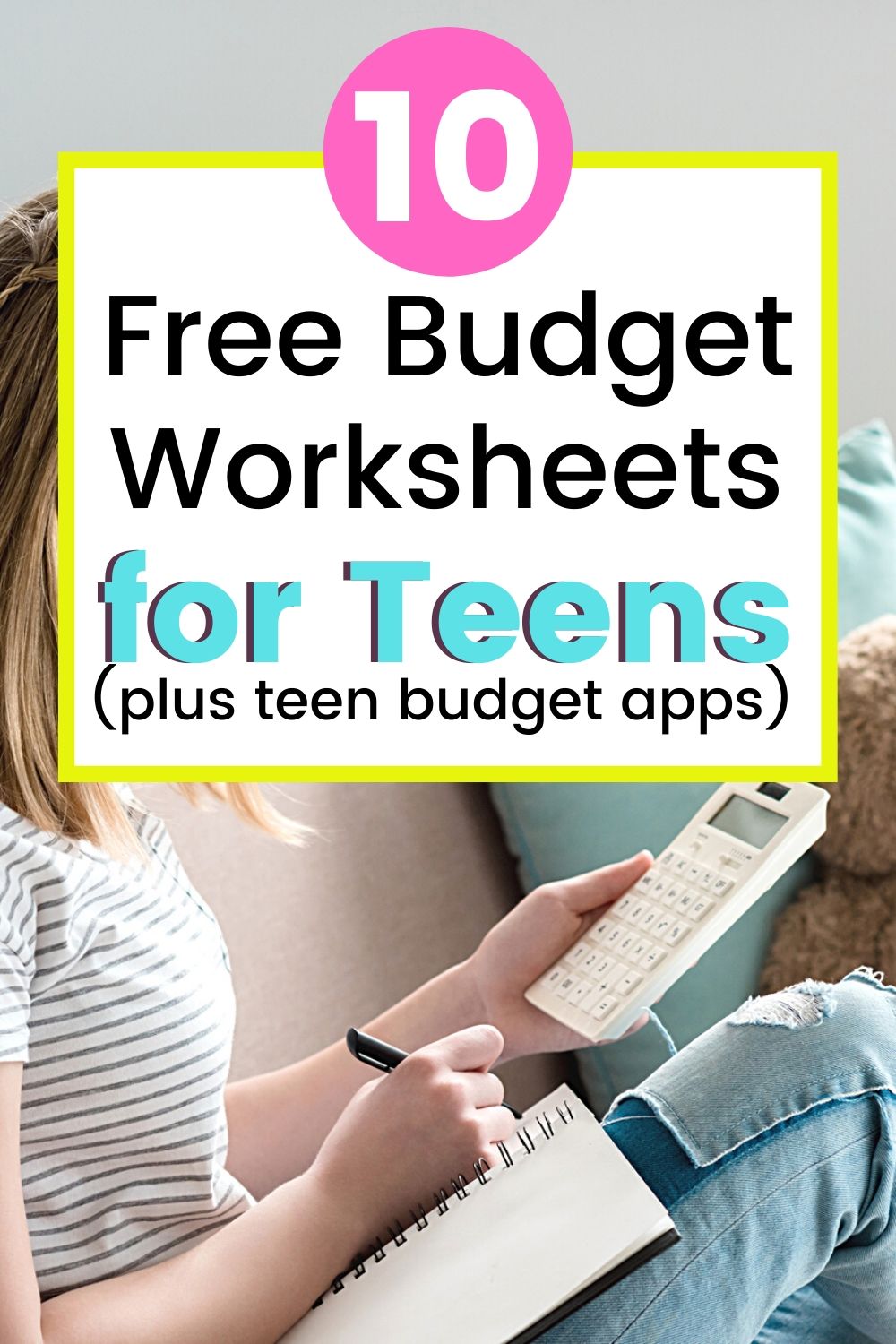 I've seen it time and time again (it happens to kids and adults, too).
To be honest? I've even experienced the "aha" moment myself.
You see, the numbers don't lie.
When you see how much income you have coming in and how much spending and expenses you have going out, in black and white, you can no longer ignore the truth.
Well, you can still ignore it…but it does become harder to do.
Not only that, but if you have your teen sit down and write out a budget and spending plan, then the next time they are out of money or suffering through a money blunder – like anyone learning how to budget and manage money is going to experience – then you can calmly sit down with them and their budget worksheet and point out where their spending was a problem.
They'll be able to see it clearly, with their own eyes, and you become less of the "bad guy".
So, let's get started with these budgeting worksheets for high school students.
Best Teen Budget Worksheets
A teen needs to learn how to budget.
It's a critical part of teenage money management.
And what I like to call "mind budgeting"— trying to keep track of spending and when your next payday is in your head – is simply not going to work.
For starters, teens don't have enough experience with budgeting to do mind budgeting. Some adults can get away with it because they've been at this for decades.
Not only that, but when you write down what you plan to spend, you're much more successful at actually sticking to it.
Having said all this, I wanted to dive into some example teen budget worksheets to get your own teenager working on a budget. It's one of the best and easiest tools to help them learn how to manage and budget their money.
Psst: you'll also definitely want to check out 58 common teenager expenses, to get your teen started with how to fill out the expense part of their budget worksheet.
I love how…blank these balance sheets are! I think they certainly look like something a teenager would like to work with (as far as colors and layout are concerned), and can be a great way to give your teenager some awareness of their balance, spending, earnings, etc.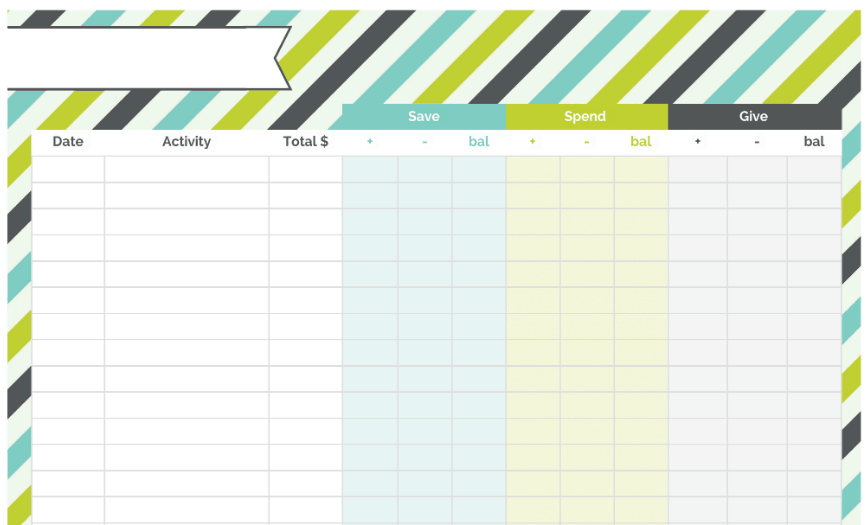 I love this fun-looking teen budget worksheet (however, it's a .jpg file and not a .pdf file. I'm unsure of how well it will print). Again, the categories are already chosen for you (so you might have to white-out).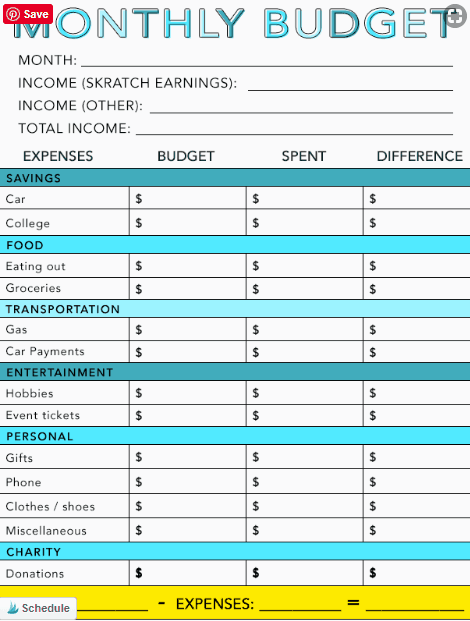 4. MoneyandStuff.info's Sample Budget Template for Teenagers
Here's a sample monthly budget for teens, which can be helpful if your teenager is having trouble coming up with a budget.
Best Teen Budget Apps
Our world, and our banking world, is quickly turning to an app-based experience. Because of this, I think it's important that your teenager gets their toes wet using money apps.
Here are some of the best teen budget apps and teen money apps available:
Is your teen budgeting for a certain savings goal?
Don't let the name of this free app fool you — it's also an impressive goal setting and budgeting app for teens.
It's got the ability for your teen (and anyone, for that matter) to set and budget for a savings goal, and then track it.
You can start a new savings goal by inputting how much it will cost to get, how much you have now, and then the date that you want to meet your goal by. You then add in transactions towards your goal, and it automatically tracks your progress.
Pssst: you can access all the Teen Entrepreneur App features without buying the Teen Entrepreneur Toolbox kit – it's a free app!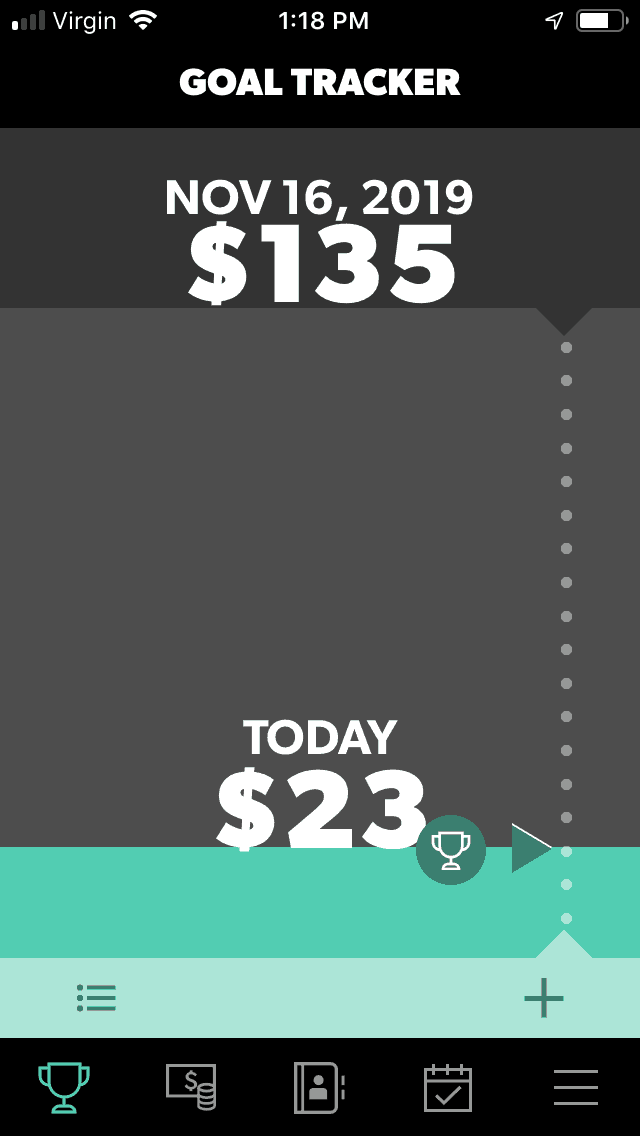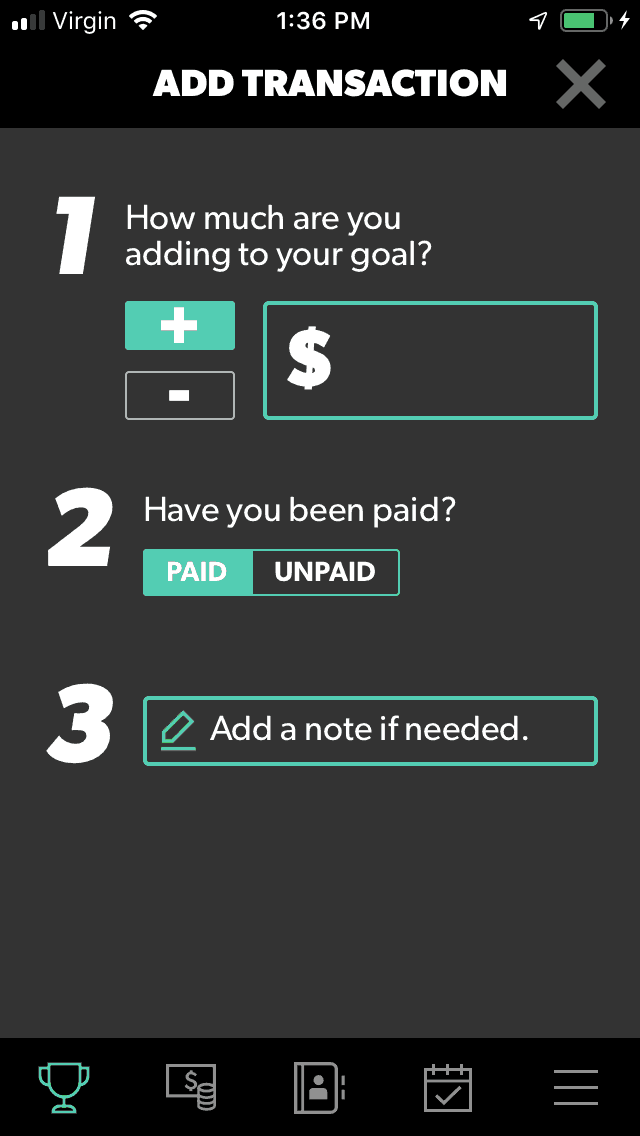 Available On: iOS
Teen Budget App #2: Toshl App
This isn't an app made solely for teens, but I'm including it as a teen budgeting app because of it's simplicity and fun-looking interface.
The Toshl App connects with your teen's financial accounts (from over 13,000 banking institutions worldwide). This allows for automatic updates.
But if your teen doesn't currently bank, or uses mainly cash from allowances? Then there's an option to manually update their spending (I think if they have to input each of their transactions, it would add better awareness for them as to how much they spend each day/week/month).
Your teen can then tally up their spending by category, or by date.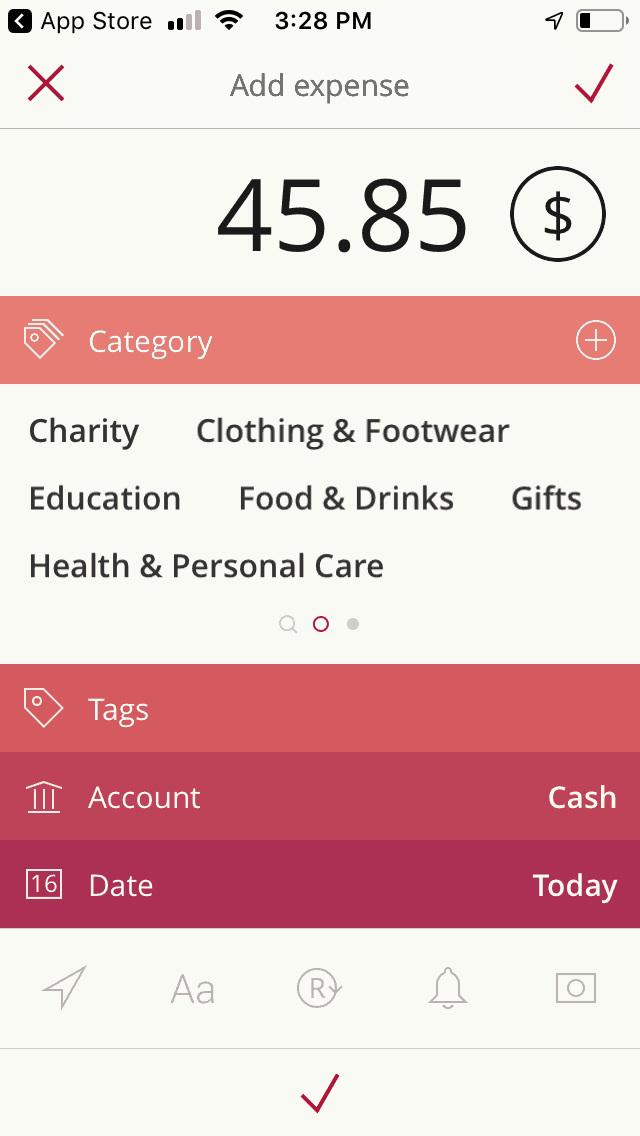 Available On: iOS and Google Play
Prom is a perfect opportunity for your teen to learn how to budget. You can either use it to teach the how to budget for an occasion, OR, you can use it to teach them how to budget in general.
One way to help with that is Visa's app, Plan'it Prom. Your teen can use the budget calculator, put in the prom date and get a prom countdown (that sounds fun for a teenager!) and much more.
Available On: iOS and Google Play
Example Expenses for Teenagers
Now that your teen is working on their first budget (or attempting budgeting for the second time), they might need an idea of what example expenses teenagers have.
After all, filling in expenses is a huge part of budgeting!
Let me share some examples of teen expenses (both monthly teen expenses and expenses stretched throughout the year, such as buying Christmas gifts for siblings).
Gas
Car insurance
Speeding ticket costs
Smartphone data plan
Pet accessories
Christmas/birthday presents for siblings
Facial wash/Personal Toiletries
Movies/Bowling/Entertainment with Friends
Teen date night expenses
In-app purchases
Next up? Let's talk about teen budget calculators. Or, rather…the lack of them.
Teenage Budget Calculator
I hate to burst your bubble, but there aren't many (if any) teenage budget calculators out there.
I know, I know. After searching for an hour or so, I was quite bummed, too! (If you happen to find any? Please let me know in the comments below).
I'm going to keep my eyes out for the best teenage budget calculators, and even adult ones that can be adapted for teens to use. As I find them, I'll update here.
I hope you can use these teen budget resources, and help your teenager with the budgeting process. Let me know what other resources you're looking for below, and I'll see what I can do!
The following two tabs change content below.
Amanda L. Grossman is a Certified Financial Education Instructor, a 2017 Plutus Foundation Grant Recipient, and founder of Money Prodigy. Amanda's kid money work has been featured on Experian, GoBankingRates, PT Money, CA.gov, Rockstar Finance, the Houston Chronicle, and Colonial Life.
Read more here
.
Latest posts by Amanda L. Grossman (see all)