How to budget as a teenager with changing income and expenses? I'll show you how teens can create a budget plus why they'd want to.
How can a teenager create a budget, especially when a teen's income and expenses are probably inconsistent?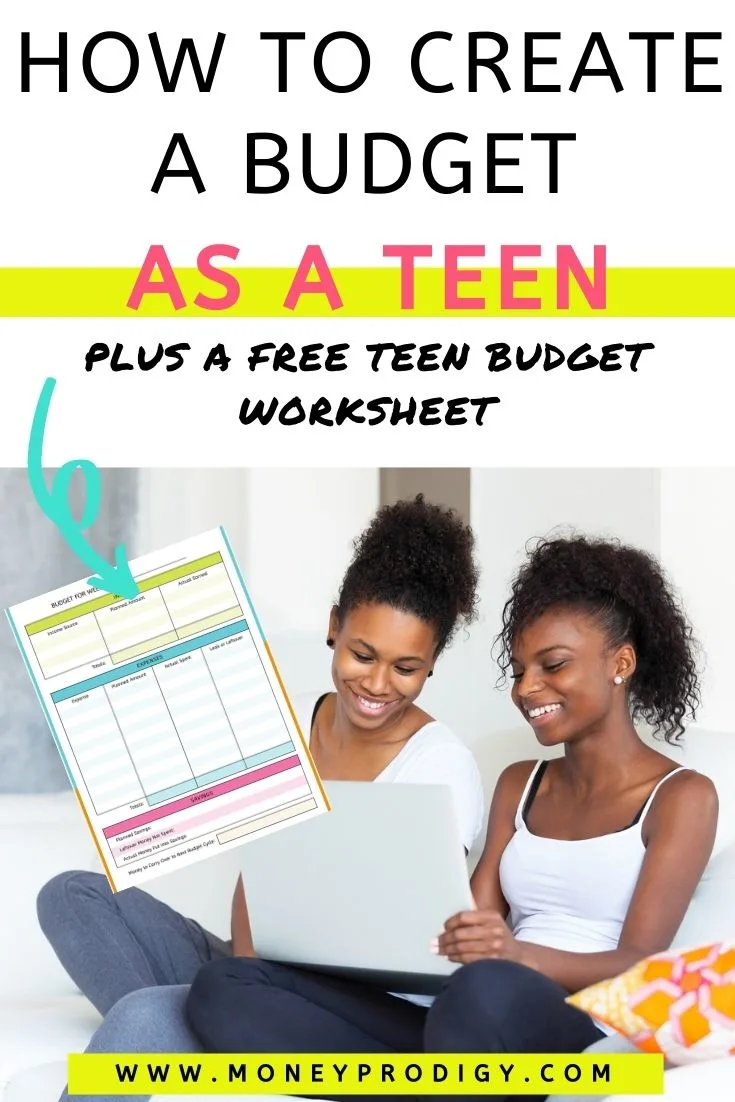 I actually created my first budget as a teen…written on the top of a cardboard container holding my decks of Magic: The Gathering cards.
That's why I'm STOKED that I can offer your teen not only great advice on creating budgets, but also a free teen budget printable they can use (that definitely beats what I had to use at 16!).
Help your teenager follow these simple steps to create their first, and next, budget.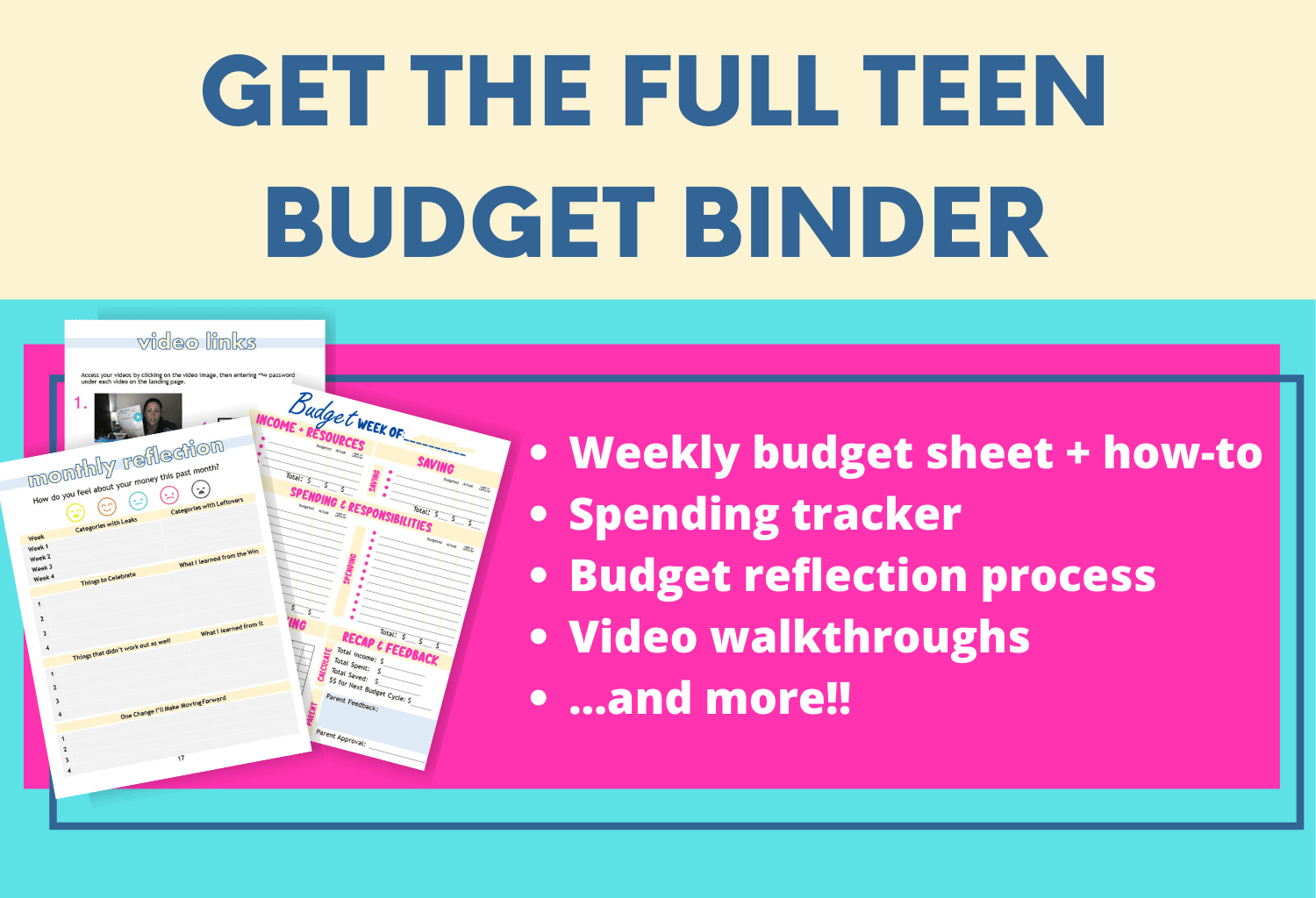 What Should Teens Budget for?
Why should a teen budget, and what exactly should they budget for?
I'm going to answer this question both for motivations to get your teenager to budget, as well as specific categories and expenses a teen can budget for.
There are many, many benefits to someone starting to budget as a teenager – both short-term benefits and long-term ones.
Reasons for a teenager to budget:
Learn to manage a small amount of money, before getting their hands on a bigger amount of money
Make mistakes with a small amount of money, instead of making mistakes with larger amounts of money (both will be painful, but when you can't make your mortgage payment? Well, that one will hurt a lot more)
Save up for something beyond what one allowance or one paycheck can pay for (here's 41 things to save up for as a teenager)
Understand where their money is going
Establish a money habit they can take with them into adulthood (here's more info on how a teenager can improve their budget)
It's really a critical tool in teaching teens how to manage money.
So, what specific teen expenses or category of expenses should teens budget for?
Here's some ideas for you:
Smartphone data plan
Gas to get to work
Car insurance payments
Spending for snacks
Date night expenses
Weekend meet-ups with friends
Christmas presents for siblings
Birthday gifts for friends
Beauty costs (manicures, makeup, expensive facial cleansers, etc.)
Prom costs (here's my prom budget template)
Etc.
Now, let's move onto the specifics of how to create a teen budget.
How to Budget as a Teenager
You might be wondering how to budget as a teenager, since your teen may or may not have a consistent income source yet.
Here's the high-level overview of how to budget as a teenager:
Estimate expenses and income over the next month
Choose how long your budget cycle will last
Choose a teen budget worksheet to work with
Fill in the budget worksheet
Record spending + income for the cycle, and reflect on how you did
Ready for this?
How Can a Teenager Create a Budget
We're going to go through the exact steps for how a teenager can create their first, and next, budget, using this teen budget worksheet as the example:
Psst: you might want to also check out my article on 3 sample budgets for 18-year-olds, and 11 teenage budgeting tips.
Step #1: Get a Snapshot of the Month Ahead
It's helpful to look a whole month ahead, just to see what's coming up.
Print out a blank monthly calendar, or use a planner to fill in:
Expected Income: include income from all sources (paychecks, allowance, chore commissions, birthday cash, etc.) you expect.
Weekly and Monthly Expenses: include all expenses, whether you're covering the entire purchase cost this week, or are setting money aside for a monthly cost.
Special Event Dates: include things like birthdays and school events where you'll need to spend money.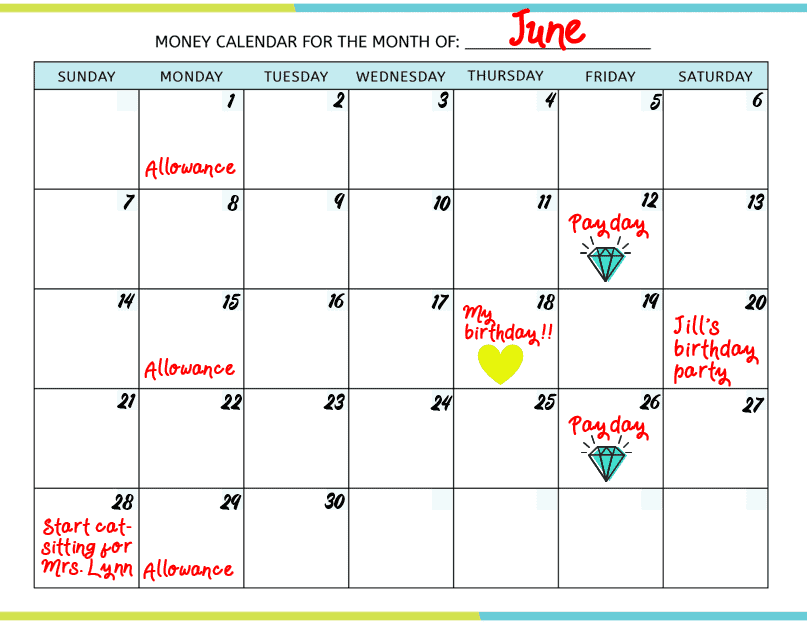 Step #2: Choose a Budget Cycle
Figure out the budget cycle.
A budget cycle is: the length of time your budget needs to last – could be daily, weekly, bi-weekly, monthly, or by your payday cycle.
Since your teen is just starting out with budgeting, I'd encourage them to either:
Budget one week at a time, OR
Budget one pay cycle at a time
Step #3: Choose a Teen Budget Worksheet
Now that they know how long their budget cycle will be, go ahead and choose a teen budget worksheet.
A teen budget worksheet will help guide them through setting up the budget, reflecting on the budget, tracking spending, and much more.
Here's my own free teen budget worksheet you can use:
And here's my full product:

Step #4: Fill in Your Budget Worksheet
Print out one new budget worksheet for the start of each new budget cycle over the next month.
For example, if your teen will be budgeting weekly, then you'll want to print them out four copies of the same budget worksheet.
Work on just the budget cycle they're about to start, by filling in:
Dates of the budget cycle
Expected income
Planned expenses
Planned saving
Budget Cycle Date and Income Area Filled Out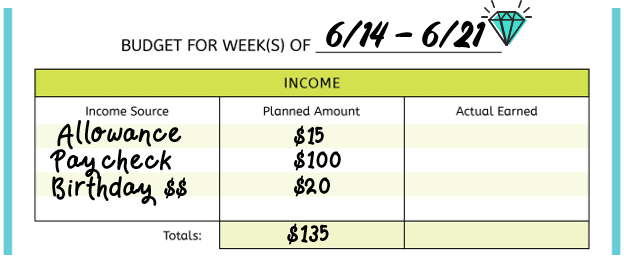 Expenses Area Filled Out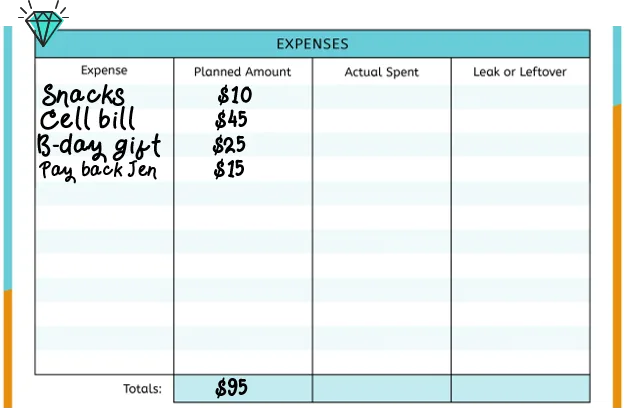 Teen Planned Savings Area Filled Out

Remember, income can come from different kinds of sources, such as chore commissions, allowances, paychecks, extra money earned around the neighborhood, birthday money, etc.
Hint: have an expense that only happens once a month? Divide the total cost by your budget cycle (divide by 4 for a four-week budget cycle, or 2 for a bi-weekly budget cycle) to figure out how much to set aside on each budget worksheet. Make a record of that expense amount on each of the four worksheets you've printed out. Keep the money where you won't spend it so that by the time that expense comes up, you'll have the full amount to pay it.
Step #5: Record + Reflect
Throughout the week, add in what you actually spend, earn, and put into savings (write in new rows for unplanned spending and earning).
Help your teen to track as they go, as that'll be easier if they're very new to budgeting. If not, then you can encourage them to save all of their receipts (such as in these free money envelopes for kids) so that they can recreate what they spent at the end of the week when they reflect on how their budget went.
When the budget cycle is up, it's time to do a few things:
Fill in anything that hasn't been filled in as you did it (income that came in, spending that occurred, money that was sent to savings)
Help your teen subtract what they planned to earn and spend, from what they actually did earn and spend, to see if they've got money left over, or money leaks (meaning, you spent more than you thought you would).
Here's the key:
-$X.XX = money leak
+$X.XX = money leftover
Make a note of any money leftover to be carried over into the next budget cycle.
Example Spending Tracked and Reflection Done on Teen Budget Template
In this example below – note that while this teenager spent more than they had planned to ($12.08 more), they received more in income than they had planned, and so they were still able to send the $20 to savings and have $12.92 leftover to carry to the next week's budget.
Note: This is also because she left a "buffer" of $20 unaccounted for within her budget (her planned income was $135, and her planned expenses + savings only came to $115).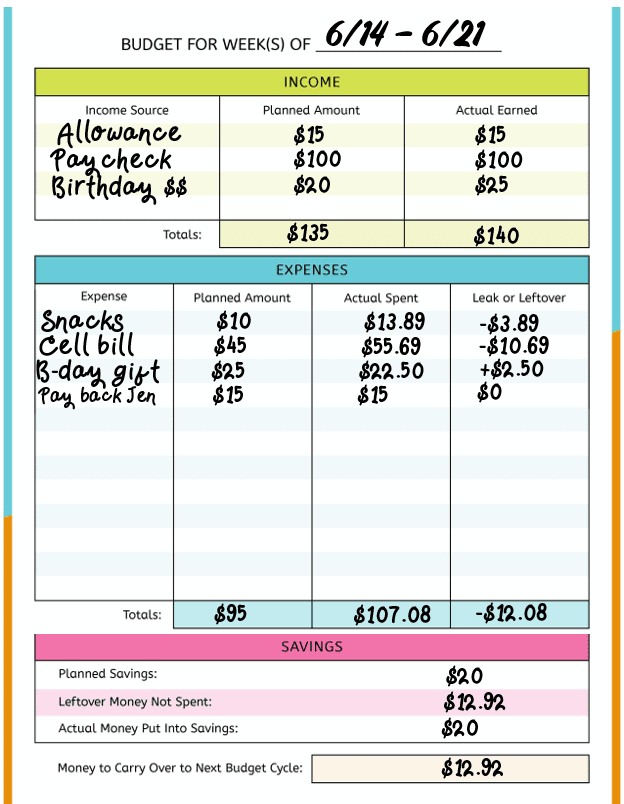 Psst: Does your teenager spend too much money? It's one of 11 teenage financial problems. Here's how to spend less money as a teenager.
I hope I've not only told you how to budget as a teenager, but shown you (with visuals) how a teenager can create a budget even with varying expenses and income. The last tip I want to leave you with is perhaps the most important: encourage your teen to actually track what they spend/earn, fill it in, calculate if they went or under, and REFLECT on how they did. Doing this over, over, and over again is about the best budget bootcamp a teen can get! It will teach them so much.
The following two tabs change content below.
Amanda L. Grossman is a writer and Certified Financial Education Instructor, a 2017 Plutus Foundation Grant Recipient, and founder of Money Prodigy. Her money work has been featured on Experian, GoBankingRates, PT Money, CA.gov, Rockstar Finance, the Houston Chronicle, and Colonial Life. Amanda is the founder and CEO of Frugal Confessions, LLC.
Read more here
.
Latest posts by Amanda L. Grossman (see all)