These 26 Christmas activities for teenagers are the solution to keep your teenager engaged AND to keep your family creating Christmas memories together.
Christmas activities for teenagers deserve an entire article.
Because, let's be honest: anyone who's got a teenager knows that they are in a totally different stage of childhood.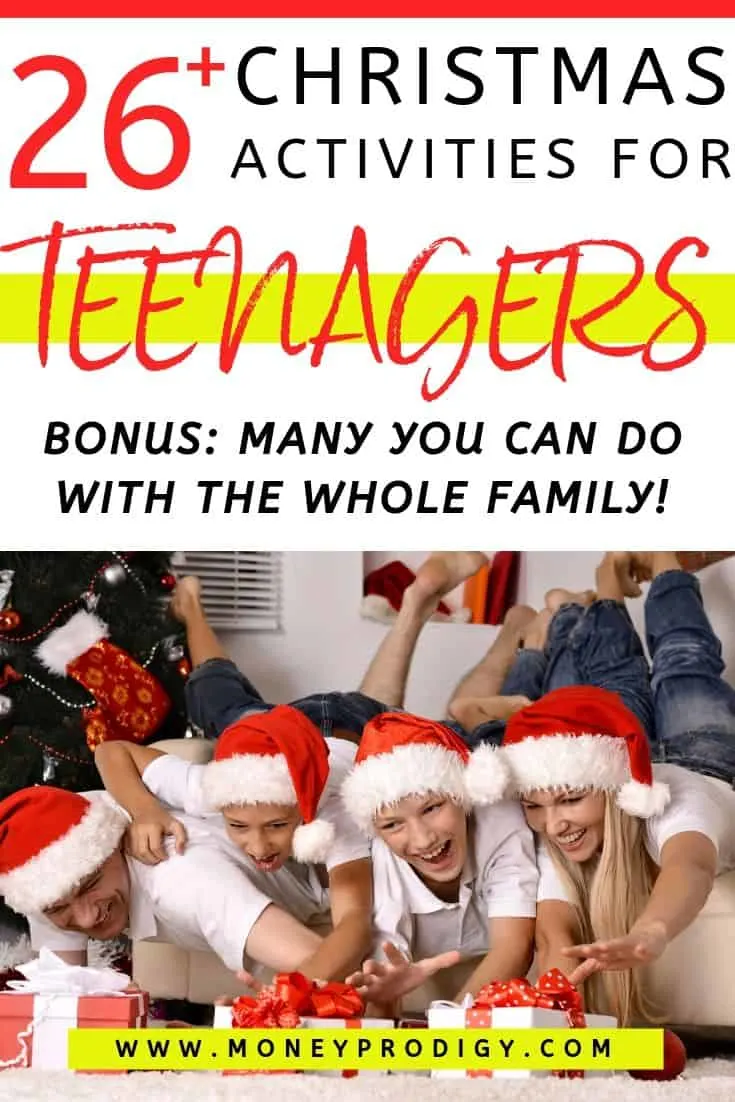 They don't necessarily enjoy the activities they used to (even though you can still catch them, every so often, in childlike awe), and they want to be super-glued to their friends.
While this is totally in line with normal developmental stages (a great read about this is Boomerang Kids, by Dr. Carl Pickhardt), it does make it a bit difficult to think of ways to keep your teens engaged in Christmas fun.
That's why I'm here!
I've spent hours upon hours researching really cool (by your teen's standards), and engaging Christmas activities that will keep your teenager excited about the holidays, while giving your whole family ways to celebrate together (which is what YOU want).
Without the eye rolls.
Let's crank up the Christmas show tunes, and get this party started!
Psst: Got teens? You'll definitely want to check out my Christmas gift guides.
Christmas Activities for Teenagers
We Mamas want to hang onto our little ones for as long as possible, but we also want our family to enjoy the holidays. So, what do teenagers do on holidays? I mean, things that they actually really like?
Your teenager is in a different phase of life – one where they're very focused on their social group, fitting in, and defining their identity apart from the family.
But that doesn't mean you all can't bond this holiday season.
I've included lots of Christmas activities for teenagers that will not only keep them engaged around the holidays, but will also help them make memories with your family.
Psst: you'll notice there are many friends-focused activities, as that's the stage your child is in. However, I've included thoughts and ideas for how to do these activities WITH your family's involvement…so that you guys get to spend time together.
First up? Christmas Party Ideas your teens can use to throw a party with their friends (don't worry – you get to be part of the planning, as well).
Teen Christmas Party Ideas
Find some killer teen Christmas party ideas here.
1. Christmas Sock Exchange Party
Let your teen host their own (Funky) Christmas Sock Exchange party with these free printables.
You'll have fun planning it with them, get to go on a shopping trip or two together to gather supplies, and you can include your family in on the party (you guys might even be considered the "cool" family after this one).
2. Christmas Karaoke Party
Does your teen's group of friends or gal pals enjoy singing (or, do you catch them singing)?
Here's some free printables for a Christmas Karaoke Party you can set up for them.
3. Ugly Christmas Sweater Cookie Decorating Night
I found this really awesome ugly Christmas sweater cookie cutter – what an awesome idea!
You can bake a bunch of ugly Christmas sweater cookies, let your teen come to the store with you and pick out a bunch of different cookie decorating supplies, and everyone can create their own Ugly Christmas Sweater cookie.
4. Let Your Teenager Throw a Christmas Party
Here's tons more ideas, with printables, to help your teenager plan their own Christmas party.
Psst: could be a sleepover party — here are awesome teen sleepover ideas, and 17 easy sleepover snacks to make.
5. Host a Winter Beverage Competition
I created this fun, and really educational project your teen can take on around the holidays called the Winter Beverage Competition. Basically, your teens are tasked with creating their best winter beverage for a pretend ski resort.
The adults will be the judges.
Teens will need to:
Brainstorm drink ideas and taste-test different combinations
Know how much it costs to create just ONE of their super-secret signature drinks so that they can calculate the profit margin
Submit their drink for judging
Think, bonfires, shopping for ingredients within a budget, and your teen getting a taste of being an entrepreneur/consultant. It's a win-win-win holiday activity for your teen!
6. Do a Christmas Bark-off
Gather your teen and their friends, and take them to the grocery store with a budget of $25 or so. Ask them to buy any ingredients they'd like to create Christmas bark.
At home, you'll want to have the basics (or pick them up while they're shopping for the fun stuff). This includes stuff like graham cracker sheets, bag of chocolate chips, butter, sugar, salt, etc.
Let their imaginations run wild. We're talking pretzels, M&Ms, Oreos, peppermint candies, cookie dough butter…really the sky is the limit.
Set up a station by putting all the ingredients in the center of a table or breakfast bar, and giving each teenager a cookie sheet to contain their creation. Here's some Christmas Bark inspiration.
So, those were some teen-a-rrific Christmas party activities.
What about activities your entire family (including your teens) will want to participate in?
Psst: check out my other article on teen party games, and Thanksgiving activities for teens.
Christmas Activities for Families with Teenages (They'll WANT to Participate In)
Christmas is a time for families, and there's no better way to create those Hallmark-moments and memories than to prep for a few Christmas activities you all can do together.
The kind that will keep everyone wanting more.
That's why I've put together a resource list of Christmas activities families can come back to again, and again to get ideas for how to deck their halls and add the jingle to their family time.
What do families do at Christmas? Well…keep reading.
1. White Elephant Stocking Switch
Fill your stockings with some age-neutral stuff, seal them up so that no one can peek, then announce on Christmas Eve that you're doing a Family-wide White Elephant Stocking Switch.
Line the sealed stockings up on a table, follow these White Elephant rules, and let the games begin!
Pssst: Here's some help with stuffing those stockings for cheap. 151+ Men's Stocking Stuffer Ideas (Under $10), and 151+ Stocking Stuffers for Women).
2. Create Gingerbread Houses…Teen Style
One of my fave Christmas ideas for teens: let your teenager have FULL REIGN over how they create their own gingerbread house. Take them to Michael's and steer them towards the rhinestone area, or indulge any of their other ideas for how to bling-out a Gingerbread house.
Then, proudly display it during the holiday season (no matter how ridiculous it is)!
3. Round of UNO – Christmas Style
You know how a deck of UNO cards comes with four suits of colors (and two of them are traditional Christmas colors – red and green)?
I want you to play a family round of UNO, but in a Christmas way.
This means whenever anyone plays a green card, they have to sing a Christmas carol. And whenever anyone plays a red card, they have to eat a marshmallow. Or, whenever anyone plays a red card, they get a red Hershey's Kiss, and when they play a green card? They get a green, Grinchy worm.
The sky's the limit here, as far as rules!
4. Christmas Selfie Scavenger Hunt
Does your teen like to take selfies? Here's a fun & free Christmas Selfie Scavenger Hunt you guys can all do together.
5. Complete Part of a Family Service Bucket List
Check out these free family printables for a Holiday Service Bucket List.
Hint: there's so many choices, that you can get your teen to pick for the whole family so that they're more interested.
Another "service" idea that your teen might find especially fine? The Ding-Dong Decorations Attack.
6. Indoor Snowball Fight
Who doesn't love a good snowball fight? Especially if you can do it in the warmth of your own home.
7. Christmas Family Feud
Invite your teenager's friend's family over and compete head-to-head by playing a round of Christmas Family Feud (here's a Christmas Family Feud PowerPoint you can pay for). Here are the family feud rules, in case you want to set this up for yourself.
8. Win-It-in-a-Minute Christmas Games
Invite your kids to a Christmas family game name, win-it-in-a-minute style. These Christmas games are pretty silly, and a great way for everyone to bond. Even your too-cool-for-school teen might crack a smile😊.
9. Christmas Scavenger Hunt
Here's an awesome and wholesome Christmas Scavenger Hunt that would be great for teenage groups. And, it's free! Add in some teen fun by making it a competition (either by teams, or individuals).
Psst: got kids? Here's 15 Christmas activities for kids at home.
10. Christmas Santa Cookie Family Date Night
If you have younger kids, as well, then getting everyone together to bake cookies for Santa with this free kit would be a wonderful holiday activity.
11. Reindeer Games Night
I just LOVE these ideas for a whole Reindeer Games Night with your family. Super cute (and, hilarious!).
12. Christmas Charades
Here's a set of free Christmas charade cards for the whole family.
Christmas Games for Teenage Groups
Are you hosting some teenage groups, or want to get your own teen's friends together for some Christmas games? Let's look at ideas for entertaining Christmas games groups of teens would like.
Christmas Win-it-in-a-Minute Games are a definite hit no matter what age you're looking at – mostly because they're so engaging. Once your group of teens breaks the ice in the first round or two, things can get wild, pretty fast.
You'll find an impressive list of free Christmas games for teenage groups on this youth ministry page. Things like Fill-in-the-Blank Christmas Games, a Christmas match game, Christmas song games, and more. Here's a free teen's Christmas Trivia PowerPoint game.
When hosting games for teenage groups, remember to add in something special.
Like:
I hope you find lots of inspiration from this list of Christmas activities for teenagers. If nothing else, then remember to include your teens on the Christmas planning, and allow them to have some fun with their friends (as well as with their families).
The following two tabs change content below.
Amanda L. Grossman is a writer and Certified Financial Education Instructor, a 2017 Plutus Foundation Grant Recipient, and founder of Money Prodigy. Her money work has been featured on Experian, GoBankingRates, PT Money, CA.gov, Rockstar Finance, the Houston Chronicle, and Colonial Life. Amanda is the founder and CEO of Frugal Confessions, LLC.
Read more here
.
Latest posts by Amanda L. Grossman (see all)