Stumped about what to put in a teen's Christmas Eve Box? No worries – I've got you covered with awesome Christmas Eve box ideas for teenager.
Trying to figure out Christmas Eve box ideas for teenagers so that you can include them in the family festivities (without any eye-rolls)?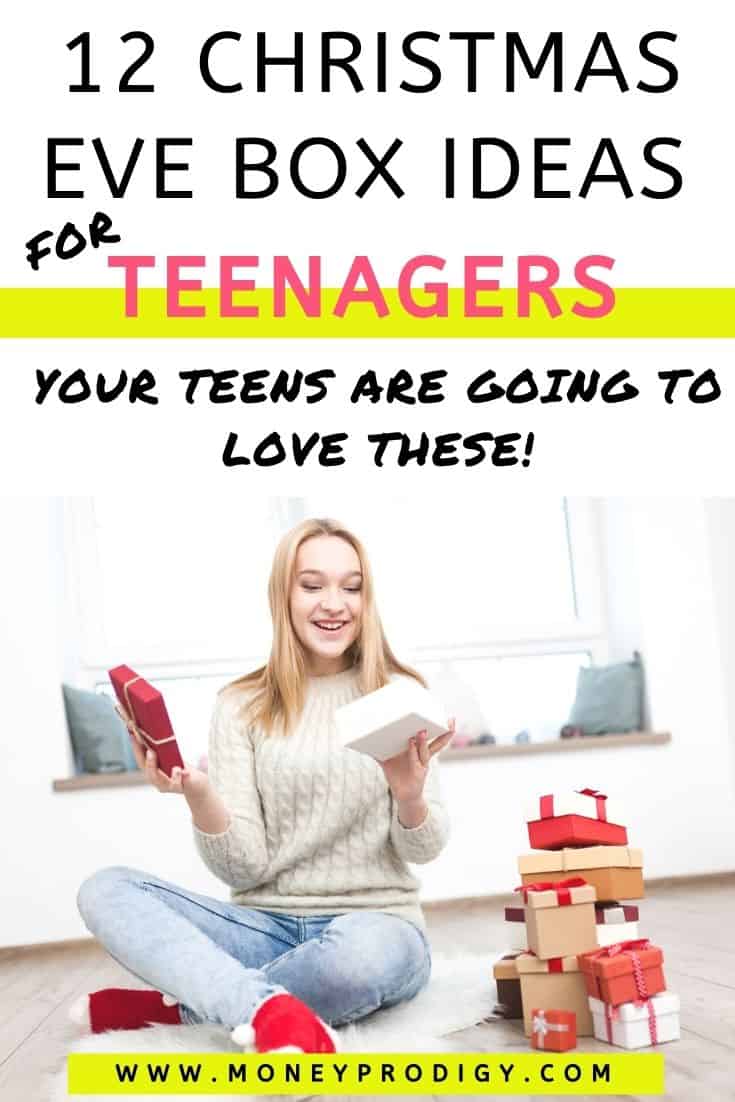 I got you covered!
Teens are in a different stage of life than kids.
Friends and social groups are of the utmost importance, they're questioning boundaries, and they want lots more privileges (without necessarily picking up the new responsibilities).
But that doesn't mean Christmas Eve can't be a magical and a special time for them, too.
These Christmas Eve box ideas will surprise and delight your teens because they:
Help include their friends and social group (a little) in the festivities
Celebrate how they're getting older, and will be an adult soon
Give them extra privileges they wouldn't get as a younger kid
Remind them that at the heart, they're still a kid
Ready? Let's dig in!
Christmas Eve Box Ideas for Teenagers
What do you put in Christmas Eve boxes for teens?
Here are lots of themed Christmas Eve box ideas your teenager will just love!
Box #1: Christmas Selfie Box
Present your teenager with props they need to create a fun, selfie photoshoot.
The perfect gift to help them share a few photos with friends!
Include printouts of the props below, and perhaps a selfie stick and tripod or something else that helps them with the photoshoot. Also, set up a wall with a large wrapping paper square on it, for the background.
Here are some free printable Christmas selfie props:
You can also find some seriously great Christmas photo props on Amazon, and some non-dusty Hair Chalk your teen girls can use to add red and green to their hair!
Box #2: Days of Christmas Past Box
How neat would it be to present your teenager with a mini-album of their Christmas pasts?
You can make copies of old photos when they were toddlers, preschoolers, then tweens, and bring back some of that little-kid magic.
Encourage them to keep the album for when they're an adult and hosting their own Christmases.
Box #3: 1-Hour Christmas Day Pass Box
Let's not pretend teens like to spend all day with their families…
Create a 1-hour Christmas Day Pass for your teen and gift it to them in their Christmas Eve box.
Make sure you include the events that they are NOT allowed to get a pass from, such as Christmas dinner, Christmas breakfast, and opening-gifts-time.
This 1-hour slot of time would be perfect for them to talk/text with friends and catch-up (talk about a "golden ticket" of modern age!).
Psst: don't let the kids have all the fun – checkout my 11 Christmas Eve box ideas for adults!
Box #4: Goofy Christmas Accessory Box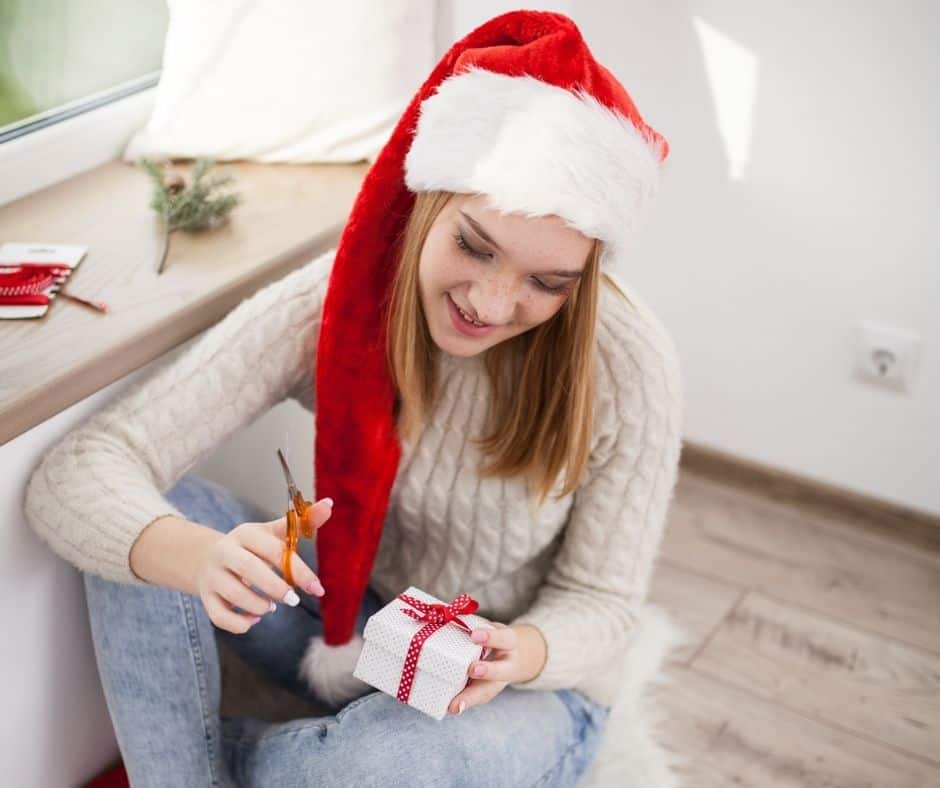 There are some truly goofy, and teenagery Christmas accessories you can collect and gift to your teen to add something extra to their Christmas morning.
Think:
Box #5: Special Christmas Eve Invite Box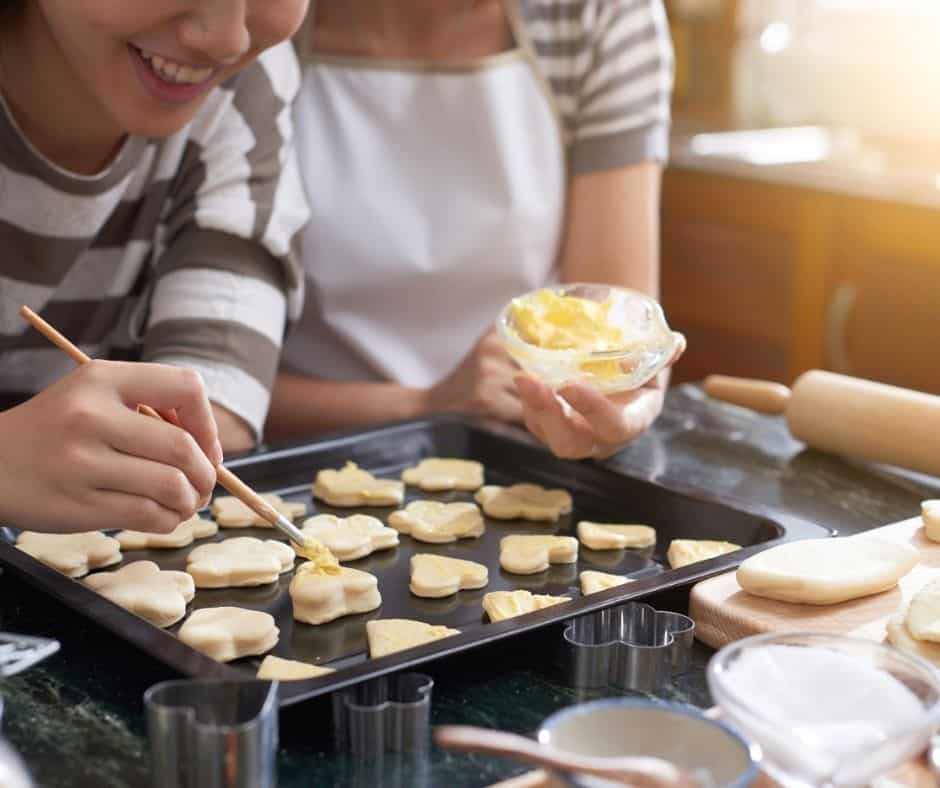 Your teen might act like they don't want to spend quality time with you…but that's not true (all of the time).
Include an invite in their box to stay up late on Christmas Eve (after the younger kids go to bed) for a special Christmas Eve cookie buffet.
You'll need:
Psst: another great idea? Is a cookie dough fondue bar. YUM. This makes a great Christmas activity for teens.
Box #6: Family Traditions Box
The very fact that your child is a teenager means they are just a few years away from becoming an adult…and hosting their own Christmases one day.
You could create a Family Traditions Christmas Eve box for them where you pass on a family tradition – either the actual thing itself, or let them be the ones in charge of completing that particular family tradition for the year.
For example:
Do you guys hide a pickle ornament? Put the pickle ornament in a box for your teen, and let them be the ones to hide it for the younger siblings to find in the morning.
You can buy them a new collectible Christmas ornament that they can use on their own tree when they are adults (my Mom did this with us, and I now have a box full of Hallmark ornaments dating from 1982 onwards!).
Box #7: Gingerbread House Competition Box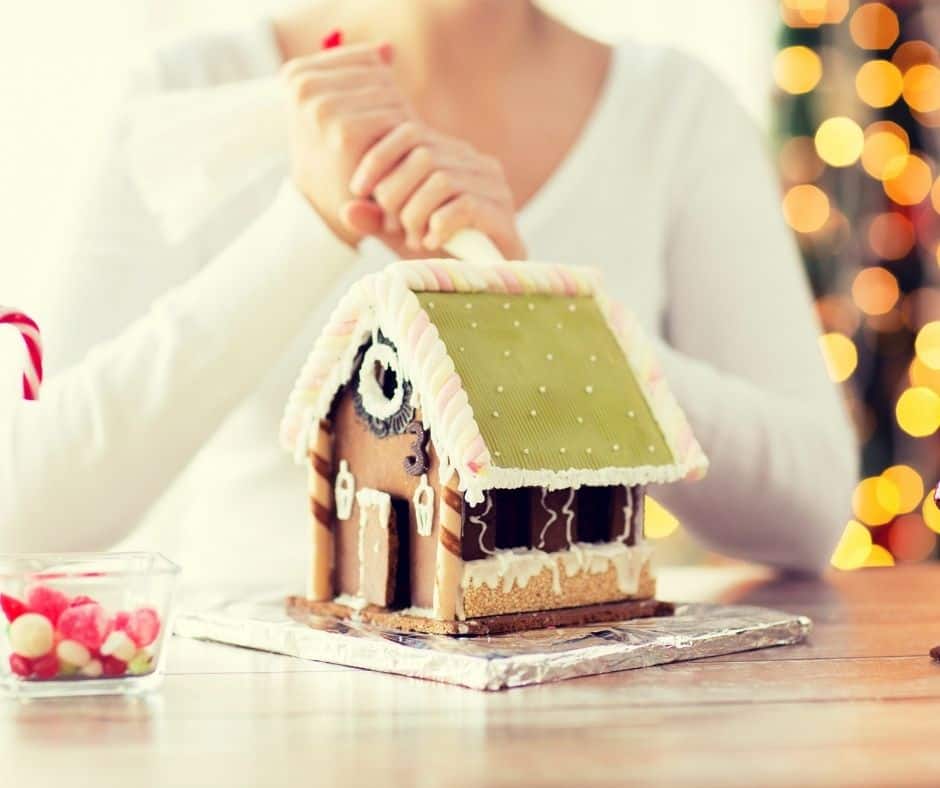 Hold a family Gingerbread house competition. In each person's box, include supplies you think they'd love to use to express themselves through their house.
Let your teen really run wild with this. If black and gold glitter is their thing? Fine – as long as they're eagerly participating, what does it matter?
Go goth, go sparkly, go really teenager-y and let them do whatever they'd like to express themselves.
Here's a few supplies they might find cool:
Oh, and you'll need gingerbread house bases, too.
Psst: For teen guys? This Ninja Gingerbread kit might just do the trick. And here's more Christmas activities for teenagers.
Box #8: Grandparent Love Box
Gather something from each of their grandparents, and put it in their box.
Such as:
A written letter about their own family traditions around the holidays, growing up
A recipe to pass on
A memory they have of them
Etc.
Box #9: Christmas Morning Prep Box
Fill their Christmas Eve box with stuff to prep for a better Christmas morning.
For example, you could get them these cool iPhone camera lenses to play around with while taking photos of Christmas together.
For teen girls, you can get them glittery/sparkly holiday makeup you'll let them wear on Christmas morning.
Or silly Christmas temporary tattoos.
Psst: Looking for more gift ideas for teenagers? Here they are!
More gift-giving Guides to check out:
Box #10: Family Recipe Tradition Box
Make Christmas dinner a bit more special the next day by including a copy of a family holiday recipe, rewritten on an index card, in your teen's Christmas Eve box.
The two of you can make this together while you show them how it's done.
Then, they can build up the recipes they'll take with them into young adulthood!
Box #11: Pet Christmas Outfit Box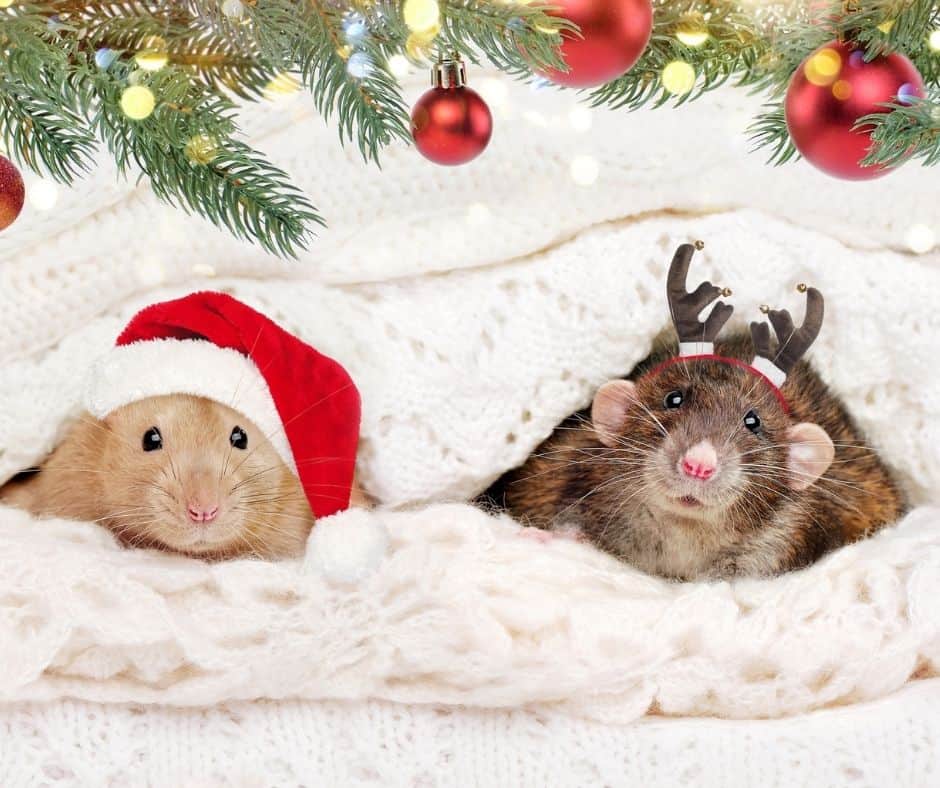 Does your teen have a favorite pet (or their own pet)? You could include a really cute Christmas outfit for it in their Christmas Eve box that they get to dress them up in for the holidays.
Some ideas:
Box #12: Charitable Box
Make a donation in your teenager's name to a charity or cause they're passionate about.
When they open their box, they'll see a note or card or receipt from you, showing them what you did!
Pick and choose from these Christmas Eve box ideas for teenagers, and you'll put together something really special for your own. Let me know what you do in the comments below!
The following two tabs change content below.
Amanda L. Grossman is a writer and Certified Financial Education Instructor, a 2017 Plutus Foundation Grant Recipient, and founder of Money Prodigy. Her money work has been featured on Experian, GoBankingRates, PT Money, CA.gov, Rockstar Finance, the Houston Chronicle, and Colonial Life. Amanda is the founder and CEO of Frugal Confessions, LLC.
Read more here
.
Latest posts by Amanda L. Grossman (see all)