Jobs apps for teens to help with how to find a job as a teenager. These are apps that pay teens as well as help them job hunt.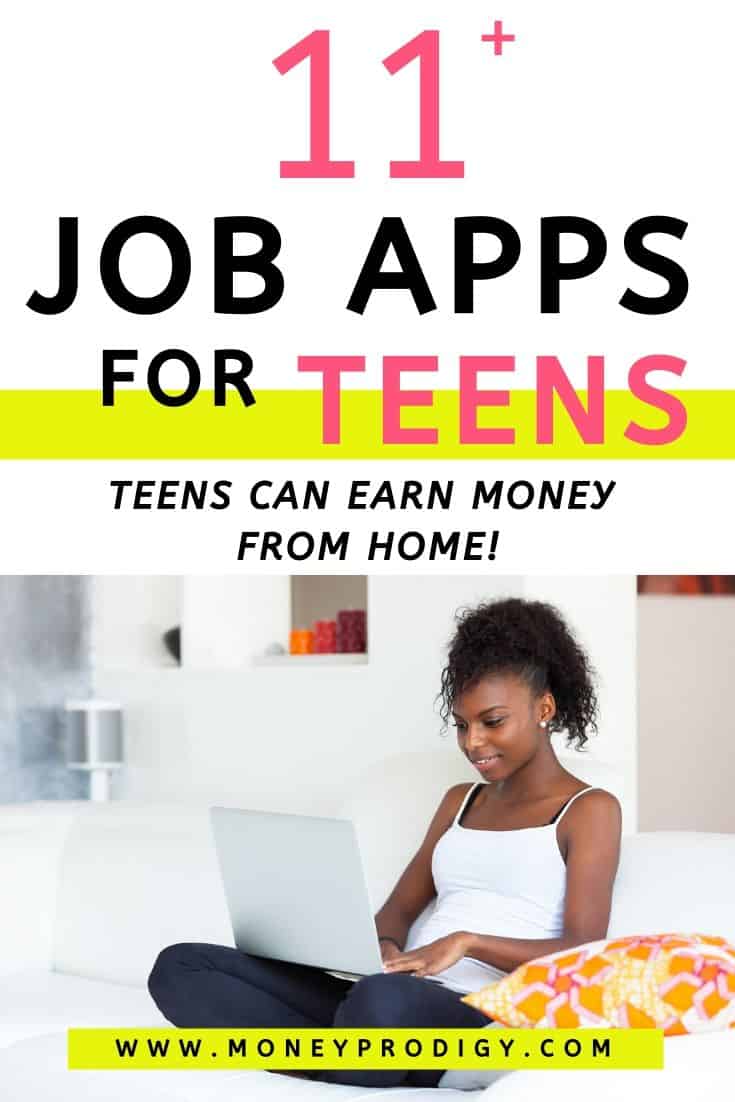 Looking for a job as a teenager? Whether it's your first job, second job, or just a way to earn pocket money, job apps for teens is a great place to start.
There are two different kinds of job apps for teens – ones that help you locate teenager jobs you can apply to, and ones that actually earn your teenager money.
I'm going to list out a bunch of great apps for BOTH of these categories!
Note: all job apps for teens are free to download.
Apps that Pay Teens – Teens Earn Money
Apps that pay teens…from the comfort of their own home? They exist!
I've created a list below of pay opportunities for teenagers.
Each app lists the age requirements, as well as some information on what you could expect to get paid and any other terms.
Age Requirements: 13 and older
Do you want to get paid to play video games?
No…for real?
Mistplay will pay you in units (which you can then redeem for free gift cards like prepaid Visa gift cards, Amazon, Google Play, iTunes, Nintendo, Xbox, PlayStation and more).
Here's How it Works:
The app creates a list of games based on your preferences.
Choose from the list of games, and install it in your mixlist.
Play that game to start earning units.
Redeem your units for free gift cards.
All games are free to play.
Age Requirement: 13 and older
While you won't get rich off of this app, you certainly can earn a little bit of pocket money on the side.
In fact, I used Survey Junkie several years ago to earn $27 towards a trip I was going to take with my husband.
Payment is distributed via PayPal, or you can choose to get e-gift cards instead. You must earn $10 before you can cash out your money. Most surveys are worth 45 to 350 points, which is the equivalent of 45 cents to $3.50, but there are also surveys worth more points. Most surveys take between 5 and 20 minutes to complete.
Age Requirement: 13 and older
I've been earning cash (yes, actual cash) with Swagbucks for years!
Just check out my stats (I've been a member since 2009).
While you can cash in your points for gift cards to stores, you can also cash them in for PayPal cash.
As a minor, you'll need to have your parents or someone you trust over the age of 18 to open a PayPal account where you can deposit your Swagbucks earnings, cash out to PayPal, and have them give you the money.
Here's a link to both of their Mobile Apps.
Age Requirements: Between 16-18, depending on your state's age of consent
Do you have an eye for fashion? You can use this app to sell fashion finds from thrift stores.
OR, use this app to sell back clothes that you no longer way. Maybe you could do this for friends and family members, and then keep a commission off of any proceeds?
Here's a link to both of their Mobile Apps.
Age Requirement: 17 and older
Have you ever heard "this call is being recorded for quality purposes" at the beginning of a call to a company? Well, you could be on the other end of that phrase by helping companies review calls for quality (and getting paid in the process).
You will need a PayPal account to get paid, and so you'll have to work this out with a parent who can pay you from a PayPal account they associate to this website.
Apps: iPhone App, Google App
Teen Job Apps – Apps that Help You Find a Job in Person
Ever wondered how to get a job as a teenager with no experience? These job apps for teens might be your ticket to gaining some experience, while getting paid.
No unpaid internships, here!
Age Requirement: Age requirements are included in each listing
Snagajob is a great app for both teens looking to earn cash and students, because they only list jobs that are paid by the hour.
Meaning it's a great place to search for jobs in the restaurant, retail, hospitality, customer service, and administrative sectors, as well as seasonal jobs.
Other perks of this job-finding app:
Helps you find local jobs by either your location, or a specific keyword you're searching for
Sign-up for daily Job match alerts
Apply to jobs with just one click
Apps: iPhone App, Google Play App
Age Requirements: 13+
This app helps pair teens with adults who are looking for help around their homes. Background checks are done on people posting jobs, and parents must approve each job their teen wants to take.
I also like how payment is either through a direct deposit to your bank account, or by gift card (meaning you don't have to find a way around PayPal's policies and age restrictions).
Unfortunately, it's very limited in availability location-wise (but has plans to keep expanding across the U.S.).
Apps: iPhone App, Google Play App
Age Requirement: 14 – 19 years old
Do you have a skill that you can sell as gigs in your neighborhood?
You can download this app and then set up your profile to highlight those skills.
Then, you accept gigs – no more than 5 miles away from where you live.
At the end of your gig, both the Sponsor (paying customer) and you, the teen, are rated.
Parents have to give consent for their teen to use the app, plus they're notified via email of every gig their teen accepts.
Payment is directly to your bank, or using Venmo, and you'll earn between $10 and $12.50/hour!
Apps: iPhone App, Google Play App
9. Care.com
Age Requirements: 14 years and older
You can use this app to find your next babysitting gig. Just know that if you're under 18 (but at least 14), then your parent must register for an account as well as you. Your parent will receive all communications that you do, so that they can monitor any interactions.
Apps: iPhone App, Google Play App
10. Upwork App
Age Requirements: 18 and older
Got a service you can offer someone else, such as writing articles, conducting research, graphic design, etc.?
Download the Upwork App, create a profile, and start applying to jobs.
Apps: iPhone App, Google Play App
11. Fiverr App
Age Requirements: 13 and older
What kind of service can you offer others for around $5? Download the Fiverr App, and play around with it – look for what others are offering.
Can you do any sort of graphic design? PowerPoint presentations? There's even a whole section on "Gaming", where people teach how to get to higher levels in video games!
Check out the Fiverr Seller Help Center for lots more information on how to get started.
Apps: iPhone App, Google Play App
Age Requirements: 16+
Use this site to find freelancing gigs. You can find both hourly-priced projects, and fixed-priced projects.
Gig categories include writing, app development, and many more.
If you're under 18, then you'll need a parent to open an account for you, FYI.
Apps: iPhone App, Google App
I hope I've shown you some helpful job apps for teens. Once your teenager is making some money at home, you'll definitely want to go through my article on conversations to have with your teen once they earn their first paycheck.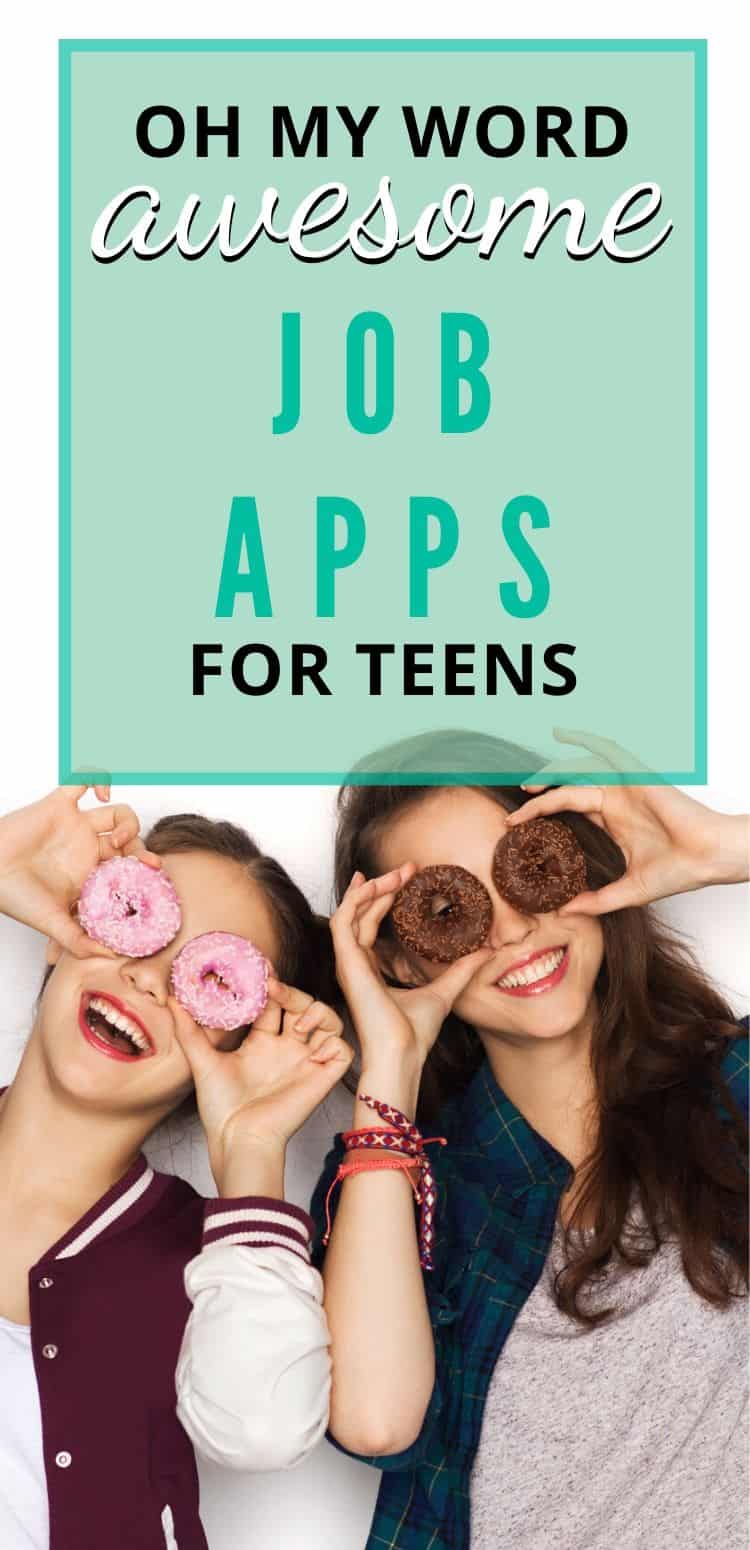 The following two tabs change content below.
Amanda L. Grossman is a Certified Financial Education Instructor, a 2017 Plutus Foundation Grant Recipient, and founder of Money Prodigy. Amanda's kid money work has been featured on Experian, GoBankingRates, PT Money, CA.gov, Rockstar Finance, the Houston Chronicle, and Colonial Life.
Read more here
.
Latest posts by Amanda L. Grossman (see all)