How is your teen or child supposed to get a job without a driver's license? 9 strategies for your teen to earn money, with minimal transportation help from you.
What if your kid needs to start making money – like yesterday – but they don't have a driver's license (and you don't feel like playing Miss Daisy's chauffeur all weekend long)?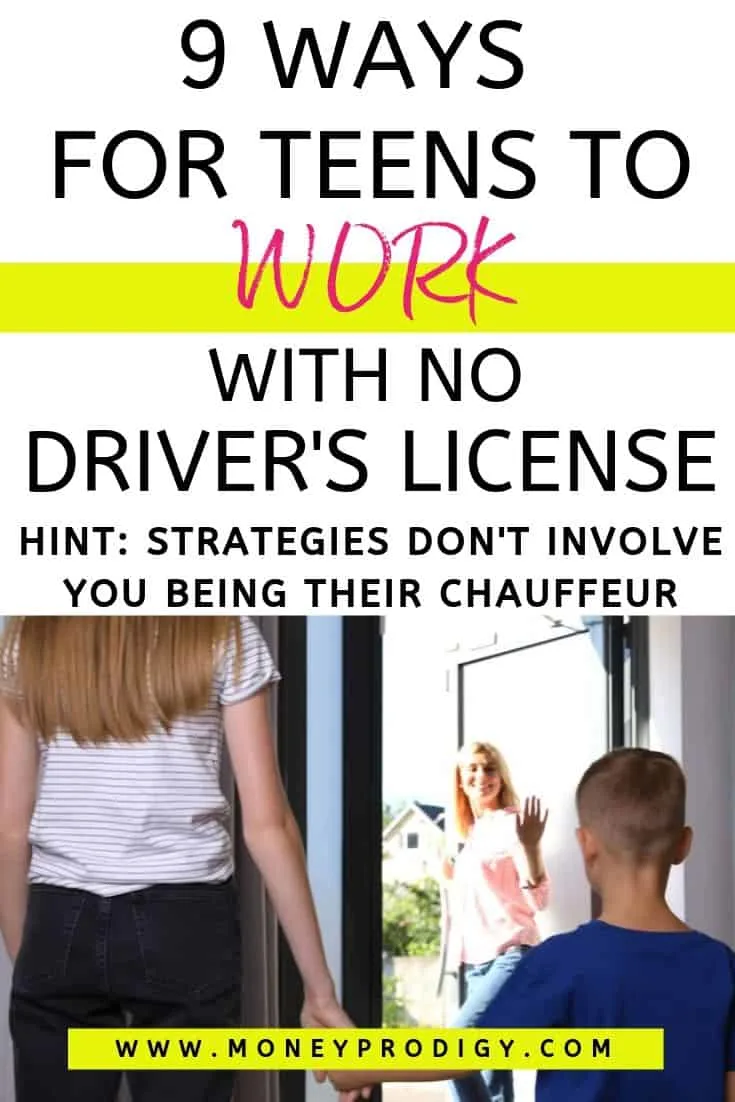 I don't have to drive home to you the fact that your child taking on a part-time job of some sort will teach them huge sums of money lessons (one of the many pros and cons of getting a job in high school).
Not to mention, how nice it will be for them to get their hands on the green stuff without the source being your own personal wallet (that'll be a first!).
That's why today I'm going to go over ways for your child to earn money without a driver's license.
Psst: You'll also want to check out my guide on the 7 conversations to have with your teen once they get their first paycheck, as well as my free resource on teen money management.
Strategy #1: Set Up a Job Where the "Job" Comes to Them
There are entire categories of teen jobs that can actually come TO your teen, not the other way around. And, in a way that's different from you offering the employment – I'm talking about your child being employed by someone else, but doing the work in your home so that they don't have to be driven anywhere.
Your teenager can offer babysitting services, in the comfort of your home. They can tutor kids and have the parent drop their child off where it's convenient for them. Turn your front driveway into a car detailing area and have your kid offer up cold iced-tea while their customers wait.
Psst: do they want to start up their own business? Check out my review of the Teen Entrepreneur Toolbox.
Strategy #2: Pick a Job Close to Your Home (i.e. Safe Walking Distance + Public Transportation)
When my niece was looking for jobs without a driver's license, the first place she looked was to the pizza shop just half a mile down the road from where she lived.
What opportunities does your teenager have to work within walking/biking/bus ride-distance from your home?
This could also mean seeking work-at-home neighbors and small business owners looking to bring an intern on for the summer/a seasonal period of time.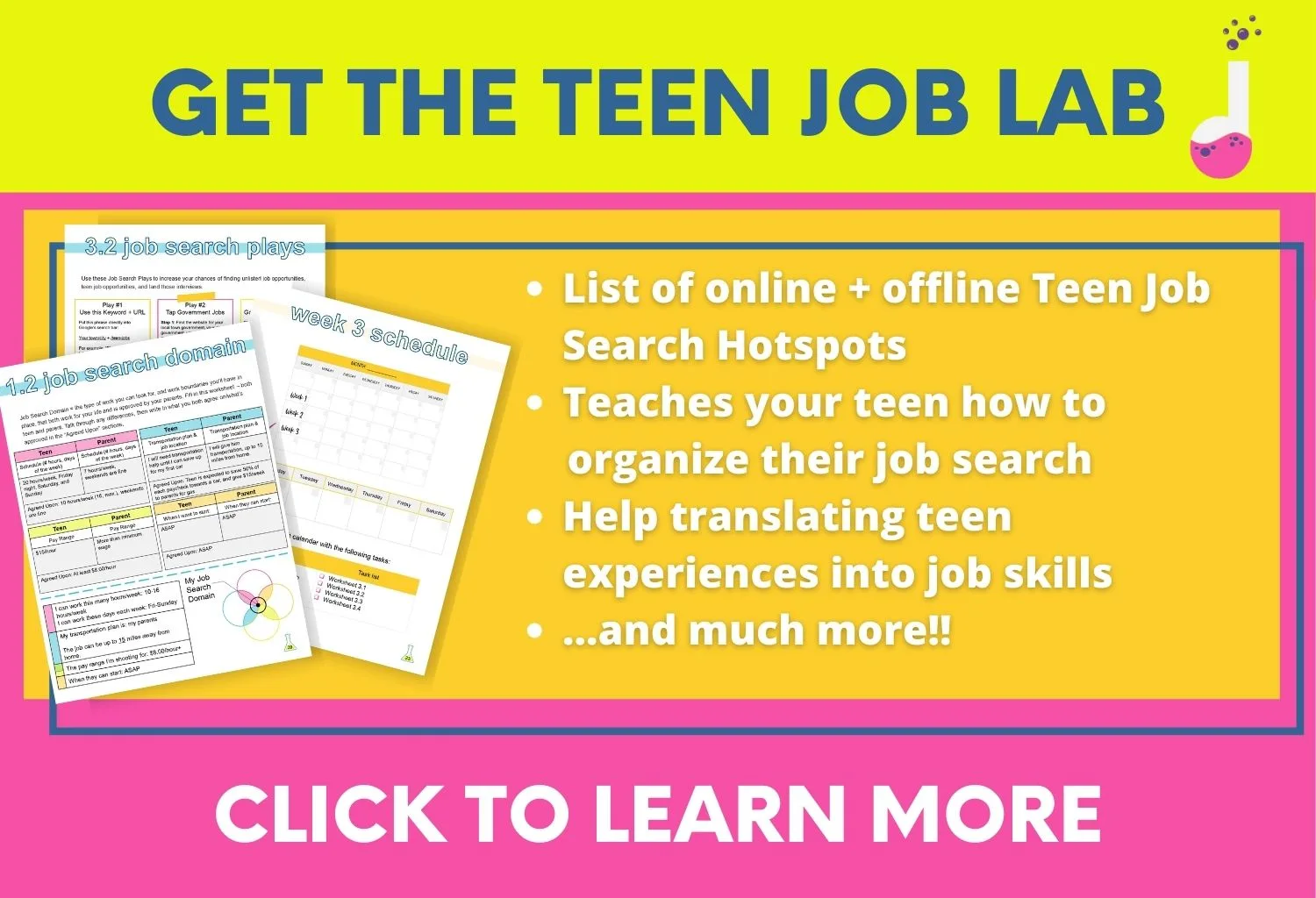 Strategy #3: Pick an Online Job (Opportunities Starting at Age 13)
I've created a list of over 25 online jobs for teens (starting at age 13), and 11 job apps for teens, which is the perfect answer for how to still get your teenager into the workforce, but with flexibility, and without needing a car.
Of course, many of these jobs won't earn your teenager that much money (which can be a money lesson, in and of itself – think along the lines of your teen figuring out how much they're making per hour, and if online gigs are worth their time).
Bonus to an online job: Many teen jobs only last for the summer or over winter break. With an online job, your teen can continue this flexible way to earn cash even throughout the school year!
Hint: your teen will need to prioritize their time better in order to hold down a job on top of school. Check out my free after school routine for high school teens printable to help them stay on top of homework, projects, and manager their afterschool time (even with extracurriculars).
Strategy #4: Make their Job Something Else that Helps the Finances
As a fellow parent, I can confidently say you've sat down and (worried) thought about the crazy costs of college. Especially if you have more than one child.
Instead of getting your teenager a job using one of the other strategies, think about having them treat "looking for college scholarships and grants" as work.
Think about it: it still has a financial payoff, and if they treat it like a job (and you like a boss), then there's learning to be had.
For this to work, choose a set number of hours/week your teenager is expected to do the following activities:
Researching and finding new scholarship opportunities.
Creating an excel sheet with the scholarship opportunity, link, qualifications to apply, and deadline to apply.
Applying to scholarships (writing essays, filling out applications, etc.).
Sending thank-you notes to organizations.
Meeting with career counselors at school and college financial aid officers about scholarship and grant opportunities they can recommend.
Have them log their time into the free time management app Toggl so that you can keep track of their activities with weekly time reports.
Strategy #5: Pick a Job Where They Remain on Location for Days at a Time
There are jobs for teens that actually require them to stay on location for several nights or even weeks, such as an overnight camp counselor.
This could be a great solution, as you'd only need to provide transportation on the weekends to get them home and back again, or every few weeks (or even at the beginning and end of summer/spring break).
Think about looking at college campus programs, camps that are within a few hours' drive from your home (since you won't have to drive out there often), etc. You could also look at resorts or lodges that are within a few hours from your home.
Search for job terms, like "junior camp counselor", "summer jobs with housing provided", or "jobs with free room and board", and then filter to see required age limits.
Psst: here's my 3-week job search plan for teens, for how to get a job as a teenager.
Strategy #6: Get a Job Where You Work
You likely commute to work at least several days a week. If you can find a junior position for your teenager, such as a paid intern position, then the transportation part of the equation will be taken cared of.
For example, my sister works for a school district, and my niece was able to find a summer intern position there.
What other junior-type positions are available at your place of work, or even in the same business complex/building/area where you are already working?
Strategy #7: Have Your Child Work in Your Business
Do you own your own business? Rather than have your teen or kid work around the house doing chores to earn commissions, have them actually work inside of your business to earn money.
This can help them learn some hugely important skills, not to mention, give you a little relief in your duties. For example, my niece helps my sister with social media management and customer service requests for her book folding business. It's a job she can easily do out of home, and they've bonded more by working together.
If you do this, then try to keep things as professional as possible. Have your child clock in and clock out, as well as keep tabs on the tasks they're completing, using a free tool like Toggl. Set forth a paycheck schedule (like weekly, or bi-weekly), and make sure you stick to it.
I hope I've offered you some solid solutions for how to get your child or teen working, even if they don't have a driver's license and even if you don't want to be their transportation solution. You'll also want to take a look at the 7 money conversations to have once your teen starts earning a paycheck, and this guide on money management for teens.
The following two tabs change content below.
Amanda L. Grossman is a writer and Certified Financial Education Instructor, a 2017 Plutus Foundation Grant Recipient, and founder of Money Prodigy. Her money work has been featured on Experian, GoBankingRates, PT Money, CA.gov, Rockstar Finance, the Houston Chronicle, and Colonial Life. Amanda is the founder and CEO of Frugal Confessions, LLC.
Read more here
.
Latest posts by Amanda L. Grossman (see all)