Need free entrepreneurship curriculum, lesson plans, and projects? Here's entrepreneur lesson plans for high school, middle school, and elementary.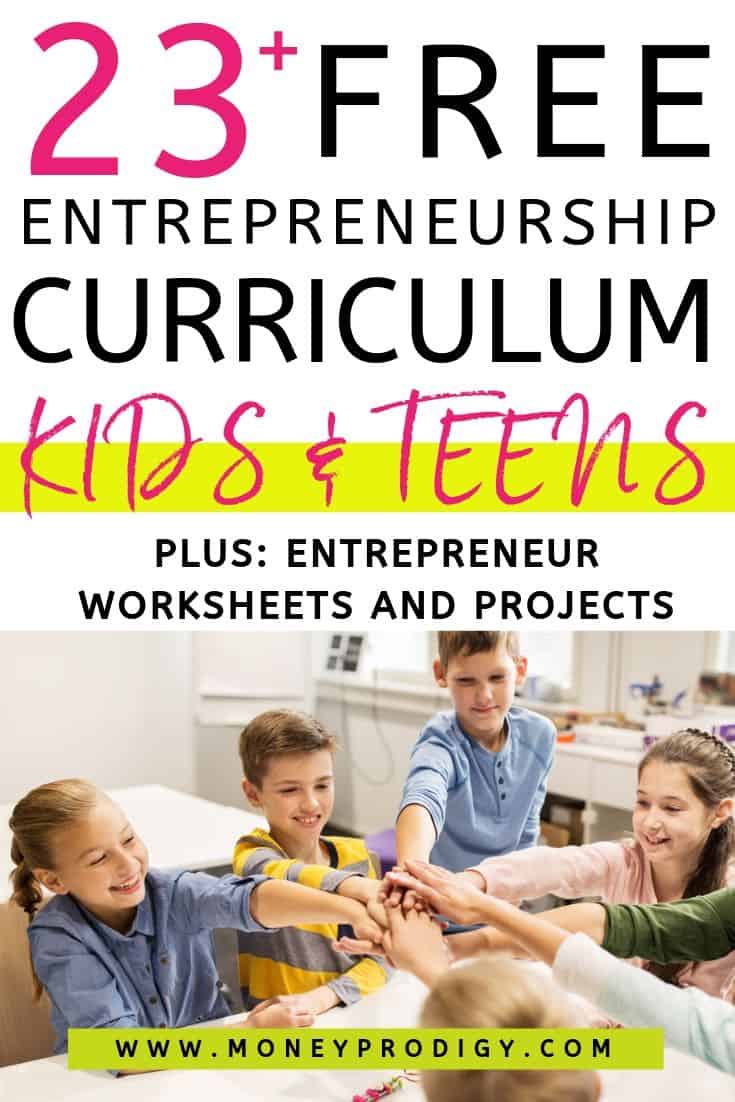 So, you're looking for entrepreneur lesson plans to help turn your kids or students into the innovators of tomorrow.
And not just to make them into entrepreneurs, but to benefit your kids and students with the following results of teaching entrepreneurship:
Improved academic performance
Increased problem-solving and decision-making capabilities
Improved interpersonal relationships
Higher self-esteem
etc.
But, exactly how are you supposed to teach entrepreneurship?
Entrepreneurs, among other qualities, need to be able to recognize opportunities in the marketplace. This means finding a need, and figuring out how to solve that need in a profitable way.
This can be as simple as a kidpreneur/kidpreneurship (or kidpreneur-in-the-making) opening a lemonade stand on a smoldering July day near a construction site, and as complicated as creating a machine knob specifically for tea growers in Japan.
And having this ability doesn't have to result in a person starting their own business; it works equally as well for your child if they work for someone else in the form of more merit raises, one-time bonuses for one-off projects, promotions, leverage in salary negotiations, etc.
In fact, the skill of recognizing an opportunity, and seizing it by writing my own job description resulted in me snagging my first job out of college (worth an awesome $40,000 + benefits to me at the time). More on that in a bit.
What are the other skills a child needs to learn to help them as an entrepreneur?
Psst: you'll also want to check out my resource list of youth entrepreneurship programs, entrepreneur biographies for kids, kid entrepreneur kits, and full review of the Teen Entrepreneur Toolbox.
How Do You Teach Entrepreneurship?
Teaching entrepreneurship is a bit trickier than, say, teaching algebra. With algebra, the equations come out with the same solutions, every time. But with entrepreneurship?
There are an endless number of variables that go into it, and an endless number of outcomes that can come out of it.
How are you supposed to teach for that?
One of the best ways to teach entrepreneurship is to choose entrepreneurial projects, activities, and lesson plans that aim at nurturing these entrepreneur skills:
Ability to identify opportunities
Self confidence
At least basic knowledge of business finances/financial literacy
Vision and creativity
Elementary School Entrepreneurship Curriculum
Excited to start teaching your elementary school-aged kids about entrepreneurship? Let me share some entrepreneurship lesson plans, resources, and curriculum with you.
Also, check out these 3 kid business plan examples.
Who It's For: Grades 1-12
Financial Aid: (Free for non-commercial use) Curriculum that organizations can purchase to use with students
Length of Program: 90-minute lessons
Location: N/A
Venture Lab offers a curriculum suited for 1st – 12th graders (curriculum is divided into lower elementary, upper elementary, and middle school/high school.) This is a course in a box with all of the lesson plans already completed and is meant to be utilized as part of regular coursework, after school programs, or camps.
Its focus is on teaching girls components of entrepreneurship such as STEAM concepts and design thinking.
Who It's For: 4th – 8th grade
Students will read through the Money Monsters Start their Own Business book (PDF provided – 51 pages), and then play a game that has them experience the ups and downs of starting a business.
I love how a Toy Store Income Tracker is included so that each student can track their own earnings and see the numbers for themselves.
Psst: you'll also want to check out Federal Reserve Bank's webinar on teaching kids entrepreneurship, which will give you some lesson plan ideas.
Starting a Business Lesson Plans for Middle School
Do you want to teach your middle school kid (or student) how to start a business, and you need a lesson plan? I've actually created a Take Your Child to Work Day printable which will give you lots of ideas for your starting a business lesson plan.
More middle school business lesson plans for how to start a business (all free):
Psst: Try holding a market day in your class. Here are 22 things for kids to make and sell, 17 boy crafts to sell, and help pricing their products in this market day lesson plan.
Teaching Entrepreneurship to High School Students – Free Entrepreneurship Curriculum
There are some great curriculum and materials out there for teaching entrepreneurship in high school, many of which include entrepreneur worksheets for students.
Psst: you also might want to check out these 5 business books for teens, and 11 business games for students.
Who It's For: Business students, and people interested in learning about creating a business
Financial Aid: Free
Length of Program: 6 lessons, each between 1 and 3 hours
Alison is a free, online platform with tons of courses, and one of the paths you can go down is an entrepreneurial skills one.
Teachers of the courses include venture capitalists, professors at Harvard, and professional entrepreneurs.
Lessons include:
Characteristics of the Successful Entrepreneur
Critical Skills for Entrepreneurs
Creating an Entrepreneur's Checklist for Success
Entrepreneurship – Creating the Business
Key Elements of Entrepreneurial Success
Why Entrepreneurs Should Think Big
Who It's For: Students
Financial Aid: Schools pay for this program, with the cost based on how many students get free and reduced lunches
Length of Program: 1 year
With this program, students first focus on economics, then they focus on starting their own businesses.
Who It's For: Kids and teens
Financial Aid: Free
Length of Program: 14 modules
Looking for a video business curriculum with instructional guides? The Diamond Challenge's program covers the following:
What is Entrepreneurship?
Opportunity Recognition
Opportunity Screening
Ideation
Types of Businesses
Building a Business like a Scientist
Using a Business Model Canvas
Etc.
They also offer a Social Curriculum track that's 6 video modules long, including:
What is Social Entrepreneurship?
Wicked Problems and Grand Challenges
Social Entrepreneurship Processes and Challenges
Etc.
Who It's For: 10th and 12th graders
Financial Aid: Free (at schools where it's available)
Length of Program: 1 year (followed by acceleratoredu for the 2nd year)
Through Uncharted Learning's program, 10th to 12th graders develop their own business, pitch their idea ta a shark-tank style event, and even have a chance at receiving funding.
Who It's For: Grades 9-12
Financial Aid: Free for students
Length of Program: 7, 45-minute sessions
Location: Anywhere
Through your child's school, they can take Junior Achievement's Entrepreneurial program. The course teaches students how to create a business plan, plus how to start a venture.
Lessons covered include:
What's My Business?
Who's My Customer?
What's My Advantage?
Competitive Advantages
Ethics are Good for Business
The Business Plan
Who It's For: Grades 9-12
Financial Aid: Free for students
Length of Program: 13 classes (2 hours/class), or as a 1-year program with 26 classes (1 hour/class)
Location: Anywhere (online course)
This is an online program that teaches high schoolers how to solve a problem/fill a need in their community through entrepreneurship.
Lessons include:
Start a Business
Vet the Venture
Create a Structure
Launch the Business!
Run the Business
Etc.
Who It's For: Teens
Financial Aid: Free
Length of Program: 3 lessons
Location: Anywhere (online course)
Starting with the Be Your Own Boss Challenge, The Mint takes your teen through the following three lesson:
Planning Your Business
Money & Your Business
The Law & Your Business
Who It's For: High School students
Financial Aid: Free
Length of Program: 50+ lesson plans
Location: Anywhere (online course)
These lesson plans go through the following:
Entrepreneurs and Entrepreneurial Opportunities
Marketing
Economics
Finance
Accounting
Management
Global Markets
Legal
Business Plans
Who It's for: high school students
Cost: Free
Location: Anywhere (it's a PDF)
Here's a free PDF with tons of entrepreneur lesson plans and research done for educators, that is meant to go along with a 4-H program. You'll find some nuggets in here, plus, it's free!
Now let's take a look at entrepreneurial projects that can teach your kids and teens all about starting a business with hands-on experiences.
Who It's For: Middle School and High School
Cost: Free
Location: Anywhere (online)
Check out this plug n' play business plan creator! You could send your students to this page to work through a business idea of theirs.
Then, at the end, they can print out their business plan!
Questions they'll need to answer include:
Your big idea
Who will buy
How you'll spend and make money
Expenses
Revenue
Entrepreneur Worksheets for Students
While I would recommend taking on one of the projects below, or one of the hands-on lesson plans from above, there are also entrepreneur worksheets students can use to learn about businesses.
Here's a few of my favorites (all free):
Psst: you might want to check out my review on the Teen Entrepreneur Toolbox.
2 Entrepreneurial Projects – What is an Entrepreneurial Project?
Entrepreneurial projects are a smart way to teach entrepreneurship to kids, because, as with any project, it gives them a chance to dive deeper into a topic that interest them (all under the guise of teaching them how to start and run a business).
Entrepreneur Project #1: Winter Beverage Outdoor Tasting Contest
It's soooooo easy to sit inside all winter long and slowly accumulate cabin fever (plus a few pounds). That's why you've got to look for fun things to do in the winter.
Well today? We're going to switch things up. I've created a family date night for you (family winter activities!) that has both an indoor AND an outdoor component.
But don't worry – with this fun winter activity we'll keep things toasty throughout.
So, what's the game plan? Each of your kid(dos) will make (rather, create) a warm winter beverage recipe indoors. Then here's the twist: you're going to host a family taste testing contest around your fire pit in the backyard.
Not only will this make a fun family memory, but your kid(dos) will actually walk away with more money knowledge in the process centered around the all-important lesson of how to make a profit!
Psst: Now that's a money lesson I could have used as a kid, specifically as I've gone into biz for myself as an adult.
Host a Winter Beverage Outdoor Taste Testing
Finding fun things to do in the winter doesn't have to mean you're freezing your tootsies off. There's nothing better to keep you warm outdoors in the wintertime than a toasty drink. Well, a toasty drink around a roaring fire.
Here's how it's going down:
Step #1: Choose an Event Date
Build the anticipation for your family by choosing a date 1 to 2 weeks out (so that there's time for you guys to complete the rest of the prep work).
Fill out the invitation on Page 1 of the free printable, and display prominently on your family's bulletin board/gathering center in the kitchen so everyone knows the date of the big event.
Set the stage for the competition by having your family read their mission out loud. Other cool factors you can add in: make it a Friday or Saturday family date night, under the stars. Let the kids stay up a little past bedtime to complete.
Step #2: Your Kid(dos) Research Hot Drink Ideas to Enter into the Competition
Your kids are the ones entering the competition. They'll be in the driver seat of actually creating their own recipe from scratch (with some inspiration from below).
There are lots of toasty, kid-friendly drink recipe ideas to get them started:
Hot caramel apple cider
Vanilla steamer with cinnamon
Harry Potter Warm Butterbeer
They'll get lots of help not only from looking up recipe examples on sites like Pinterest, but also from the worksheet in the free printable (Page 2).
Step #3: Shop for the Ingredients
Once your budding restaurant consultant has determined possible ingredients they'll need for their signature drink, they'll need you, Mama Bear, to purchase them.
Take the list your kid(dos) have created and go to the store (solo, or with them) to make the purchases.
Having trouble coming up with a pool of possible ingredients to buy? Use the lists below for inspiration of what to pick up (a few of these ingredients you probably already have at home) and let your kids create what they can from it:
Bases: hot cocoa, apple cider, chai tea, milk
Flavors: cinnamon, nutmeg, vanilla extract, flavor syrups
Sweeteners: sugar, brown sugar, caramel
Creamers: milk, half & half, almond milk, heavy cream, etc.
Top-offs: whipped cream, caramel sauce, orange peels for zesting
Save your store receipt, as your kid(dos) will need this information to price their drinks later on.
Step #4: Your Kid(dos) Tinker + Perfect their Drink
Using the purchased ingredients as well as anything in your home they can find, host a kitchen lab session where your kid(dos) tinker with ingredients and perfect their super-secret, signature recipes (talk about fun things to do in the winter inside!).
They'll write down the exact portion sizes to each ingredient that they use as they go along, which is important for the next step.
Step #5: Your Kid(dos) Figure Out the Profit Margin of their Signature Drink
Remember, the goal is to create a new drink for this restaurant that not only costs less than $5, but has at least a 60% profit margin for the owner.
Ahem: between you and me, that means their cost needs to come in under $2.00.
So, as your kid tinkers with ingredients, they need to keep price in mind.
Note: this step can seem a bit unwieldy, but is SO important for the whole process. Just know – I'm outlining both how to do this all by hand, as well as giving you shortcuts to online calculators where your kid(dos) will still learn the process by setting up the inputs and thinking through how it all fits together.
Of course, we're not talking about the cost of the entire ingredient that you've purchased. After all, it's unlikely they'll use an entire carton of milk to create one drink. We're talking about the small portion size that they used of the product.
In other words, they're not going to get the cost of a single drink they've created from your grocery store receipt as it is now. They need to do some calculating based on the measurements of each ingredient that goes into each drink.
You need to know how much it costs to create just ONE of your super-secret signature drinks so that you can calculate the profit margin.
What's a profit margin? It's the percentage of what you keep as profit from each $1.00. For example, a 20% profit margin means that we earn $0.20 on every dollar. That means that the other 80% or $0.80 are expenses. Remember that Jack, the man from The Yeti Slide, needs a 60% profit margin, or $0.60 on each dollar in profit after expenses are taken out.
Step #1: Write down your ingredients + quantities.
Step #2: Convert each quantity in your recipe to the quantity on the product label.
Divide your ingredients up by dry ones (like cocoa powder), and wet ones (like heavy cream or vanilla extract).
Then use the appropriate table below to convert the amount in your recipe to the amount that's found on the ingredient's product label (front of package).
For example, if you used 3 teaspoons of cocoa powder (dry ingredient), then your conversion is to a ½ ounce (the cocoa powder can is in ounces). Or if you used 2 tablespoons of almond milk, you find on the Wet Conversion table that you used 1 fl. Oz. (the almond milk carton is in Fl. Oz.).
Hint: Can't find the conversion or a little confused? You can plug the exact quantity of your ingredients into this liquid converter or this dry converter calculator online and convert it into the measurement found on your product label).
Conversion tables:
Dry Conversions
| | |
| --- | --- |
| 3 teaspoons | ½ ounce |
| 2 tablespoons | 1 ounce |
| 1/4 cup | 2 ounces |
| 1/3 cup | 2.6 ounces |
| 1/2 cup | 4 ounces |
| 3/4 cup | 6 ounces |
| 2 cups | 16 ounces |
Liquid Conversions:
| | |
| --- | --- |
| 2 tablespoons | 1 fl. oz. |
| 1/4 cup | 2 fl. oz. |
| 1/2 cup | 4 fl. oz. |
| 1 cup | 8 fl. oz. |
| 1 1/2 cups | 12 fl. oz. |
| 2 cups or 1 pint | 16 fl. oz. |
| 4 cups or 1 quart | 32 fl. oz. |
| 1 gallon | 128 fl. oz. |
Step #3: Calculate the cost of each quantity of ingredient used.
Now you need to price each converted quantity of ingredient by figuring out how much each ounce or fluid ounce costs, and then multiplying it by the amount you've used.
Hint: A good estimate to use for dashes of spices such as cinnamon or nutmeg is $0.05.
Write down the overall price of each ingredient used.
Write down the converted amount you used of it.
Divide the total amount in the product package by its price to find what each ounce or fluid ounce costs.
Then multiply that by the converted amount you used.
Write down the cost. Then add all of the individual ingredient costs to get your total expense to create the drink.
Example: I used 1 tablespoon (tbsp.) of heavy cream. One 8 fl. oz. container of heavy cream at the store costs $2.99. That is $0.37/ounce. I look at the conversion chart below, and see that 1 tbsp. converts to ½ ounce. So, I divide $0.37/2 ounces, and see that this ingredient for just one drink costs $0.186 (you can round up to $0.19).
Ingredient Cost: $2.99_ Converted Amount Used: ½ fl. Oz. Total Product Amount: 8 fl. Oz. Cost per ounce: _$0.37/fl. Oz. Cost of Ingredient Used: $0.37 X ½ = $0.186.
Looking for a shortcut? Here's a free online tool for pricing out beverages. You'll need the converted amounts.
Step #4: Calculate Your Profit Margin
Figure out how high your profit margin is if you sell the drink for $5.00.
Profit on Drink: $5.00 – total drink cost = _$_________.
Profit Per Dollar: Your answer from above \ Cost drink is sold for ($5.00) = $ Profit
Profit Margin: $ Profit X 100 = Profit Margin%
Step #6: Taste Judging Begins
By now you've set the scene for some fun things to do in the winter outdoors – think a crackling bonfire out in the backyard (or in your fire pit. Heck, you can de-hibernate the grill for some winter outdoor cooking/heating), plus a table/flat surface where your kids can place their super-secret signature creations.
Bust out some blankets, cover straw bales with table cloths…you get the idea. (And if you're in Houston like we are? Well, a hoodie should suffice).
Have your kid(dos) place their drinks on the tasting mat, as well as fill in how much their drink costs and what the profit margin is (all calculations they'll be guided through on the free printable).
Now they get to take a break, while the parents taste + score each one!
Included in the printable are both a tasting mat as well as a score card with specific criteria, such as inventiveness, taste, and profit margin.
Step #7: Declare the Winners
There are winners in a variety of categories, and then an overall drink that is chosen for The Yeti Slide's Yeti Roasts:
Most Inventive
Most Tasty
Best Money-Maker
Newest Yeti Slide Signature Drink
Looking for fun things to do in the winter? This two-part activity for your child that will leave them understanding profit margins like a pro, plus give your family an awesome family date night under the stars on a winter evening when you might otherwise be watching tv.
What could be better than that? If nothing else, you'll have created quite the memory.
Entrepreneur Project #2: A System for Your Child to Identify a Need in Your Home + Propose a Solution
We want to encourage your child to come to you with things they see that could use improvement, and ways they could add value or provide a solution for you.
Let's go through how to do this.
Step #1: Discuss with your child the idea that people need things + services.
Here's a conversation outline for you with a few blanks to fill in (where underlined):
"People need things and services in their lives. They need things to maintain their health, they need things to make life more enjoyable. They need parts to make repairs to their belongings. They need really cool items to buy as gifts for others. They need better systems or processes to make things work more efficiently, which just means taking less time and less money and getting the same (or better) results. All over the world, people need things. In my own life, three needs that I've satisfied through purchasing something include X, Y, and Z. By purchasing them, they made my life easier because <<FILL IN SPECIFIC INFORMATION FOR EACH EXAMPLE YOU GAVE>>. Generally, when people need something, they are willing to pay money for the solution. That's why there are so many companies, all which provide products + solutions for people's needs."
Pssst: MAN I wish I could go back 17 years and give myself this talk! Would've saved me several adult years of banging my head against the wall trying to understand how to make money.
Step #2: Task your child with identifying a need around the house/property/car.
What could this look like?
A Few Examples for you + your kiddo:
Find a more efficient way to organize the "command center" in your home.
Use Google Maps or another program to find a more efficient route for your commute.
Organize the wood pile + create newspaper logs that are fireplace-ready.
Find a better way to organize/clean/maintain the video game center in your home.
Clean out your car (I used to do this for my parents!) + add a car trash can to the back area so that in the future the kids can just use that instead of throwing things on the ground.
Introduce a better laundry system for the family's clothes so that they actually all end up in the laundry room, sorted, and ready to be washed.
The possibilities are endless, and specific to what needs your child sees in your family life.
Step #3: Once they've identified a need and come to you with it, you must decide if it's worth it to you to move forward. Don't be afraid if, after they've told you a need they think you have but that you don't actually have, to tell them that it isn't a current need of yours. Hey, the road to success is paved with failed products! This is excellent feedback so that they start to understand their "customer" and dig deeper. Perhaps they'll even start to ask YOU what you want from them!
Step #4: What are both of your expectations for this job so that you know when the job is completed correctly?
Let them tell you what they propose to accomplish and what that would look like.
Then you share what you, as a paying customer, expect in results. Hash this out if need be (just like a real negotiation between a biz and their potential client).
This includes a deadline.
Step #5: Now you need to ask them for a price.
I know, I know. You might be wondering, "why on earth am I going to let my child choose how much I'm willing to pay them for something they want to do around the house? Isn't it MY money?"
I totally get that. But remember that the nature of this lesson is to ignite that entrepreneurial spirit in them. Instead of you offering what you're willing to pay, have them go through the exercise of pricing their efforts. Then the negotiations start.
This sets them up for good negotiation + valuation skills in the future.
Determine the market price you'll pay, which is where their price (the supplier) and your price (based on how much you need what they're offering + a dash of several other things) meets. $__________.
Step #6: Your child completes the work + notifies you.
Step #7: Using the checklist you both created, provide oversight and see if everything is as it was supposed to be.
Step #8: Pay the agreed upon rate once everything is up to par. And if they don't quite complete the project + deliver what they promised, it's up to you whether you want to make a partial payment, or not pay at all (satisfaction guaranteed could be added to this lesson as well).
If your child makes it through this process, then they will have successfully figured out a "market" need, fulfilled it, and gotten paid from their initiative. This is something that will no doubt shape their futures.
And if they don't quite succeed? Well the lessons are vast for all entrepreneurs as they traverse through the mistakes, failures, and successes.
It's really a win-win situation.
Let me show you what I mean, with an example in my own life.
How I Used this Skill Set to Write My Own First Job Offer Worth $40,000 + Benefits
While some of my dorm mates were floundering around trying to find employment, I was busy enjoying my last two months of college before entering the "real world".
Why is that? Because I had a job waiting for me. And the only reason why I had that job was I spotted a need in a local company, and wrote my way into it.
I had interned for an organization in my small college town, and they ended up building a start-up company set to open its doors sometime around when I was due to graduate. One day I asked them if I could have a full-time job there come June. The director looked at me, and said, "go ahead and write up a job description of what you propose you would do here. Then we'll see."
So I went back to my college dorm and worked on a job description. I thought about what the company was trying to achieve, and tied this into what I wanted to do with my life (at least what I thought I wanted to do at the time).
I wish I had saved a copy of the actual job description, but my sharp memory tells me it went something like this:
"Amanda L. Grossman will be the International Marketing & Sales contact at Chesapeake Fields. The International Marketing & Sales Person is responsible for researching new markets around the world where Chesapeake Fields' products would be well received. Primary responsibilities include understanding these markets, making contact with potential wholesalers and distributors, sending samples, and being the brand ambassador for Chesapeake Fields within these markets."
With one minor change − they put sales in front of marketing in my job title − I got an offer from them for $40,000 + benefits to do just that. Within the one year I worked there, I ended up negotiating an initial container load of $27,000 worth of our product to a major food retailer in Taiwan.
Unfortunately, my job AND that company went under not long after my first and only year there. But writing my way into a company right out of college based on a need I saw that I could fill? Well that was enough to impress future employers who then hired me.
See how lucrative learning this skill could be for your child? I'd love to hear below what needs (perceived or actual ones) your child comes up with to fulfill.
The following two tabs change content below.
Amanda L. Grossman is a writer and Certified Financial Education Instructor, a 2017 Plutus Foundation Grant Recipient, and founder of Money Prodigy. Her money work has been featured on Experian, GoBankingRates, PT Money, CA.gov, Rockstar Finance, the Houston Chronicle, and Colonial Life. Amanda is the founder and CEO of Frugal Confessions, LLC.
Read more here
.
Latest posts by Amanda L. Grossman (see all)