My personal goals examples from when I was a student, plus tons of other personal goal examples for students and high school seniors.
Setting goals and attempting to achieve them teaches teenagers and students so much about themselves, about the world, and about life.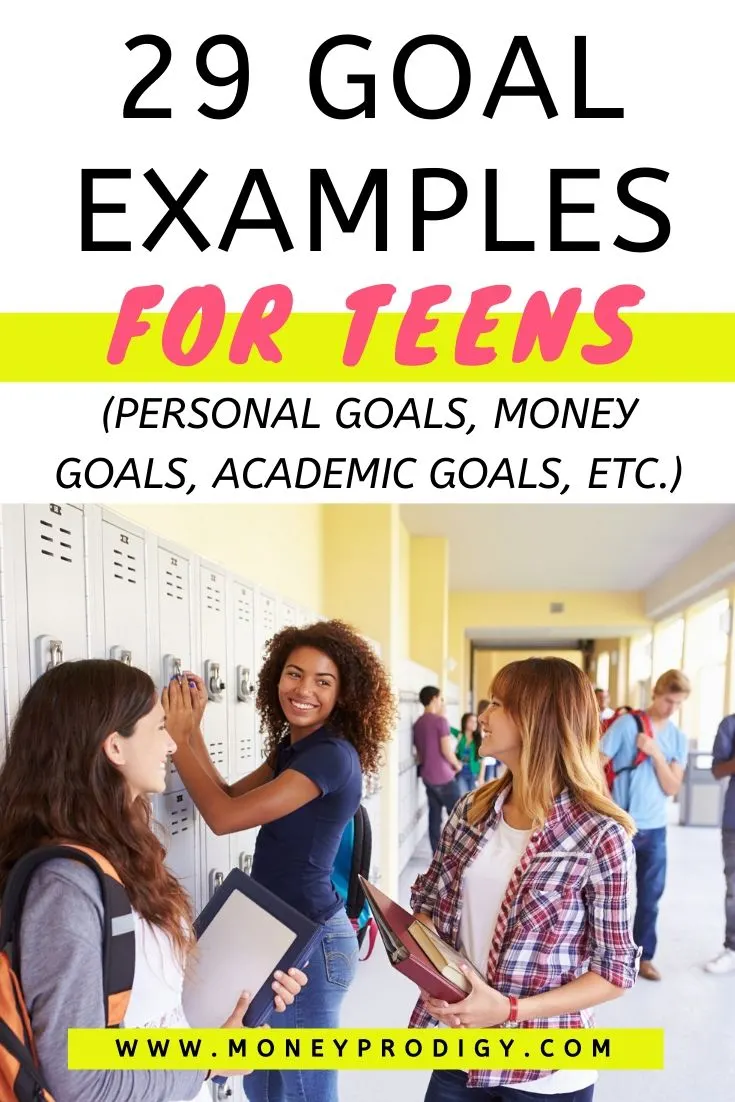 But what are personal goals examples for students to get a better idea of how the goal-setting process works?
Let's dive into my own personal goals examples from when I was a student, then many, many other examples of personal goals your students can adopt as their own to help in their academic, money, personal growth, and other areas of their lives.
Personal Goals Examples for Students
What are some examples of personal goals?
Before we get into a list of personal goals for students, I want to give you an example of what setting one of these goals can look like so that they can get a better idea of what the goal setting process looks like.
Psst: you'll definitely want to use one of these free teen goal setting worksheets pdfs and free goal setting worksheets for kids once you choose a goal to go after from below.
Personal Goal Example: Set Up and Consistently Use a Study Block System
A student might want to establish great study habits as prep for college, or to get better grades by X date, or to be able to apply to certain schools and scholarships.
Various action steps a student might take to meet this goal include:
Research Various Study Systems: You first will need to find a study system that you want to set up and do, consistently.
Choose and/or Create Your Own Study System: Pick a study system, or create your own from scratch, and make tweaks as you use it. For example, you could set up a study block system that closely resembles a block schedule, or you could use the Pomodoro technique when you study.
How a student might measure their success with this goal:
Habit Tracker Checkoff to Measure Consistency: You'll want to figure out what "consistently use" means, such as 3 days per week, and then use a habits tracker to check off each time you use the system as part of measuring your success. You can also simply put an "X" on each calendar day that you use your new system.
Measure Grade Improvement: The second way to measure success with this goal is to compare your grades after using it for X number of months, with your grades before using it.
Alright, next up I'll give you a sneak peek at my own list of various goals I had as a student (what a fun trip down memory lane I had creating this list!).
My Own Personal Examples of Goals in Life of a Student
Guess what? I had many goals when I was a student.
I'd love to share them with you now to show you some great ones to go after.
Examples of goals in life of a student:
Type 60 words per minute
Study abroad in a foreign country
Get accepted to a college with a Japanese language program
Study abroad in Japan
Graduate college in the top 10 of my class (actually made top 3!)
Save up enough money to buy my prom gown
Get a paid internship
Get to go to Senior Week at the beach
Redo my bedroom as a high schooler
Pass a Spanish fluency test to get a certification (just barely missed this one)
Volunteer 2-3 hours per week
I could go on – setting goals has always kinda been my thing – but let's move onto more in-depth examples of student goals.
Personal Life Goals for Students
Here are some personal life goals students might want to add to their list of what they want to achieve.
1. Start a Growth Journal
You're reading a blog from someone who has been journaling since kindergarten. Seriously – my uncle bought me a journal in kindergarten and I have crayon-written, half-sentences all over it.
It's such a pleasure for me to go back through the 17 or so journals I have to reflect on my past, to gain better understanding of myself, and to remember times of good and times of bad.
Not to mention, it's extremely therapeutic to be able to write my thoughts and feelings out on paper – it always gives me more clarity.
Here's an excellent growth-mindset journal for teenagers.
Psst: here are 39 journal topics for high school students.
2. Make a Goal to Use Social Media Less
Social media can take over a person's life. Little by little, you spend more time on your phone or computer checking statuses and making updates…until before you know it, you're spending more time online than in real life.
Your student could set a goal to cut down their social media use by half.
Set phone reminders or use their phone's stopwatch to time themselves, and just allow two 15-minute slots in their day on social media (or whatever other timeframe you want to use that is considerably less than what they're doing now).
Do this for one month, and have them journal about the changes they've seen in their life and in themselves.
3. Read a Book Every Month
Set a goal to read one book – outside of assigned ones – every single month for the next 3 months, 6 months, or 12 months.
Pssst: Here's a bunch of teen books about money, and 7 investment books for teens.
4. Accomplish Their First Individual Goal
Set a goal (there's plenty of ones here to choose from!), give it a deadline, and then actually accomplish it.
That, in and of itself, is a huge goal!
Pssst: you can use these teen goal setting worksheet PDFs for help
Academic Goals for Students
Some fun and productive academic goals for students to set are included here.
1. Enter a Competition
When I was 16, I entered a pageant for the Chester County Dairy Princess. I worked really hard on my speeches, prepped for the interview, and created a presentation.
And you know what? I won!
That year spent as the Chester County Dairy Princess was transformative in my life, and for my resume.
Encourage your student to try entering a competition for something – they may not win, or even get close. But they'll learn so much about themselves and from others just going through the process.
Here's 19 youth entrepreneurship programs that include competitions as well, to get you started.
2. Set Up and Consistently Use a Study System
We discussed in the personal goal examples above how to set up and consistently use a study system. Definitely a worthwhile goal to here.
Money Goals for Students
Checkout this section for money goals students can go after – all act as money training wheels to help teach them now to manage their future job paycheck.
Psst: you'll also want to check out my article on short term financial goals for high school students.
1. Create Your First Budget
Budgets are like living, breathing things – the budget you set to begin with is not likely to be the same one you go into young adulthood with. And that's perfectly fine!
BUT, what's not fine, is failing to set a budget at all.
Get your students to take the time to create their very first budget with one of these free teen budget worksheets. Help them learn from budgeting each week, make tweaks, and get really good at this before they reach their early 20s.
2. Create a Savings Goal to Reach By 18
Ever wondered how much a teen should have saved by 18?
That really depends on what their life situation is going to look like right after graduating high school.
I've got an entire article to help you + your teen calculate an estimated savings goal. Sit down, figure out an estimate amount, and then start looking at how to meet that savings goal.
How much time does your teen have between now and when they turn 18? What would they need to save each month, or each week, in order to meet that savings goal?
All great questions to answer when setting their savings goal.
3. Get Their First Job
My first real job (I lived on a dairy farm, so I had been earning extra cash and "working" for quite some time) was mucking horse stalls at a local veterinarian's clinic.
And wow, was it an eye-opening experience!
A teen getting their first job is exciting, as it creates a new level of independence and learning.
Some things to think about (all in my free teen first job guide):
They'll need to figure out if you are old enough to work
They'll need your parent's permission
They'll need to figure out how many hours you can work per week
They'll need to do a teen job hunt
Don't forget that if they can't get a traditional job right now, there are ways to make money on the side as a teen with these online apps that pay teenagers.
Parents? Here's my guide on money conversations to have with your child once they receive that first paycheck.
Career Goals Examples for Students
In this section, you'll find either career goal examples for students, or goal examples for stuff that will help your teen start their career.
Also, definitely check out these resources for career exploration for students.
1. Work on the Congressional Youth Award
Have you heard of the Congressional Award Program for Youth? Frankly, I'm blown away – and if I had heard of it when I was a teen, I definitely would've gone after it.
You can start at the age of 13.5, and you have until 24 years of age to complete the various levels.
2. Get Their First Media Appearance
Media appearances can stick with you – and your resume – for years to come. They also help you to cement a viewpoint you have, or become more knowledgeable on a topic.
Have your student set a goal to do one of the following:
Get interviewed by your local news station
Get interviewed by your local newspaper
Get interviewed by a blogger
Write a story and submit it for publication
Write a press release and submit it for circulation
Write a magazine article and submit it for publication
3. Work with a Group on a Goal
Working in a group and being able to accomplish a goal is quite different than working on a goal by yourself. And, it's a really, really, important trait to have. Because if you end up working for a company or organization one day? You'll likely be thrown into groups and have to accomplish certain tasks.
Goals for High School Seniors
High school seniors are about to enter the real world – whether that's getting their own apartment, starting college in the fall, getting that first real-paying job, or having to help pay rent at home for the first time.
Because of all the transitions and changes that come right after this year of high school, there are tons of great goals high school seniors can set for themselves.
Help ease your senior's transition with these teen personal goal examples:
1. Apply for One Scholarship or Grant Per Week
I would say this is the minimum goal a high school senior should set if they want to attend college.
And here's another trick you need to tell your seniors: keep applying for scholarships all throughout college!
Your scholarship and grant search goals do NOT need to end once you get accepted and pay for that first year. You could snag a new scholarship to decrease your overall student loan bill your sophomore year, over summers, and even your last year of college!
2. Book a Senior Week Trip with Friends
When I was a senior in high school, I realized that I didn't have any plans for where to spend senior week (and boy did I want to go somewhere). SO, I gathered a handful of my friends who were interested, and I set about booking a house in Delaware on the beach.
I can't tell you how many cool memories I have from that week with my senior classmates and friends – one of the last times I saw most of them.
When did I set this goal and start planning for it? In the fall of my senior year, as I knew I'd need to:
Find a location a bunch of people would want to go to
Price houses
Get a group of interested people together
Come up with the deposit money
Calculate and save up for the cost per person
Collect funds from everyone
Plan out meals
Lots involved with booking a trip. And so much learning, too!
3. Learn to Cook One Entire Meal (from Scratch)
Look – seniors are going to have to figure out their own food in short order. SO, the best way to help them with not busting their budgets (plus get them curious and interested in cooking for themselves)? Is by teaching them an entire meal from scratch.
That includes:
Main dish
Side dish
Salad
Dessert
Appetizer (optional)
And to accomplish this? They'll have to pick out a recipe, budget for ingredients, shop for those ingredients, then get timing down in the kitchen (like, do you cook the side dish first earlier in the day to free up time to focus on the main dish? Can you cook the main dish ahead of time and reheat while making the salad and dessert? It takes practice).
4. Set Up and Use a Planner for 30 Days
One of the biggest changes that comes when you take responsibility for yourself as an adult is learning how to organize and prioritize your time.
What better way for your students to beef up skills in this area than by setting a goal to set up and use a planner every day for 30 days?
They can try a digital planning system, or use a paper one (you might want them to start with a paper one so that they can wrap your head around things by writing them down, first).
Here's a free student binder printable to get you started.
5. Volunteer X Hours Per Week or Month
Students can set a goal to volunteer a certain number of hours either per week, or in a month.
Places I've personally volunteered include:
Nursing homes
Agricultural events
Start-up company
Habitat for Humanity
Etc.
Checkout my article on volunteer opportunities from home! Also, here are charities for kids to donate to you can donate to where $12 or less makes a big difference.
My last tip for a student setting a goal: the magic of goal-setting really comes from the lessons learned and from moving onto the next goal. SO, in order to get your students and teenagers interested in setting goals a second, third, and umpteenth time, you want to help them set a really achievable first goal. Build their confidence, and watch them soar over the coming months and years!
The following two tabs change content below.
Amanda L. Grossman is a writer and Certified Financial Education Instructor, a 2017 Plutus Foundation Grant Recipient, and founder of Money Prodigy. Her money work has been featured on Experian, GoBankingRates, PT Money, CA.gov, Rockstar Finance, the Houston Chronicle, and Colonial Life. Amanda is the founder and CEO of Frugal Confessions, LLC.
Read more here
.
Latest posts by Amanda L. Grossman (see all)