What do teenagers like, and what are great Christmas list ideas for teenage girls? I've got 37 unique teenage girl gift ideas + how to go about picking out a gift for them.
What do teenagers like?
Christmas list ideas for teenage girls can be SO hard to come up with. Because, let's face it – they're in-between two separate worlds. They're neither a kid, nor an adult yet, but somewhere in between.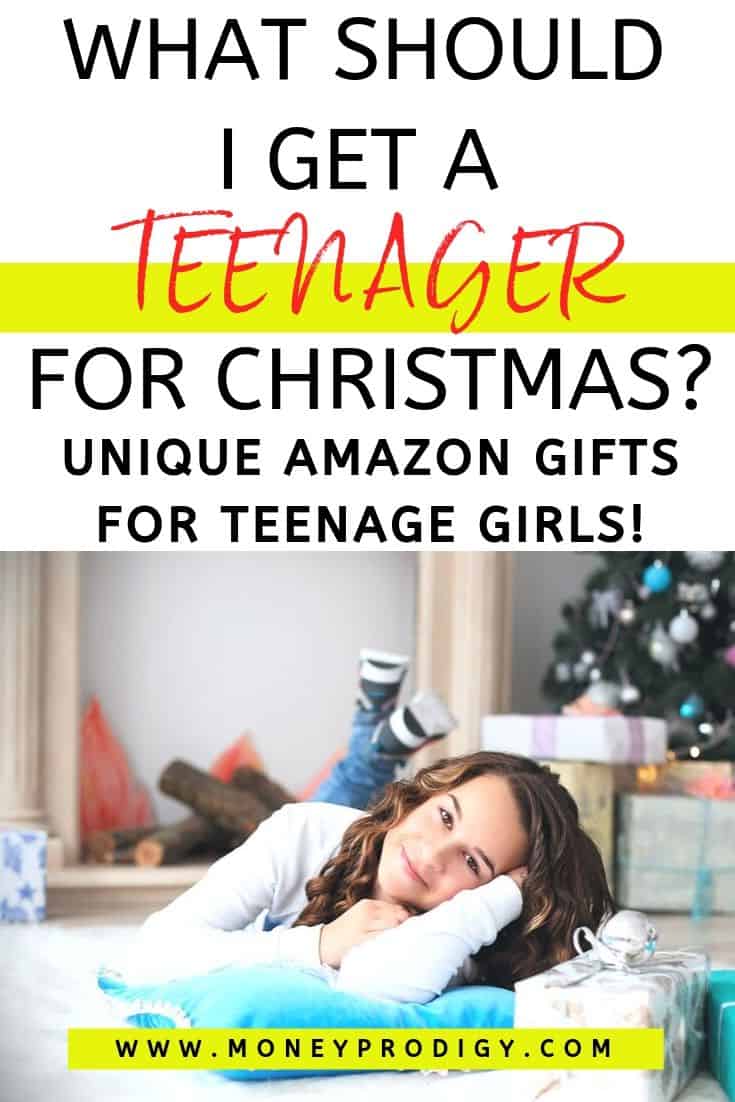 Which means some days they tend to favor kid-like things you thought they were over, and other days they seem like they're 25 years old with the things they want to have and to do.
If you're stumped, wondering 'what should I get a teenager for Christmas', then keep reading.
I've got tons of teenage girl gift ideas that will make your shopping easier.
All gifts on this list are available on Amazon Prime with 2-day free shipping (perfect, especially if you are a last-minute shopper!). Don't already have Amazon Prime? Grab a free 30-day trial just for the holidays. If you like it? Keep it. If not, well, you just got free, fast shipping all holiday season long.
What are Good Teenage Girl Gifts?
In general, you want to keep the following in mind when picking out gifts for your teenage daughter:
Buy them something they can take into their first apartment/college/young adult life
Buy them something that makes them feel more grown-up
Buy them something that can grow with them
Buy them something they can use with their friends
Buy them something that lets them explore a possible career interest
Don't worry – you'll find examples from each of these categories below.
Psst: These would make awesome birthday gifts for teenage girls, as well. So, bookmark this page and come on back the rest of the year!
Christmas List Ideas for Teenage Girl
When I polled a bunch of my family and friends about the Christmas list ideas their teenage girls came up with over the last two years…time and time again I got the answer "cash".
It makes sense; cash gives them ultimate control over what they get to buy, plus they can take it with them the next time they go to the mall with friends (score – they don't have to figure out how to earn more!).
But giving cash also takes away part of the fun of gift-giving…amiright?
SO, I'm going to offer up some really cool cash puzzles first up in this section, and then proceed to some awesome teenager gifts your daughters, nieces, granddaughters, etc. will be excited to receive. Best of both worlds, right?
Pssst: Here are more creative ways to gift money to teenagers.
I'll leave you with one more option – a money puzzle box.
Again, gift cash to a teenager inside of a cool puzzle they'll have to work through to get it.
Psst: here's more free printable money card holders, if you'd prefer that.
You've likely heard of a growth mindset, and how important it is to instill in our kids and teens, right? Well, here's an impressive growth-mindset journal just for teens. Seriously – go take a look. It's so fun!
Teenage girls LOVE posting pics of themselves and friends around their room – this is the perfect way to help them display their social life!
I just love this cuuuuttteee pencil case holder! Would be great for them to take onto college, vocational school, or whatever their next step in life is.
Check out these really cool Chapstick/Lip Gloss keychain holders!
I remember being super interested in looking for recipes and learning about kitchen terms from about the age of 16, onwards. This Young Chef's cookbook would make a great gift. There's also the Baking Cookbook for teens, or The Cookbook for Teens. I also love the way Teen Cook: How to Cook What You Want to Eat looks!
I can remember the first time someone gave me a box of Godiva chocolates as a teenager. I felt like a million bucks – it was so much more grown-up than regular chocolate gifts.
This bracelet is the kind of gift they can keep for years and years to come.
Your teen might just become the coolest, ever, when they whip out an escape room in a box at their next hangout. Here's another escape room in a box.
Check out this cool (and temporary) way for teens to "dye" their hair: hair chalk!
Teen girls could also use a pair of red and green hair chalk for a fun Christmas activity for teens.
Do you have a budding detective or forensic scientist on your hands? Give her a Cold Case Cracker set so that she can work on cracking her first case.
Does your teen ride in the passenger seat to school, or do they own their own car? Aside from these stocking stuffers for new drivers, and new driver gift ideas, you might get them their own vanity mirror for the car.
Have you heard of this solitaire puzzle game (I used to LOVE brainteasers and puzzles I had to work through as a teen)? Here's the second version of it: Kanoodle Genius.
Here's an origami puzzle game that looks pretty sweet. Would also make a great stocking stuffers for teen girls.
I just love these bohemian string bracelets – different from traditional ones. They're made of cotton AND wax, so they're waterproof (great for summertime). And the colors/designs are sooooo fun.
Can your teen take this cylindrical puzzle apart? Then…can they actually get it back together? This one is Level 4, which is "challenging".
What teenage girls have NOT gotten together during a sleepover and sang karaoke? If yours loves to sing (even if she loves it, but not in public), then this could be a great gift for her.
Make your teen work for your cash gift! They'll have to solve this puzzle before they can get their hands on your wad of green.
Amazon Gifts for Teenage Girl
Alright – you've found the 100% Amazon gifts section for teenage girls. All of the following gifts can be found on Amazon, and they are ALL free with prime membership.
This LCD writing tablet is strangely…addicting. My son received a similar one for Christmas, and I must admit – I love playing with it!
I actually got my husband a JBL portable blue tooth speaker last year for his birthday, and we use it every. Single. day. The quality is outstanding. And with this portable one? Your teen can hangout and listen to music wherever she happens to be chillin' with friends.
Such a funny idea! But aside from that, what teenage girl doesn't like a little lip gloss?
Here's a stylish set of markers, with both fine tips and broad tips. They can doodle, write letters (wait…kids still write letters to friends, right?!), etc.
I just love encouraging our teenage girls to shoot for the moon as far as the career they want to go after. This book offers up 50 women scientists as inspiration.
I used to LOVE making scrapbooks, as both a teen and as an adult (pre-baby). Need to get back to that…but you can get your teen started by gifting them this friend scrapbook kit.
Ooohhhhh…I pretty much want these for MY office, too!
Ummm…I think I would wear more sunscreen if I had a bottle of glittery unicorn snot.
I hope your teenage daughter likes unicorns…because this unicorn bath bomb is, well, the bomb.
What I love about buying your teenager reusable snack bags? They can take them (and use them) in college, their first apartment, their first job, and beyond. Tons of styles to choose from.
If your teen is showing interest in writing, then they'll do things like ask for a thesaurus for Christmas (okay, okay, maybe that's just what I did when I was a teen…).
You can encourage their creative talents with books/kits like Rip the Page, Leap Write In!, and Cliffhanger Writing Prompts.
When I found this, I had to get my hands on it. And I wasn't disappointed – I think it's an excellent tool to teach your teen all about business, and how to be an entrepreneur.
I've kept a diary ever since my Uncle got me one when I was still writing in crayons. It's such a blessing to be able to look back over the seasons of my life. This bullet journal kit would be perfect for a teen girl (it also comes with a bunch of different washi tapes, which I know are very popular with my teen niece)!
This can be both a stand for their phone (so, helping if they like to watch YouTube videos or things like that), and helps lock a phone in place while driving via a stand.
As a teen girl, I would have LOVED this stuff – some are magnetic, some are electric, some are scented…it's not your normal putty.
In fact, when I went on a trip to New York City in high school with our chorus, we stopped at FAO Schwartz and I picked up a little can of slime!
Where's My Stuff is written by a professional teen organizer. I love how she takes the benefits of organizing down to your teens' world, meaning they might buy into the process.
Help your teen get ready for the next big transition in their lives with this Adulting 101 book (I wish MY parents had given me something like this!).
The best thing about this Christmas list ideas for teenage girl? You can use these present ideas anytime of the year (like for a birthday or graduation gift!).
More gift-giving Guides to check out:
The following two tabs change content below.
Amanda L. Grossman is a writer and Certified Financial Education Instructor, a 2017 Plutus Foundation Grant Recipient, and founder of Money Prodigy. Her money work has been featured on Experian, GoBankingRates, PT Money, CA.gov, Rockstar Finance, the Houston Chronicle, and Colonial Life. Amanda is the founder and CEO of Frugal Confessions, LLC.
Read more here
.
Latest posts by Amanda L. Grossman (see all)