You want your kids to be responsible young drivers, right? Perfect gifts for new teen drivers and gifts for new car owners – ones that will help with car maintenance, responsibility, and reliability!
You've got a new driver in your house, and maybe even a new car owner.
Congratulations!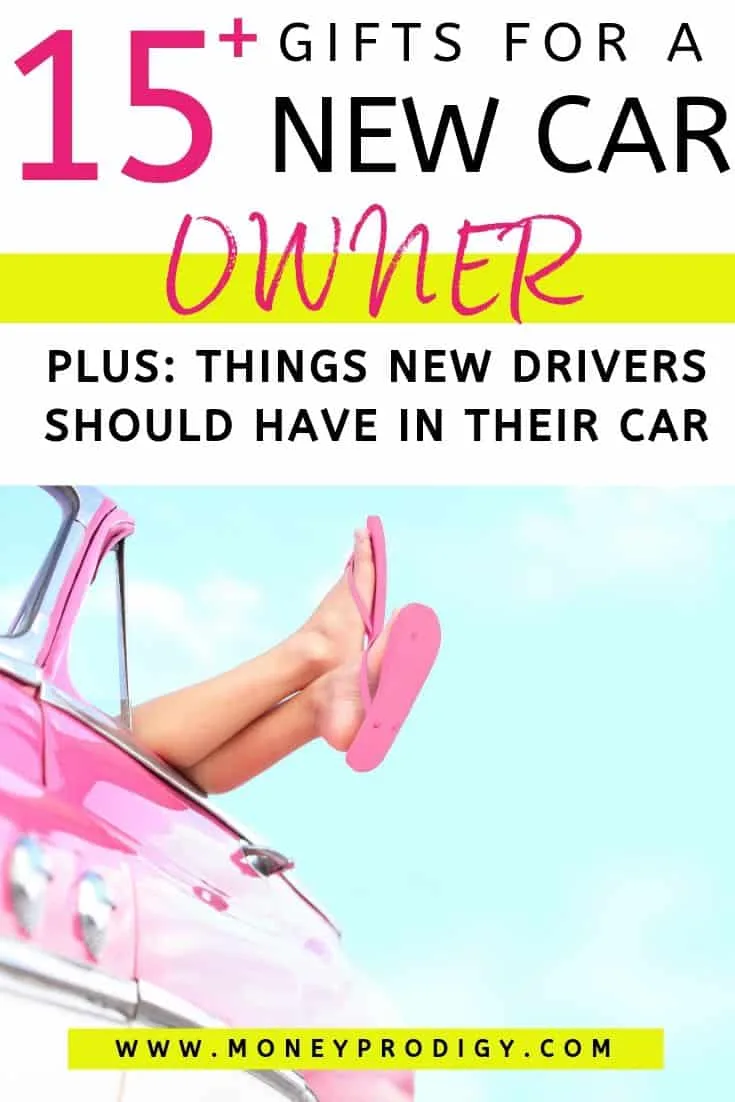 Your child has taken a really important step in the whole end-parenting-goal of them eventually leaving the nest (with all the right life skills intact).
Are you a little terrified of your child driving?
Don't fret.
I've got a gift-buying guide that includes best gifts for new drivers and gifts for new car owners that will:
Make your child's car more reliable (as they're likely driving a used car – I've been driving one for 18 years!).
Help reinforce responsible car owner habits experts agree you want your child to take into adulthood with them.
Welcome them into the driving world!
So, buckle up (couldn't help myself), and let's get going with tons of new driver car accessories and gift ideas for new teenage drivers!
Most (if not all) gifts on this list are available on Amazon Prime with 2-day free shipping (perfect, especially if you are a last-minute shopper!). Don't already have Amazon Prime? Grab a free 30-day trial.
Best Gifts for New Drivers License Owners (to Increase Safety + Reliability)
Your teenager is likely driving a used car to begin with – at least that's what the majority of teens drive.
Used cars and beater cars are awesome, and I've been driving them for 18 years now (that's right, I've never owned a car payment in my life, I've just paid cash for a beater car and driven it into the ground!). However, they might not be as reliable as brand-new vehicles.
Not only that, but your teen is a new driver. Can you think back to all the mistakes you made as a new driver?
So, this category of gifts for new drivers is all about building more reliability and safety into their driving.
Psst: are you a parent of a young and new driver? You might want to check out this GPS tracker for vehicles. It's a good way to know where your teenager is.
I'm sure you've had the terrible experience of fogged-up windows while driving (I know I sure have).
This defogger will help your teen immediately get rid of the fog, streak-free.
New Driver Gift #2: Roadside Emergency Kit – Gift Ideas for New Drivers
None of us want to think of our teens getting into a car crash. Unfortunately, according to research from the CDC, teens account for nearly 8.4% of all motor injuries in the U.S. (even though they're only 6.5% of the population).
The 8 danger zones for new teen drivers, according to the CDC, are:
Driver inexperience
Driving with teen passengers
Nighttime driving
Not using seat belts
Distracted driving
Drowsy driving
Reckless driving
Impaired driving
So, you want your child to be prepped for the eventuality that they might get into a crash one day. This is where a roadside emergency kit comes in. It's one of the most important things to put in your car for teenagers (and us adults, too!).
And this one? Well, it strikes a great balance between being super cute, AND, super reliable.
Amazon Gifts for New Driver #3: Personal Safety Keychains
A driver's keychain is actually really important for two reasons – both functional ones, like putting keys on it to start the car, and also safety ones, like including some sort of personal safety device on it.
Your teen may not be thinking about these important things, so you can purchase it as a gift for them instead!
Personally, I have a mace keychain on my own. However, it's not legal in every state for a minor to carry mace. There are also these alarm keychains – and since your teen is driving now, they might find themselves in unoccupied garages, or walking to their car after dark in the winter time.
While you're at it? You'll want to make sure they have a spare set of keys – either a spare set of keys for their own car, or for the family car. I know as an adult, I can forget/lose my keys like the best of them, and so I make sure we each have a spare set of keys for the other person's vehicle.
You could also get them a cute, personalized key chain for their new set of keys!
Here's a personalized keychain (by letter) for teenage guys:
New Driver Gift #4: Ice Scraper
Do you live up North? Then you'll definitely want to make sure your teen's car is equipped with an ice scraper. I can't tell you how many times I used mine before moving down South.


Hint: getting them their own ice scraper reinforces the idea that they shoulder the responsibility to scrape their own windshields off.
Psst: like this list? Check out my stocking stuffers for new drivers for more.
Look…most of us have heard horror stories, or watched unsolved mysteries (that's not just me, right?). That's why I'm including this car safety escape tool. Bonus: it's pink!
Hint: if your child hates pink, there are lots of other colors and other options for these, like this one.
New drivers and new car owners have a lot to learn, and can make some basic mistakes that can make them end up on the side of the road.
That's why getting a new driver, who usually is driving an older car, a AAA Auto club membership is such a great idea!
The annual roadside assistance membership includes:
Towing
Battery jumping/replacement
Flat tire
Lockout situations
Emergency fuel service
Minor mechanical first aid kit
FYI: teens can be signed up as dependents, OR, have their own membership.
First Car Gifts that Reinforce Responsible Car Ownership Habits
Part of the Mom/Dad-gig? Is making sure your kids understand what "responsible" car ownership looks like.
Heck, you basically have to model for them what "responsible" looks like for everything (including money!).
I've curated a few gifts for new car owners that will help to reinforce what a responsible car owner does with their first car (and beyond).
Your kid is now responsible for some important paperwork having to do with driving + owning their own vehicle. You want to encourage them to keep all those documents in one secure spot in case they need them.
This car documents holder is the perfect way to reinforce this idea. They can store their insurance documents, car title, inspection paperwork, emergency contact numbers, and any roadside assistance numbers in here.
Part of responsible car ownership is keeping the car relatively clean. Not only does this make for better, less distracted driving, but it can keep paint damage/rust from forming, and stains from setting into the seats.
Read: it can save money.
By purchasing this cleaning kit, you'll be reinforcing the idea that you expect them to keep their own vehicle clean, and/or help with keeping the family vehicle clean now that they'll be driving in it.
You likely won't be able to cover everything there is about car ownership – unless you're an expert!
And even if you could, we all know that kids don't necessarily like listening to their parents at around the same age they get their license.
SO, getting a driving book like this one is a really great idea. It's geared towards new teen drivers, and covers topics like handling tech while driving, what to do if stopped by a police officer, what to do if you're in an accident, etc.
Gifts for New Teen Drivers that are Just Plain Fun (New Driver Car Accessories)
Alright, alright. So, we went through the responsible and safety gifts…now it's onto having some FUN when buying presents for drivers!
Here are some cool gifts for new drivers.
New Driver Gift #10: Vehicle Armrest Cover
Look at these super-cute, universal (meaning they'll fit almost any car) armrest covers!
New Driver Gift #11: Bling Up their Vehicle
Does your teen enjoy a little bling?
Check out these fun car accessories for teens.
There's some really fun bling they can add to their car around the auto start ignition button.
But don't stop there! You can also get some Bling-Bling Tire Valve Caps.
How cool would your teenage guy feel if, when they opened their side of the car or their own car door, a Batman laser logo appeared? No drill-holes needed, and this one comes with the Batman logo.
And even a bling license plate frame.
Have you seen the line of car charms available? While I wouldn't necessarily buy my own teen some of them because of safety reasons (for example, I wouldn't buy my own teen driver a charm to hang on their rearview mirror, as I think that would be distracting), there are some that would work.
Like this set of car vent charms.
And here is a set of headrest bling! They wrap around the metal part of a headrest, adding some charm and character to your teen's new car.
Here's a really cool-looking (as in, I want one for myself!) essential oil car diffuser that clips into their vent.
Check out this fun steering wheel cover! In fact, there's lots of great steering wheel cover options (click over and find something that suits their personality).
Celebrate Getting Driver's License by Creating Your New Driver Survival Kit (New Driver Gift Set)
If you want to take this all a step further and put together an entire new driver survival kit for your teen/niece/nephew, then I've got a few ideas for you.
First off, I have a child myself. If I were to choose what to personally include in his new driver survival kit, it would be the following:
Roadmap: Yes. An actual, paper roadmap. Hear me out on this – because I know I've found myself with a dead phone battery due to forgetting to charge it the night before, so I'm sure a teen is even more likely to be cut off from Google Maps because of forgetting to charge their phone. And what if they get lost? Like, really lost (yes, that has happened to me as well!)?
Flashlight: Flashlights come in handy for all sorts of reasons. Here's one with a rechargeable battery.
Emergency Roadside Kit: I've had one of these in my own car since I was a teen, and will continue to have one of these in every single car I own.
Set of Spare Keys: We would keep these at home, or with someone else.
As you can see, my own personal list for a new driver survival kit heavily weighs on the safety/reliability side of things. But maybe you would do something different! So, go through and choose the items you want, and then look at a few suggestions below to add in a little something extra.
New Driver Survival Kit Extras (Create a New Car Gift Basket):
Do a Car Treasure Hunt: You might have some fun with actually giving your new driver their gifts/car gift basket for teens using this car treasure hunt.
Add in a Car Maintenance Checklist: Your child likely doesn't know all the things that go into being a responsible car owner/driver. Creating a checklist with typical maintenance activities – such as state inspection + registration renewals, gaining car insurance (and shopping around for that car insurance every so often for a better price/better coverage – we personally use USAA auto insurance – check to see your USAA eligibility), oil changes, car wash, etc.
Put Everything in a Car Organization Container: You could choose several gifts from above, then also purchase a car container/organizer as the "gift bag" to give it to them! Like this car trunk organizer (I like how it comes with straps to keep things from shifting). That makes a fun new car gift basket.
What are you most excited about getting for your new driver? Does your teen have a car of their own, or will they share ownership/responsibility with the family vehicle? I'd love to hear more!
More gift-giving Guides to check out:
The following two tabs change content below.
Amanda L. Grossman is a writer and Certified Financial Education Instructor, a 2017 Plutus Foundation Grant Recipient, and founder of Money Prodigy. Her money work has been featured on Experian, GoBankingRates, PT Money, CA.gov, Rockstar Finance, the Houston Chronicle, and Colonial Life. Amanda is the founder and CEO of Frugal Confessions, LLC.
Read more here
.
Latest posts by Amanda L. Grossman (see all)