Make memories with these Christmas activities for kids at home. Lots of ideas for things to do leading up to the holidays.
Doing Christmas activities for kids at home will: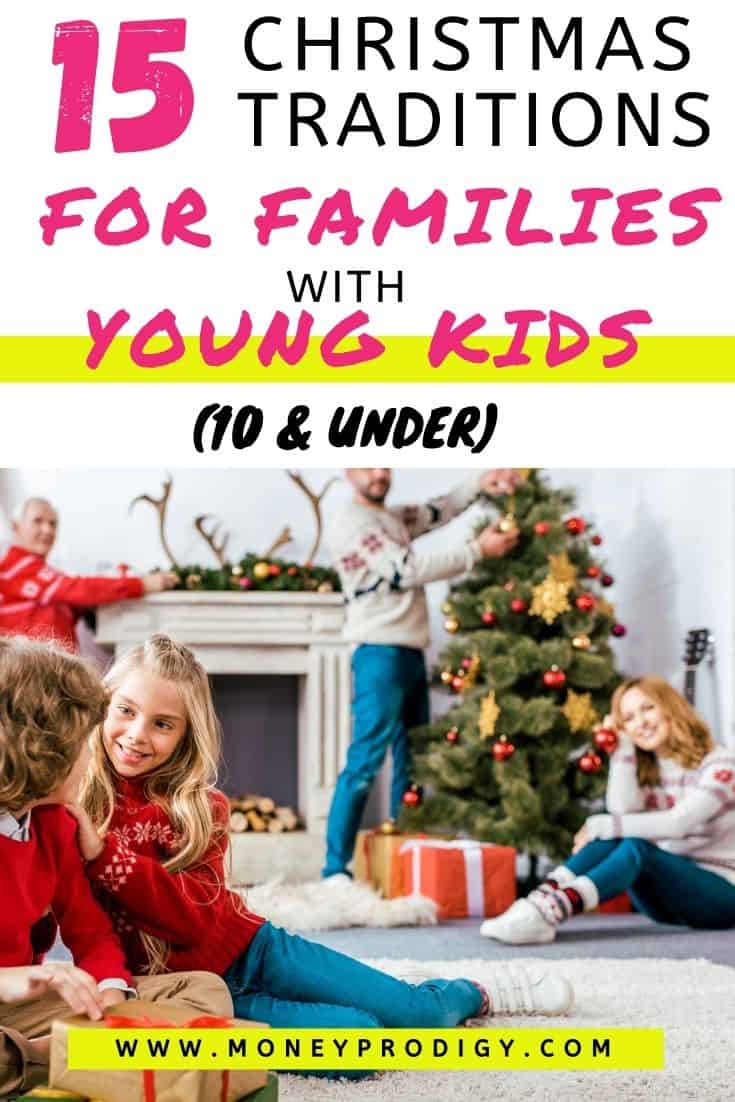 Establish new family traditions
Help make memories all of you will remember
Give you go-to activities to keep the kids engaged and busy this holiday season
So, it's no wonder you want to find the best ones!
Check out these are fun Christmas traditions to start with your family.
Christmas Activities for Kids At Home
School's out, holiday's in. What can you do for Christmas at home to entertain children?
These awesome Christmas activities for families should help.
1. Retell Your Favorite Christmas Books Using Post-It Notes
Grab the traditional Christmas books you read each year, and stick a post-it note over the actual text. Let your kids take turns retelling the story! They can either write in their own version on each page, or just verbally take turns telling a story using the pictures only.
So much fun!!
2. Build a Yeti Castle
Your castle can be for elves, or Santa, or a nativity scene – really, whatever you'd like. In our house? We build it for our Yeti.
Grab several boxes of sugar cubes, a sturdy piece of cardboard, and some icing (you can make your own, or go with a cheap-o tub of it).
Then, construct your castle!
This year, we added on a string of $3.98 cactus lights (battery-operated). Really added to it.
Psst: got teens, too? Check out these Thanksgiving activities for teens, and Christmas activities for teens.
3. Go On a Pajama Christmas Light Mission
Surprise your family with a stay-up-past-your-bedtime activity – to go check out the neighborhood Christmas lights in pajamas (with hot cocoas in hand).
We did this with our little guy on Thanksgiving night, surprising him at dinner that he was going to get to stay up a little late. We dressed him in his pajamas, we each got into ours (haha – why not?), and drove around looking at gorgeous Christmas lights for an hour.
Bonus: crank up some Christmas tunes, and have pre-made hot chocolate for everyone to grab and take to the car!
4. Host a Christmas Bark-Off
You know what's so great about making Christmas Bark? It's super simple to do – making it a great activity for little kids to participate in, too.
Host a family Bark-Off, where you each create your own Christmas Barks and then give out small, silly awards for the winners (like, the most original, the tastiest, best decorated, etc.).
Buy all the ingredients for a base, and then let your kids pick a few toppings to pick up from the grocery store.
Here's some ideas for Christmas bark ingredients, plus how to create the base.
5. Make Popcorn Ball Ornaments
Have you heard of popcorn balls?
They're basically a circular mass of popcorns…which means they make a great foundation to decorate for ornaments on the tree!
Here's a popcorn ball recipe. Once you make a bunch (be sure to put a ribbon in them, or something that will let them hang up on a tree), then get out the cookie-decorating items (like sprinkles, frosting, pearl balls, etc.).
Let the kids decorate popcorn balls, just like they would if they were painting an ornament or decorating sugar cookies!
6. Make Popcorn-Ball Snowmen
Got some extra popcorn balls from above? Great!
Build three on top of each other with a wooden skewer holding them together, then let the kids decorate their own snowmen.
7. Dinnertime Grinches N' Elves Game
Play what I like to call "Grinches and Elves" at the dinner table tonight.
Go around and ask each person to talk about a "grinch" situation they witnessed that day, and an "elf" situation they witnessed.
Meaning, a time when they saw someone being stingy and selfish, and a time when they saw someone being generous and kind (could be themselves, too).
8. Grow Crystal Ornaments
This past Christmas, I stumbled upon how to create crystal ornaments and did this as a science experiment with my 5-year-old.
Not only was he mesmerized by this process, but the end result? Is just gorgeous. So gorgeous, that we (both) loved having them on our tree.
Definitely a new family tradition for us!
9. Enjoy Christmas Cookie Fondue
Whip up a batch of plain sugar cookies (or snag some that are already on the kitchen counter), and bust out the fondue pot.
Use this frosting recipe that works in the fondue pot, as well as some tongs to dip the cookies in.
Fill little bowls with several different kinds of sprinkles, marshmallows, chocolate chips, and anything else that can stick to hot icing (and would taste great).
10. Set Up a Go-To Hot Cocoa Mix Bar
One of the things that added MUCH delight to my 5-year-old's Christmas was the addition of hot cocoa.
This next year? I'm going to set up a hot cocoa mix bar that I can whip out quickly for the nights we have hot cocoa.
And then, I'll let each person choose what to add to their hot cocoa!
To make this really simple, I'm going to keep all of these things on a tray/in a container with compartments so that I can just, literally, bring it out each evening that we have hot cocoa (who wants to put one of these together 6 times in a month? Not I.)
Ours will have:
Peppermint extract
*Crushed peppermint candies
Mini marshmallows
Mini chocolate chips
Andes mints
Whipped cream (a little post-it note, then if they choose this, we take it out of the fridge/freezer)
Powdered espresso
Maple syrup
Cinnamon
*Hint: make sure to check that things have melted before they take their first sip – which usually happens because it's too hot to drink right away – so that there aren't any choking hazards.
11. Do a Post-It Note Santa Countdown
One evening in late November, help your kids come up with 25 things they love about being part of your family. Write each one down on a separate post-it note.
Grab a Santa poster and hang it on the wall by December 1st, covered with the Post-It Notes.
Then, one by one, countdown to Christmas by plucking a Post-It Note off and reading it, then revealing a bit more of Santa.
Builds anticipation, while reminding your kids of what a great family you guys have (warm fuzzies!).
12. Create Ice Ornaments for Outside
Not only is this a Christmas craft (wait…your youngin' gets so excited about crafts that they run around the house when you announce them, too, right?!), but it also will get your family outside in the cold times.
And getting outside during winter is really important.
You can create these simple Christmas ornaments for your lawn.
13. Create Ice Snowflake Crystals to Use with Your Magnifying Glass
In the creation mode? Great – help your kids create these ice snowflakes, and then let them explore the crystals with their magnifying glass.
14. Create Spaghetti Jars of Hope
Years ago, I decided to clean out my spaghetti jars over the course of a year so that I could use them to dress up for the holidays.
Why would I want to do that?
Well, I wanted to stuff them with helpful items for homeless people we pass throughout the year.
Each one included things like:
a hand warmer that works for up to 10 hours (from Target's $1 section)
a disposable razor
a travel toothbrush and toothpaste
a granola bar
three Slim Jims
Blistex
a piece of chocolate
a candy cane
and a card with a message of hope, tied around the top with ribbon
Show your kids how to be generous this time of year by keeping these in your car and handing them out at red lights or other places where people are asking for help.
15. Recreate 'Twas the Night Before Christmas', Mad-Libs Style
You might not be able to contain the giggles when you introduce this free Mad Libs game that uses The Night Before Christmas.
And if your kids are too young to know what a noun or verb is? Just ask them to name any word at all. It'll still be pretty funny.
16. Window-Cling Christmas Scenes
Buy several packs of Christmas-themed window-clings, and let your kids take turns building window scenes. My 5-year-old has been doing this for two years and absolutely loves it!
You could also give each child one window to claim as their own, and then a pack or two to use.
The best idea? Is to choose 1-3 ideas from this list of Christmas activities for kids at home this year, and truly enjoy them. Don't get overwhelmed with trying to do it all! You can always come back next year and try out a few more.
The following two tabs change content below.
Amanda L. Grossman is a Certified Financial Education Instructor, a 2017 Plutus Foundation Grant Recipient, and founder of Money Prodigy. Amanda's kid money work has been featured on Experian, GoBankingRates, PT Money, CA.gov, Rockstar Finance, the Houston Chronicle, and Colonial Life.
Read more here
.
Latest posts by Amanda L. Grossman (see all)